World Cup Group D betting odds and predictions: Can 2018 champions France retain their crown?
The beginning of the World Cup group stage has fans around the globe filled with an excitement that few other things in the game can match. World Cup Group D promises to deliver so much excitement, with three continents represented, as France, Australia, Denmark and Tunisia battle it out for a place in the knockout rounds.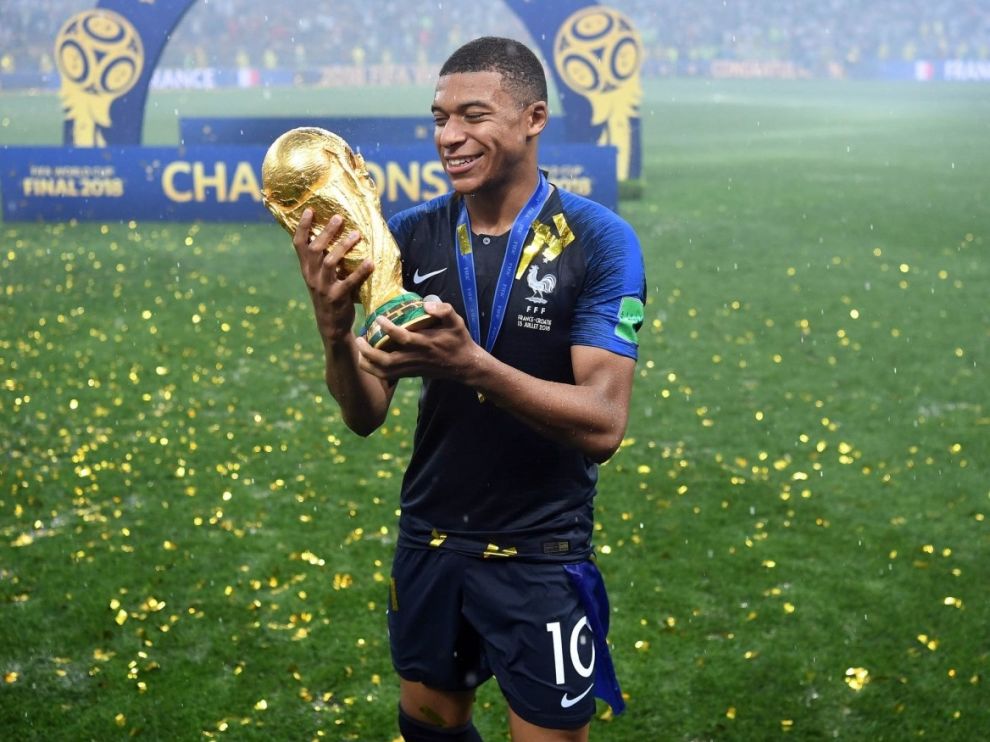 France forward Kylian Mbappe celebrates with the World Cup trophy. © Witters Sport-USA TODAY Sports
World Cup Group D fixtures
| World Cup Group D Fixtures | When (ET) | Where |
| --- | --- | --- |
| Denmark vs Tunisia | November 22, 8am | Education City Stadium |
| France vs Australia | November 22, 2pm | Al Janoub Stadium |
| Tunisia vs Australia | November 26, 5am | Al Janoub Stadium |
| France vs Denmark | November 26, 11am | Stadium 974 |
| Australia vs Denmark | November 30, 10am | Al Janoub Stadium |
| Tunisia vs France | November 30, 10am | Education City Stadium |
Jump to:
World Cup 2022 Group D predictions
It might be coming from a position of slight recency bias, but it's hard to look beyond the European sides as the strongest two teams in World Cup Group D. France, as world champions, will take a lot of stopping and Denmark showed a lot at last summer's European Championships, meaning they'll have to be taken seriously by anyone they meet this winter.
There's a real chance that, even despite winning the tournament in 2018, 2022 could be remembered as the Mbappe World Cup as he has only improved since then, and the Paris Saint-Germain forward is just one member of a star-studded roster that Les Bleus can call upon. Mbappe and Karim Benzema are likely to combine well - unless the former's rejection of Real Madrid presents a problem in their previously excellent relationship - and that's a front pair that no defence can expect to stop.
Denmark's performances at Euro 2020 are enough to take them seriously and they stormed through their qualification group with nine wins from ten. Australia, having qualified via the intercontinental playoff, might struggle to keep up with the rest, though Tunisia are by no means a force and they could end up with an unlikely shot at second.
World Cup Group D picks and predictions
France to top Group D

Denmark to qualify from Group D
France World Cup 2022 overview
The two-time world champions will be the team to beat in World Cup Group D but the reigning champions won't be coming into this winter with any kind of complacency after their disappointingly early elimination at Euro 2020 last summer.
They qualified for this year's World Cup group stage with relative ease, coming through the qualification phase unbeaten with 18 points from the eight games that they played, finishing six clear of second-placed Ukraine.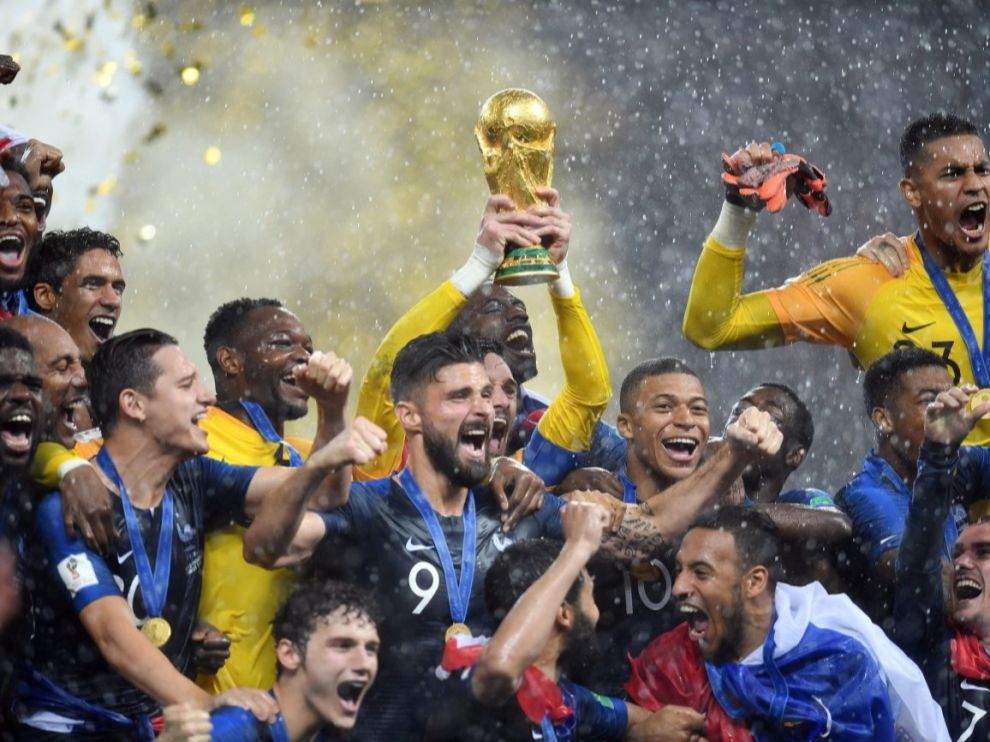 France players celebrate winning the 2018 World Cup. © Witters Sport-USA TODAY Sports
The threats in this France side are hard enough to pin down, but not through any lack of quality and instead due to having too much. They're the most heavily-stacked side in Qatar this winter, and they could probably field two XIs that would have aspirations of reaching the final.
Kylian Mbappe and Karim Benzema, though, stand above the rest and are ready to terrorise everybody they come up against. Benzema is likely to be the Ballon d'Or by the time things kick off in the World Cup 2022 groups, and he'll be looking to mark that in style so keep him in mind when you're placing your bets for this year's Golden Boot.
France picks and predictions
Karim Benzema top team goalscorer

Over 5.5 team goals
Australia World Cup 2022 overview
It's never nice to say about a team so excited to take part in the World Cup, but it's hard to see things going well for the Socceroos this winter in Qatar, having made the World Cup group stage after beating Peru on penalties in the intercontinental playoff.
Australia is a physical side with a lot of power, and they like to use their engines by playing at a high, intense tempo and use their athleticism in their favour, though against France and Denmark that's unlikely to give them much of an edge.
https://twitter.com/Socceroos/status/1539005175465013250
For all their athleticism, though, they really lack anything in the way of technical ability and will struggle against the European sides unless those games become a war.
While their golden generation is long behind them, this current crop have Australians dreaming back at home, though those dreams are likely to be short lived in Qatar and it's hard to see them progressing from World Cup Group D. They might bow out with credit though, and a lot is likely to rest on their game against Tunisia in that regard.
Australia picks and predictions
Australia fail to qualify from Group D

Under team 3.5 goals
Denmark World Cup 2022 overview
Denmark became the second team of so many football fans last summer when they were hit by Christian Eriksen's on-field health scare, and the unity and strength they showed after that won them a lot of deserved plaudits. A year on, however, Denmark still look like a very good side and Eriksen is now back in the team, with Kasper Hjulmand having seen enough from the midfielder since he returned to playing with Brentford in the Premier League.
Like France, Denmark topped their qualification group with relative ease, picking up 27 points from their ten games and they've shown plenty to suggest that they should be taken seriously in Qatar this winter.
Denmark midfielder Christian Eriksen (10). © Witters Sport-USA TODAY Sports
In Eriksen they have a player who, on the ball, can do whatever he wants, while the team is strong from back to front and their only weakness is that perhaps they don't score as many goals as they should from the chances they create. Joakim Maehle's impact from wing-back is something to watch out for.
Don't be surprised to see Denmark finish World Cup Group D as winners ahead of world champions France, and they're likely to have a lot of fun against Tunisia and Australia.
Denmark picks and predictions
Denmark to qualify from Group D

Over 5.5 team goals
Tunisia World Cup 2022 overview
Tunisia travel to Qatar without much hope of advancing from the World Cup group stage , but even they know their place in this difficult group. A side on the up, qualifying out of the group would be unprecedented for them, having never before made it to the knockout stages in five previous World Cups.
Wahbi Khazri is probably the standout name among their roster and at 31 he's now in the latter years of his career, meaning this winter could well be his last World Cup , though a recent move to Montpellier could see his form unsettled somewhat ahead of things kicking off in November.
https://twitter.com/wyngback/status/1455436765435621379
Having topped a qualification group with Equatorial Guinea, Zambia, and Mauritania, they went on to beat Mali in the playoffs to qualify for the World Cup 2022 groups, but this is more than likely to be where their journey stops.
It might be worth keeping an eye on Hannibal Mejbri's progress for Tunisia, though, as he's emerged as a real bright spark for Tunisia and the Manchester United youngster could have something of a global breakthrough in Qatar.
Tunisia picks and predictions
Under 2.5 team goals

Tunisia fail to qualify from Group D
World Cup 2022 Group D scenarios
Much like the situation in World Cup Group C , the teams in this group will be hoping to avoid finishing second as that will - in all probability - lead to a Round of 16 tie against Argentina.
With France and Denmark meeting on matchday two of the World Cup group stage, that game is one that's not to be missed as both are likely going to do all they can to edge the other, get into pole position to take top spot and then - all things going to plan - avoid Lionel Messi and co. in the first knockout round.
Denmark are unbeaten in their last two against Les Bleus , drawing 0-0 at the last World Cup in Russia and winning 2-1 in the Nations League in June, with Andreas Cornelius being the unlikely star.
That adds a nice amount of spice to their upcoming World Cup Group D clash, and they'll know that they have what it takes to get the better of the world champions. France, for their part, will go into that knowing that they cannot afford to take the Danes lightly having been taught a lesson in Paris.
World Cup 2022 Group D players to watch
A perhaps unexpected name to mention here is Denmark's Joakim Maehle, who could be key in the World Cup 2022 groups despite having no more than a peripheral role with his club side Atalanta in Serie A.
When he wears his country's shirt, though, he's a different player and looks like one of the best wing-backs around, as he proved himself to be at Euro 2020 last summer. That considered, he's likely to go charging forward on the left or right at any given opportunity and should be consider in the assist or goalscoring markets if you're looking for value.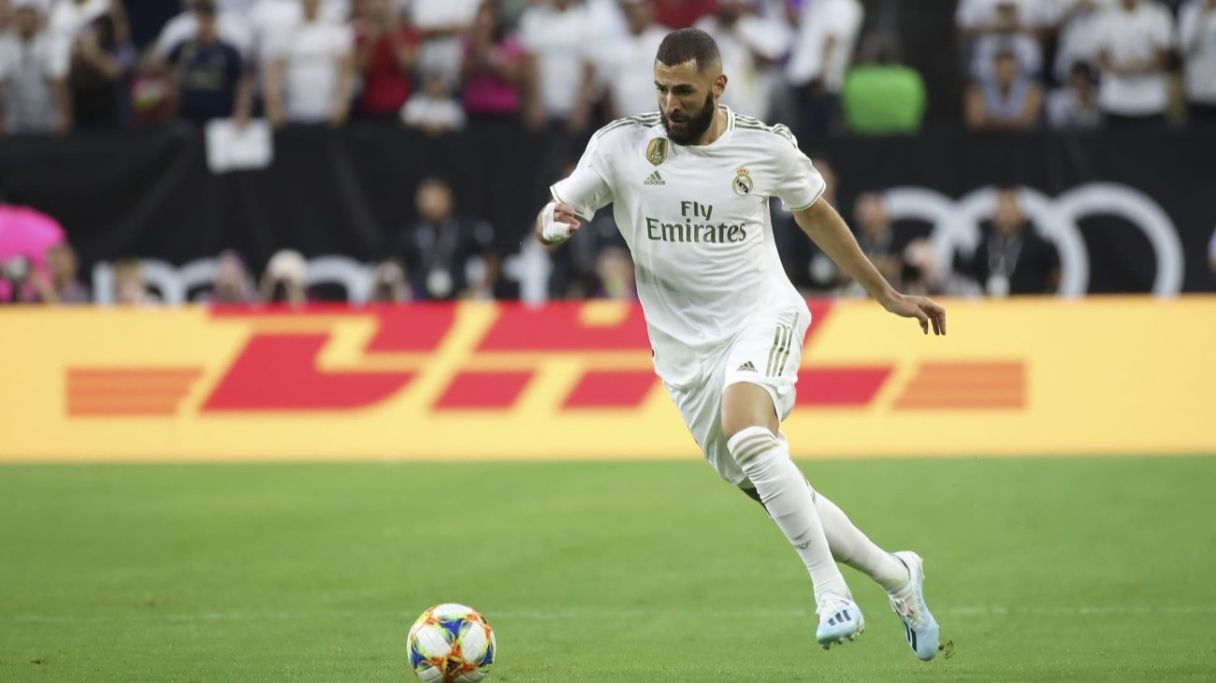 France forward Karim Benzema in action for Real Madrid. © Kevin Jairaj-USA TODAY Sports
After Maehle, it's impossible to overlook Kylian Mbappe and Karim Benzema. The Real Madrid forward enjoyed his most prolific season last term in helping Los Blancos to LaLiga and Champions League success, but Mbappe is the star man with the national team and he'll want to make this the Mbappe World Cup.
Benzema is a complete footballer, doing the work of a No.9 and a No.10 at the same time, but with France he'll likely be expected to contribute with goals and allow Mbappe to do some of the deeper and wider work, so the Real Madrid man is sure to contend for the Golden Boot and to be the top goalscorer in the group.
Group D Players to watch picks
Karim Benzema top goalscorer in Group D

Joakim Maehle to score or assist over 1.5 goals
Group D roster updates
France 2022 roster updates
The nature of France's plethora of options means that somebody is going to have to miss out this winter, but the usual big names will be there and Mbappe, Benzema, and Paul Pogba are probably the three standouts. If one of those picks up an injury, they'll be far more difficult to replace than anybody else.
Australia 2022 roster updates
Andrew Redmayne will have to go to the World Cup after his part in qualification, but he's not likely to play a single minute as Matthew Ryan is their star man and first-choice goalkeeper, leaving the qualification hero in a strange position.
Denmark 2022 roster updates
Christian Eriksen will be there but Andreas Christensen is probably Denmark's star name, offering them a guarantee at the back whether he plays at centre-back or in defensive midfield. Pierre-Emile Hojbjerg is another than Danes will be pleased to see on the list given his importance to the side.
Tunisia 2022 roster updates
Tunisia will announce their team in October. In that time coach Jalel Kadri will pray that Al-Arabi forward Youssef Msakni remains fit. The national team captain is integral to the side. Likewise for the aforementioned Khazri and Mejbri. It will be interesting to see if players who have been shunned somewhat in the last 12 months, like Mohamed Amine Ben Amor, get a recall.
Why was Karim Benzema not in the World Cup?
Have France ever won the World Cup?
How old was Kylian Mbappe when he won the World Cup?
Who will win Group D at World Cup 2022?