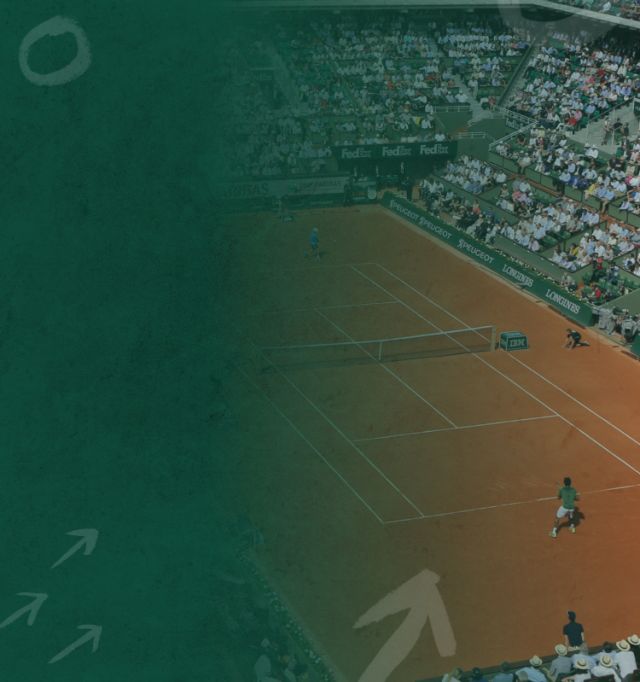 How to bet on the French Open
The iconic red clay courts of Roland-Garros host one of the most famous tournaments in tennis. The French Open, the second Grand Slam event of the year, brings the finest players to Paris. There's a historic title to fight for and many, many opportunities to bet on the action.
French Open: Most popular markets
Rafael Nadal has reigned supreme in Paris since 2005. Only three other men – Novak Djokovic, Roger Federer and Stanislas Wawrinka – have won at Roland-Garros in that time. In the French Open betting, the Spaniard will be strongly fancied to prevail again in 2022 at the age of 35. He is certain to be favorite to add to his astounding 13 French Open titles and 20 Grand Slams in all.
If any man can stop him, reigning champion Djokovic can. The Serb is as impressive as ever and is sure to give Nadal a difficult time if they meet – as he did when edging their epic semifinal in 2021.
Stefanos Tsitsipas will be looking to go one step further this time around after giving Djokovic a real scare by going two sets up in the 2021 final, his first appearance in the showpiece of any Grand Slam. Another player who is worth checking out in the French Open betting odds is Dominic Thiem. The Austrian has previously reached the final twice, and has beaten Nadal four times on clay – no mean feat.
The sense that there is currently no dominant figure in women's tennis is backed up by the fact that the last eight editions of the French Open have seen eight different winners prevail.
One of them was Serena Williams, but, at 40, you will get generous French Open betting odds on her adding to her 23 Grand Slam titles. Iga Świątek, champion in 2020 as a teenager, will be heavily backed to regain the title after a surprise defeat in the quarterfinals in 2021.
Ashleigh Barty, winner in 2019, and Simona Halep, champion the year before, are also leading contenders for the 2022 tournament – with both having conquered Wimbledon since their respective Paris triumphs.
Defending champion Barbora Krejčíková cannot be discounted – especially after a fantastic year which included a US Open quarterfinal, Olympic gold in the doubles and a third consecutive mixed doubles crown at the Australian Open.
Aryna Sabalenka, semifinalist at two Grand Slams in 2021, and Emma Raducanu, the surprise teenage US Open champion, are also in contention for glory at Roland-Garros. This tournament is wide open, which means if you do find the winner, you should get good odds on them before the event begins.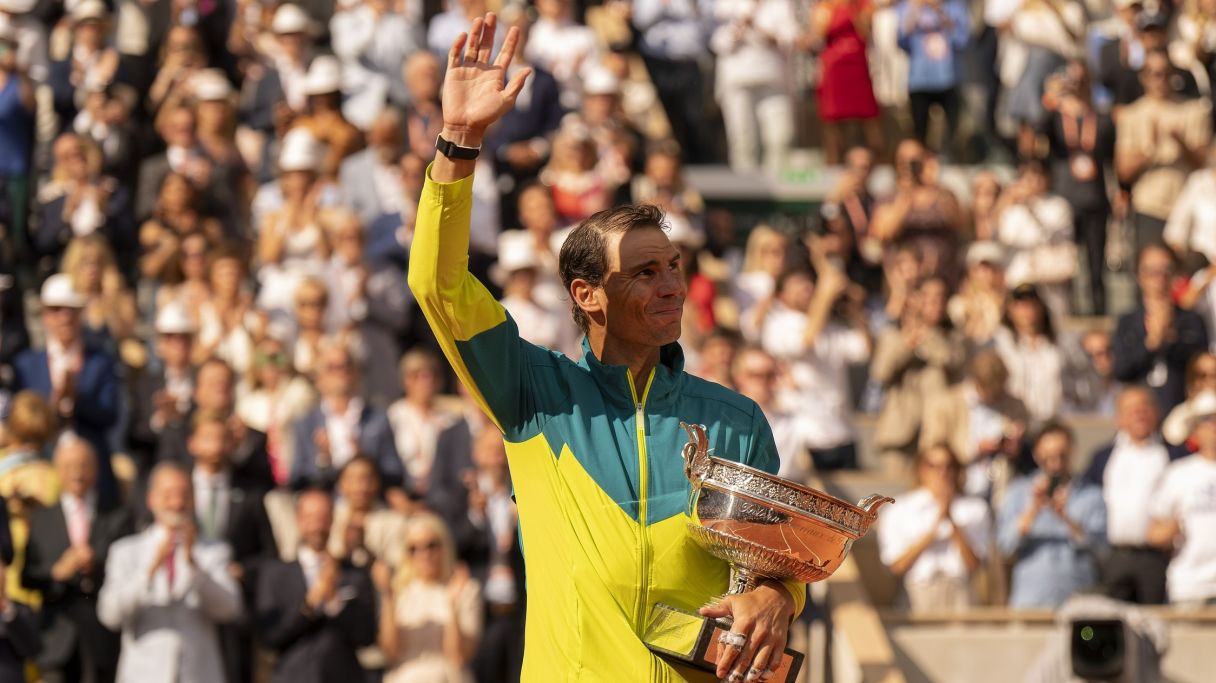 Rafa Nadal won the French Open in 2022 - © Susan Mullane-USA TODAY Sports
French Open betting sites offer a fantastic array of markets for bettors to enjoy before and during the tournament.
Because it's such a prestigious event, there will also be a healthy choice of special offers for new and existing customers who want to make French Open predictions. For example, if we think that we have found a competitor in the men's singles to topple Rafael Nadal, we will find generous odds on that player.
It's always best, when we want to get involved with French Open betting, to use a reputable sportsbook with a wide variety of odds. We also want to use one with an efficient platform that allows us to move between markets easily and place in-play bets without delay.
Check out the ones that are offering special bonuses, such as money back if you place a certain number of bets during the tournament.
The French Open is the leading clay-court tennis tournament in the world. It's the second of four Grand Slam tournaments and takes place in late May each year.
The slow surface makes for longer rallies, which mean this is the most physically testing of the major competitions. Certain players specialize on these courts, most notably Rafael Nadal, while some of the greatest in the history of the sport have never managed to triumph in Paris.
With a prize fund of more than $45million, this is one of Europe's premium sporting events and the popularity of betting on tennis ensures there is a high level of wagering on the tournament.
Video: Rafael Nadal on breathing difficulties ahead of the 2022 French Open
Where will the 2023 French Open be held?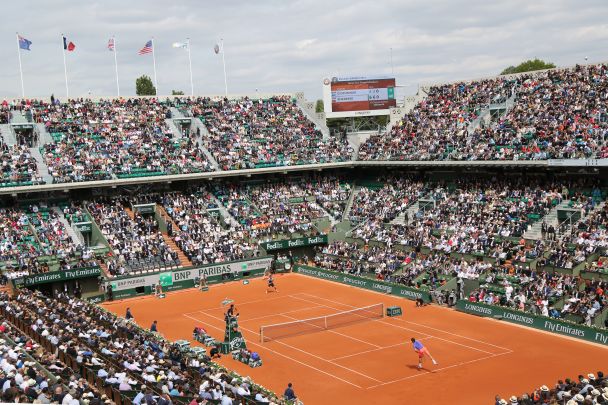 Stade Roland-Garros
Roland-Garros, Paris, France
5/28/2023 - 6/11/2023
The Stade Roland-Garros is one of the most famous tennis venues in the world, and certainly the most prestigious in France.
Located to the west of Paris, Roland-Garros was built in 1928 and named after the famous French aviator who was also a World War One flying ace.
It now features 20 courts, with the three most famous named after French tennis legends Philippe Chatrier, Suzanne Lenglen and Simonne Mathieu.
The surfaces of all the courts at Roland-Garros are coated with the brick-red clay that makes the French Open so distinctive and so tough to win.
In-play betting on the French Open
Tennis is a sport that's very popular with in-play bettors. The breaks during play allow for a few moments to consider a wager without missing any of the action.
In-play betting means that we can continue wagering on a range of markets even when a match is under way.
We are able to enjoy French Open betting online and bet on a match in question as well as the winner of the next set, and a variety of other markets.
For instance, if Iga Świątek loses her first set in Paris, we will still be able to back her at that moment to win that match and even the tournament as a whole.
French Open betting promotions
Parlay/accumulator bonus
Some sportsbooks will increase our winnings on a parlay bet, which is also known as an accumulator. If all the French Open predictions we combine in a parlay are correct, an extra percentage of up to 70% may be added to our return.
Free bets
If we make a certain number wagers on the tournament, some French Open betting sites will reward us by adding a free bet to our account. This is an excellent way to enjoy the tournament even more, but it's always worth checking out the terms and conditions of the offer.
How do I bet on the French Open?
What type of bets can I make on the French Open?
Can I use my mobile or tablet to place a bet?
What type of bonuses do tennis betting sites offer?
Images courtesy of: © Susan Mullane-USA TODAY Sports, © Robert Deutsch-USA TODAY Sports, © Peter van den Berg-USA TODAY Sports, © Robert Deutsch-USA TODAY Sports, © Andy Abeyta/The Desert Sun / USA TODAY NETWORK