NBA Western Conference Finals Predictions and Picks - Can Steph Curry and the Warriors get back to the NBA Finals?
Mete started his sports journalism career in 2000 and has worked for various national media outlets as a basketball writer and commentator. Full bio here.
The Golden State Warriors and the Dallas Mavericks last met in the playoffs in 2007, when Steph Curry was a freshman at Davidson College and Luka Doncic was an 8-year-old elementary school student in Slovenia. Now, 15 years after the Warriors defeated the Mavericks 4-2, becoming the third eighth-seeded team in league history to upset the first-seeded team in the playoffs, the two franchises spearheaded by Curry and Doncic will square off in the Western Conference Finals in what promises to be an epic series between two teams that proved they belong in the running for the NBA title.
The Warriors, who entered the 2022 playoffs as the third-seeded team despite Curry, Klay Thompson, and Draymond Green playing only a combined 11 regular-season minutes amid overlapping injuries, are back in the conference finals for the first time since 2019. Three years ago the franchise reached its fifth straight NBA Finals before losing to Toronto in the deciding game six.
https://twitter.com/ESPNUK/status/1526124258602123264
Since the start of the season, Golden State have been one of the league's finest teams. Curry and Green remain franchise cornerstones, while Thompson has returned from injury after missing the previous two seasons. The new Warriors prodigy Jordan Poole (19.3ppg, 39.1% 3pt), a 22-year-old guard has provided Golden State with much-needed pace, creativity, and shooting.
After two victorious playoff rounds, Golden State reaffirmed the long-held NBA view that the regular season has little similarity to the postseason. They dropped three of four regular-season games against the Denver Nuggets and the Memphis Grizzlies before finishing their seasons in the playoffs.
Golden State also lost three of four games against the Dallas Mavericks in the regular season.
Following the dismantling of the injury-riddled Nuggets 4-1 in the first round, the Dubs withstood a testy series against the second-seeded Memphis Grizzlies - the team that eliminated them in the play-in tournament last year- and defeated their feisty opponent 4-2 to advance.
The Warriors had a difficult time against the Grizzlies, even after Ja Morant was ruled out after injuring his knee in Game 4. A 39-point loss in Memphis in game five would have rattled a lot of teams, but the battle-tested Dubs bounced back in game six at home and ended the Grizzlies' title hopes with a decisive 110-96 win on Friday at Chase Center. 'Game 6 Klay' was on full display as Thompson finished with 30 points, marking the sixth time in the past seven Game 6s that he has logged at least 25 points. He hit 11 of 22 shots from the field and 8 of 14 from deep and added eight rebounds. Klay was his vintage self, but the bigger surprise was center Kevon Looney who came up with a career-high 22 rebounds.
The Warriors and Grizzlies had the highest tempo (102.42 possessions) of any Round 2 series, and the Warriors are fourth in pace (99.82) in the playoffs. This will be an intriguing contrast to the Mavericks, who play at a considerably slower pace.
Golden State is no longer the offensive juggernaut it once was. The Warriors averaged 111.1 points per game (15th) and shot 36.4% from the three-point range (8th) during the regular season. However, their defense has been outstanding, allowing only 105.5 points per game on 43.8% shooting (2nd) and 33.9 % from three (3rd).
The Warriors turned to their defense in the last round and held Memphis to 41.8% shooting from the field while posting a 107.8 defensive rating – third-best among all teams in the second round. Yet these Warriors don't appear to be as remarkable as the teams that won five consecutive Western Conference titles (2015-2019). Steph Curry has struggled in the playoffs so far, shooting only 36 percent on three-pointers. With him on the court, Golden State has been outscored. Nonetheless, the experienced sniper (26.0 points on 56.8% true shooting and 5.8 assists per game) was consistently good enough to lead the Warriors to the conference finals.
The Dallas Mavericks have advanced to the Western Conference finals for the first time since 2011, when they won their first-ever Larry O'Brien Trophy beating the Miami Heat 4-2 in the NBA finals. The veteran point guard of that 2011 Mavericks team, Jason Kidd, will try to lead his squad as a coach against a championship-tested and proven winner in Golden State's Steve Kerr.
The Mavericks finished fourth in the regular season. They clung to the hope that Luka Doncic's brilliance, Kidd's arrival, and a mid-season trade for Spencer Dinwiddie would propel them past the first round. They did, defeating the Utah Jazz in six games and shocking the top-seeded Phoenix Suns in seven games.
Led by the leading scorer in the postseason, Luka Doncic, the Mavericks pulled off a 33-point rout (123-90) on the road to eliminating the team with the best regular-season record in the association.
Throughout the playoffs, Jalen Brunson has acted as the secondary scoring option behind Doncic. However, that changed in game seven against Phoenix with Dinwiddie dropping 30 points.
The Mavericks' offense has come alive to match their stifling defense since the start of Round 2: they led all teams in the conference semi-finals in Offensive Rating (114.3) and Effective Field Goal Percentage (55.7%).
Against Golden State however, Dallas needs to see more consistent performances from players not named 'Luka'. The Slovenian will put up numbers, but they will need players like Brunson (22.9ppg, 32.1% 3pt), Dinwiddie (13.2ppg, 40% 3pt), and Dorian Finney-Smith (11.6ppg, 42.2% 3pt) to contribute. Finney-Smith is a great defender who will most likely be called upon to guard Thompson and Curry at times. Maxi Kleber (10.1ppg, 4.4rpg) is the Mavericks' important big man, and he has emerged as a crucial defender in the postseason.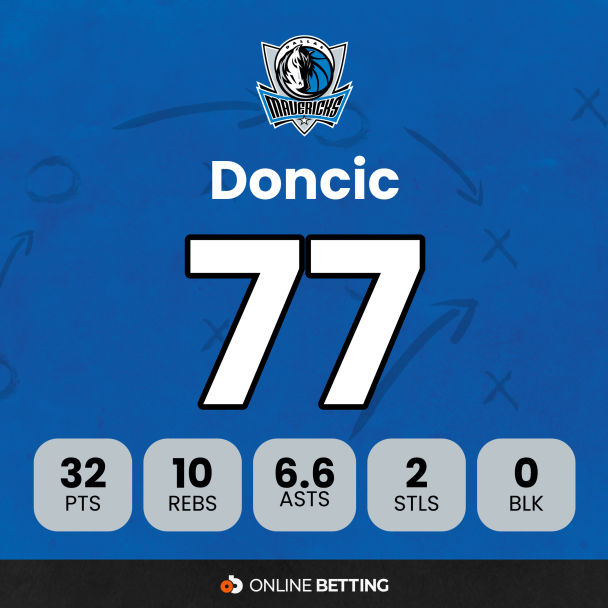 NBA Conference Final player to watch: Luka Doncic, Dallas Mavericks
The Mavs' 23-year-old superstar averaged 31.5 points against the Warriors during the regular season. Doncic racked up 126 points vs. the Warriors in four games, the fourth-most by a player in a single season against Golden State since Kerr became coach in 2014-15.
The 6'7 combo guard earned his third All-Star nod this season and still found a way to step up his game in the postseason. 'Luka Magic' dominated against the Jazz (29.0 ppg; 46.9%) and the Suns (32.6 ppg, 9.9 rebs, 7.0 ast, 45.7 FG%) while also elevating his supporting cast in the playoffs.
The Warriors were able to slow Nikola Jokic in the first round to advance, but Doncic might be their most challenging defensive assignment yet. To slow down a player of Doncic's caliber it will take the type of team defensive effort that Kerr has repeatedly discussed against players like LeBron James and Kevin Durant.
NBA Playoff Predictions and Golden State Warriors vs. Dallas Mavericks Picks
The Warriors have exhibited some shortcomings this postseason, but they have the versatility and championship pedigree that will be crucial in this series. It isn't easy to pick against Luka Doncic and the Mavericks after their game seven thrashing of the Suns, but I'll edge slightly toward the Warriors due to their combined talent, experience, and home-court advantage.
- Golden State Warriors to win the series in seven games.
- Luka Doncic to average over 29.5 points & 8.5 rebounds & 6.5 assists
L.A. Lakers
@
Indiana
Miami
@
New York
Memphis
@
Cleveland
Charlotte
@
Chicago
New Orleans
@
Dallas
Golden State
@
Denver
L.A. Clippers
@
Milwaukee
Sacramento
@
Indiana
Portland
@
Washington
Charlotte
@
Detroit
Phoenix
@
Boston
Toronto
@
Houston
Philadelphia
@
San Antonio
Orlando
@
Minnesota
Atlanta
@
Utah
L.A. Lakers
@
New Orleans
Washington
@
Brooklyn
Phoenix
@
Detroit
L.A. Clippers
@
New York
Houston
@
Oklahoma City
Miami
@
Milwaukee
Portland
@
Chicago
Dallas
@
Golden State
Atlanta
@
Denver
Orlando
@
Charlotte
Cleveland
@
Indiana
Toronto
@
Memphis
Philadelphia
@
New York
Sacramento
@
New Orleans
Denver
@
Minnesota
Cleveland
@
Washington
Boston
@
Detroit
L.A. Clippers
@
Brooklyn
Sacramento
@
Houston
San Antonio
@
Chicago
Dallas
@
Utah
Oklahoma City
@
Golden State
Milwaukee
@
Portland
New York
@
Orlando
Atlanta
@
New Orleans
Phoenix
@
Brooklyn
Chicago
@
Memphis
Minnesota
@
Denver
Oklahoma City
@
L.A. Lakers
Charlotte
@
Washington
Detroit
@
Cleveland
Indiana
@
Miami
San Antonio
@
Toronto
Philadelphia
@
Boston
Sacramento
@
Houston
Minnesota
@
Utah
Dallas
@
L.A. Clippers
Golden State
@
Portland
Last updated: Feb 2, 2:22 PM UTC
Looking for today's best expert NBA Picks?
If you are on the lookout for the very best in NBA expert picks, then you are in the right place. Our handicappers see the whole picture. When making their picks, they consider form, history and the elements of the game that go beyond statistics.
OnlineBetting.com NBA predictions for today, and every day, come from individuals who work in and around the league. They are known not only for their authority and knowledge but also for their track record of top-notch NBA picks and predictions.
Whether you are trying to put together a parlay, betting on the over/under, or simply taking a punt on the moneyline, we have the best picks for you.
Free Expert Moneyline Picks
NBA moneyline picks are the easiest NBA bets of them all.
Here, you are simply picking the team you believe will win any given game. For instance, if Luka's Mavs are playing Giannis' Bucks and you think Dallas have the advantage and you are getting good odds, then you would pick them on the moneyline.
In that example, if the Mavericks come out on top and defeat Milwaukee, then your bet is a winner.
If you are making NBA moneyline picks today or NBA moneyline picks tonight, then you should consider the form of both teams, the players who are available and what is at stake in the individual game.
Free Expert NBA Picks Against the Spread For Today's Games
In European betting, the spread is known as the handicap. For NBA point spread predictions, you are betting on a team to win by more than a certain points margin, or wagering that if you add a certain amount of points to a side's total, that they will then have more points than the opposition.
An example of this would be if Boston were heavy favourites against Washington. Instead of betting on the moneyline, you could bet on the Celtics overcoming a spread of -16.5.
So you are wagering on Jaylen Brown and his side winning by at least 17. For NBA predictions against the spread in this example, you are betting on Washington +16.5. Here you are betting on Washington to lose by less than 17.
When an NBA expert picks against the spread, they believe that a game is going to be closer than the bookmakers are giving it credit for.
NBA Over/Under Picks – NBA Totals Picks
An over/under bet allows you to take a punt on whether you think the overall points scored in a game will be below or above a certain amount.
NBA over under predictions are made by looking at the scoring form of the two sides playing.
Our handicappers make their expert over under predictions by looking at that information, but also by considering how good the two defences are, if any of the teams' key scorers are missing and how the overall formbooks are looking.
If you are set to make NBA over under predictions today, then we would suggest that you take a look at what our experts have to say.
Free Expert Parlay Basketball Picks Today
NBA picks and parlays are the hardest bets to win on, but they also offer the largest odds. This is where you make multiple bets, all of which accumulate and can get you a much bigger win.
However, for a parlay to come good: each and every one of your bets needs to be a winner. If you are looking for free picks and parlays, then our expert advice should set you on the right course.
They know what a good parlay is, so take a look at their NBA parlay picks today.
NBA Finals: Most popular markets
A straight-up bet: who will win the NBA Finals and lift the famous Larry O'Brien Championship Trophy? The Milwaukee Bucks, led by power forward Giannis Antetokounmpo are the team to beat as they look to defend their championship.
Giannis Antetokounmpo took home his first Finals MVP trophy in 2021 after leading the Bucks to their first NBA Championship since 1971. As expected, this is always one of the most popular markets once the Final match-up is confirmed.
Outside of the everyday player prop wagers on specific players, NBA Finals betting offers unique proposition wagers on specific teams, players and series bets. You can place a wager on how many games a series will go and what the final score of that best of seven series will be, amongst many others.
How do I bet on the NBA Finals?
How much money is bet on the NBA Finals?
Where can I bet on the NBA Finals?
Can I get a bonus from the sportsbook?
Can I place bets on my mobile?
Do I get a free bet offer?