World Cup Group A betting odds and predictions: Glory up for grabs in extremely competitive group
With no obvious standouts in World Cup Group A, football fans are in for a treat this winter when they tune in to watch the group that contains hosts Qatar, African champions Senegal, the Netherlands, and Ecuador. Nothing can be taken for granted in this group, and it might just be the Africa Cup of Nations winners who fancy themselves the most to advance from the World Cup groups here.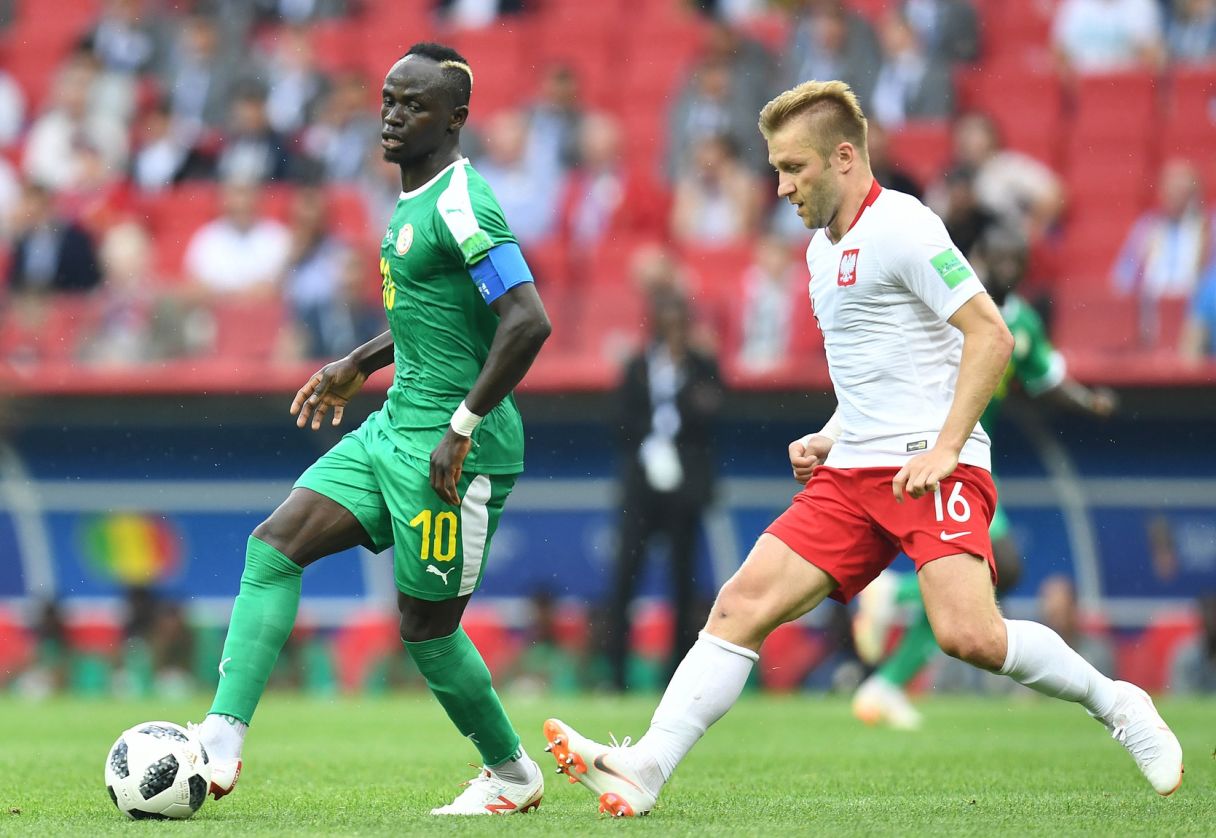 Senegal midfielder Sadio Mane (10) controls the ball against Poland midfielder Jakub Blaszczykowski (16). Pic: Tim Groothuis/Witters Sport via USA TODAY Sports
World Cup Group A fixtures
| World Cup Group A Fixtures | When (ET) | Where |
| --- | --- | --- |
| Senegal vs Netherlands | November 21, 5am | Al Thumama Stadium |
| Qatar vs Ecuador | November 21, 11am | Al Bayt Stadium |
| Qatar vs Senegal | November 25, 8am | Al Thumama Stadium |
| Netherlands vs Ecuador | November 25, 11am | Khalifa International |
| Ecuador vs Senegal | November 29, 10am | Khalifa International |
| Netherlands vs Qatar | November 29, 10am | Al Bayt Stadium |
Jump to:
World Cup 2022 Group A predictions
No clear favorites to top World Cup Group A is sure to bring a lot of excitement this November, even if hosts Qatar are likely to be the whipping boys. Aside from Qatar, though, there are two sides who stand out in Senegal and the Netherlands, though Ecuador are likely to come hoping to bloody some noses and unsettle the so-called bigger teams.
That said, though, it's hard to see the African and European sides failing to progress, even if there are always some shock eliminations and progressions from FIFA World Cup groups .
Senegal might just be the strongest side in World Cup Group A, with standout names being Edouard Mendy, Kalidou Koulibaly and Sadio Mane. Beyond those big names, they have plenty of talent and showed that by inning AFCON and then beating Egypt to reach the 2022 World Cup groups.
The Netherlands have talent themselves and Louis van Gaal knows his way a World Cup group stage too. They've got enough about them to threaten anybody, without being one of the major forces this winter.
World Cup 2022 Group A picks
Qatar World Cup 2022 overview
A lot of people will take joy from this, but Qatar might just be the worst World Cup hosts in recent memory and they'll be lucky to get as much as a point from this group. Their best chance will undoubtedly come in their opening game against Ecuador, but the South Americans should be able to take care of business.
In preparation for this World Cup - and having never been involved in one before - Qatar have lost to the United States, Portugal (twice), and Algeria, and also suffered 4-0 hammering against both the Republic of Ireland and Serbia late last year. They've recently picked up some wins, but again Bahrain, Oman, Iraq and the United Arab Emirates, so nothing that will have their World Cup Group A counterparts worried.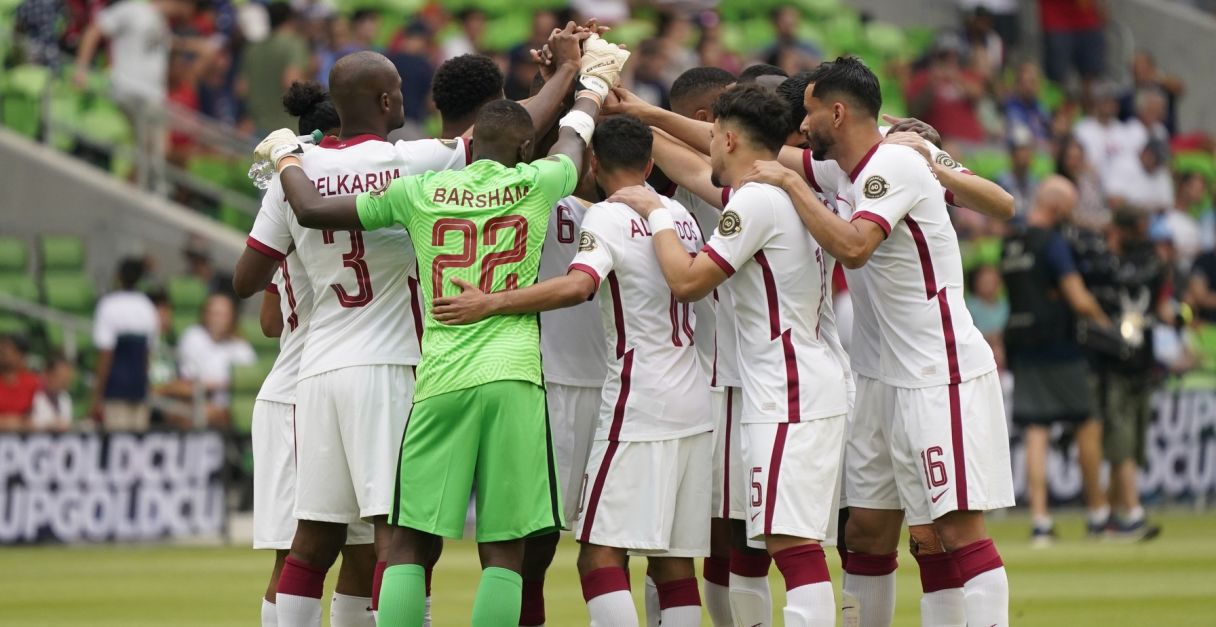 Qatar players huddle before the game against United States in a Concacaf Gold Cup semifinal soccer match. Pic: Scott Wachter-USA TODAY Sports
Their Asian Cup win in 2019 suggested they might have something about them, but their subsequent games suggest otherwise and they have never played in a major tournament, which is something they'll have to manage.
Perhaps playing on home soul will work in their favour, but they're not considered strong opponents by any of the other 31 nations at this World Cup.
Qatar picks and predictions
Qatar under 0.5 wins

Qatar under 1.5 team goals
Ecuador World Cup 2022 overview
Ecuador are running ahead of schedule by even being involved in the World Cup 2022 groups, as Gustavo Alvaro arrived in 2020 with a view to guiding them to the 2026 World Cup. But things went better than hoped with the new generation and they managed to make it to Qatar.
They've managed to introduce a number of young players while also keeping some of the old guard around as well to help them settle into the first team, and it has worked a treat.
This youth has brought a lot of self-confidence and belief into the setup, and with that they'll be fancying themselves to upset the odds this November and to leave either Senegal or the Netherlands behind them to advance to the knockout rounds.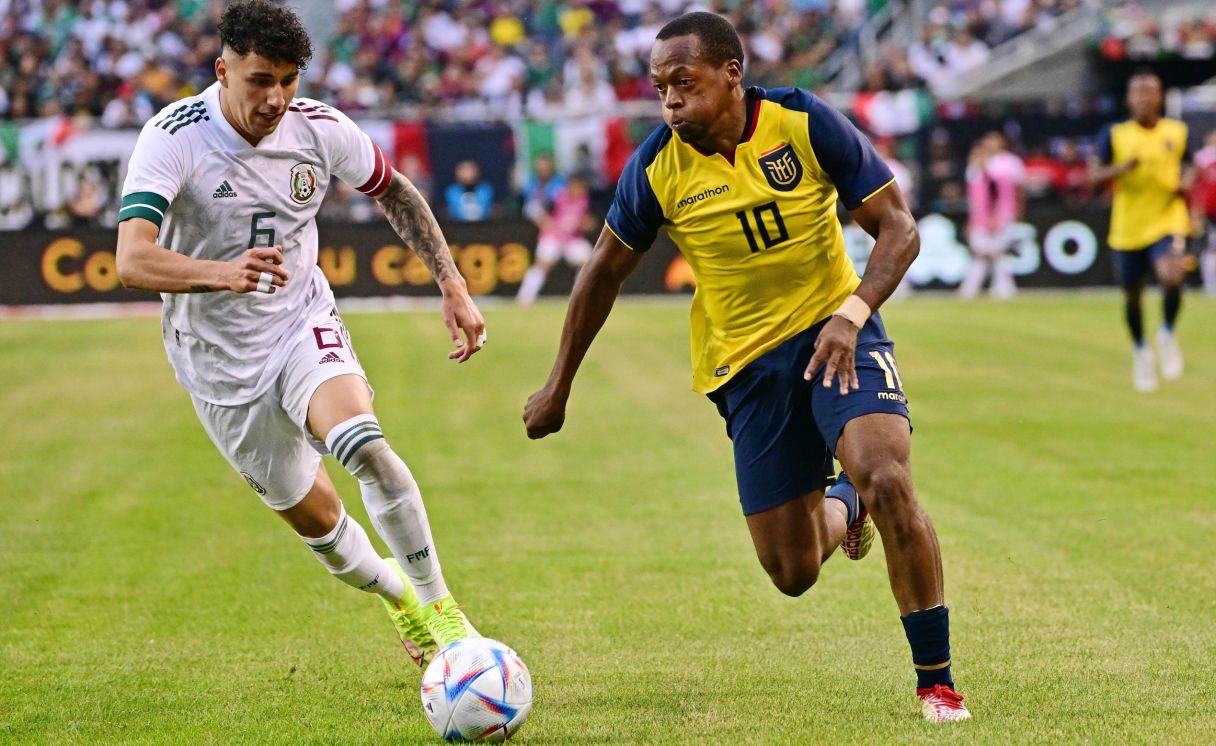 Jorge Eduardo Sanchez Ramos (6) of Mexico defends against Romario Andres Ibarra Mina (10) of Ecuador. Pic: Quinn Harris-USA TODAY Sports
That said, it's hard to see them getting the better of two such experienced sides, and their lack of experience might work against them in those games, which would be understandable.
Playing Qatar in the opening round presents a chance though, as three points there will only add to their belief and they'll be full of confidence then with a big step towards qualifying from World Cup Group A taken.
Ecuador picks and predictions
Ecuador fail to qualify from Group A

Ecuador to win over 0.5 games
Senegal World Cup 2022 overview
Senegal come into the World Cup 2022 groups as champions of Africa, having beaten Egypt on penalties in the Africa Cup of Nations final, and then doing that exact same thing in the qualification playoff to reach Qatar.
From back to front, Senegal are packed with elite-level players and they have so many who show in Europe on a weekly basis just how good they are. They're African champions for a reason, and they might just be the best side the continent has ever had at a World Cup.
Whether they're that or not, they're already part of the conversation, and right up there with the Ghana and Ivory Coast sides of the early 2000s.
They aren't, though, always entirely linked up from back to front and they can become disconnected. As good as Sadio Mane is, he is at times left having to do a little bit too much and if he doesn't deliver, they're lacking a player who can take control in the same way.
There's a lot to be excited about with this Senegal side, though.
Senegal picks and predictions
Sadio Mane top team goalscorer

Senegal to qualify from Group A
Netherlands World Cup 2022 overview
Netherlands are regulars at World Cups and when they don't make it it's a national crisis. Louis van Gaal is back on the bench after taking over from Ronald Koeman, and this is his third spell in charge of his country, guiding them back to the World Cup having led them to Brazil in 2014 as well.
This time, Van Gaal (below) had a tough task to bring them back into the World Cup group stage after they suffered the humiliation of missing out in 2018, and they've two of the world's very best centre-backs in Virgil van Dijk and Matthijs de Ligt.
Netherlands manager Louis van Gaal during the semifinal match against Argentina in the 2014 World Cup. Pic: Tim Groothuis/Witters Sport via USA TODAY Sports
Further up the pitch they have other household names like Frenkie de Jong, Georginio Wijnaldum, Memphis Depay (above) and others. They have the talent, but can Van Gaal keep everything together and get the most out of the newer faces in the group?
As they're known for, they play an attractive brand of football even if it's not quite exactly the same as Johan Cruyff's way of playing, but they are lacking a clinical No.9 to punish opposing teams and really make their dominance count. Memphis can do it, but he doesn't regularly enough. That will be a big question for them this winter.
Netherlands picks and predictions
Netherlands to qualify from Group A

Netherlands to concede under 2.5 goals
World Cup 2022 Group A scenarios
World Cup Group A is similar to Group B in that it's hard to pick who will advance. Here, though, it's more about decided the winner of two teams while in Group B it could be any outcome from first to fourth.
It's likely that matchday one will give us a better idea of how the World Cup 2022 groups will play out across the board, but even more so in World Cup Group A as the two strongest sides face off in Senegal vs Netherlands on November 21, to kick off the tournament.
The runners up in this World Cup group are likely to meet Harry Kane (below) and England in the Round of 16 - that is if Gareth Southgate's men top World Cup Group B - so there should be an incentive there to go and take top spot.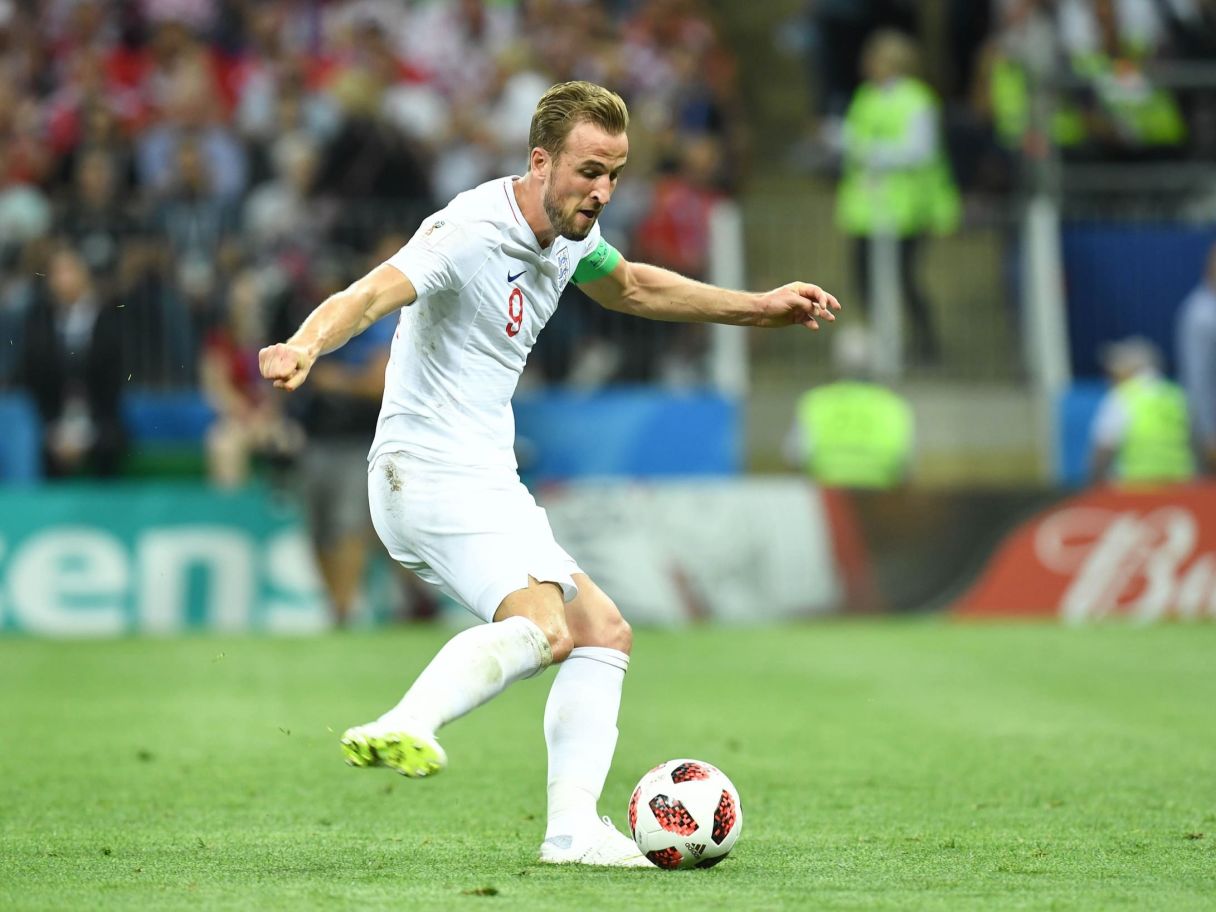 England forward Harry Kane (9) at the 2018 FIFA World Cup. © Witters Sport-USA TODAY Sports
Both Netherlands and Senegal have it in them, but the African champions have the slight edge and a higher quality of superstar.
Netherlands, though, might be helped by having Van Dijk at the back, as he is likely to know everything there is to know about Sadio Mane.
World Cup 2022 Group A players to watch
Given Mo Salah's blistering form for Liverpool over the last five seasons it can be easy to overlook his partner in the Reds' frontline. Senegal forward Sadio Mane has near enough matched the Egyptian's output during the same timeframe and has been an integral part in his club's recent success. At international level, it's no different.
Mane's recent move to Bayern Munich has been completed, meaning there is zero distraction and he'll be settling in at his new club come World Cup time. Everything good the African champions does goes through Mane, and if they are to make it out of the group he will have to be on form.
Elsewhere, Mane will come up against his old club teammate Virgil van Dijk when Senegal take on the Netherlands. The giant of a centre back remains one of, if not the, single best in his position in the game. He's lightning quick, composed, strong and reads the game exceptionally. While he will be marshalling the Dutch defense alongside Matthijs de Ligt, don't be surprised by the attacking threat that he offers from set-pieces.
Group A players to watch picks
Sadio Mane to score over 1.5 goals

Virgil van Dijk to score over 0.5 goals
World Cup 2022 Group A roster updates
Qatar 2022 roster updates
The Qatar roster might be one of the least recognizable at the World Cup but Spanish coach Felix Sanchez will be relying on star man Akram Afif to lead the hosts. He is their finest player and he has a lot of skills, and loves to cut in from the left. He's one to watch.
Ecuador 2022 roster updates
Ecuador have been teething the youngsters and one of the most promising is centre-back Piero Hincapie. At 20 years old, the Bayer Leverkusen defender is fearless in his duties, while also boasting the skillset of a 'modern' centre-back and being more than capable of playing football.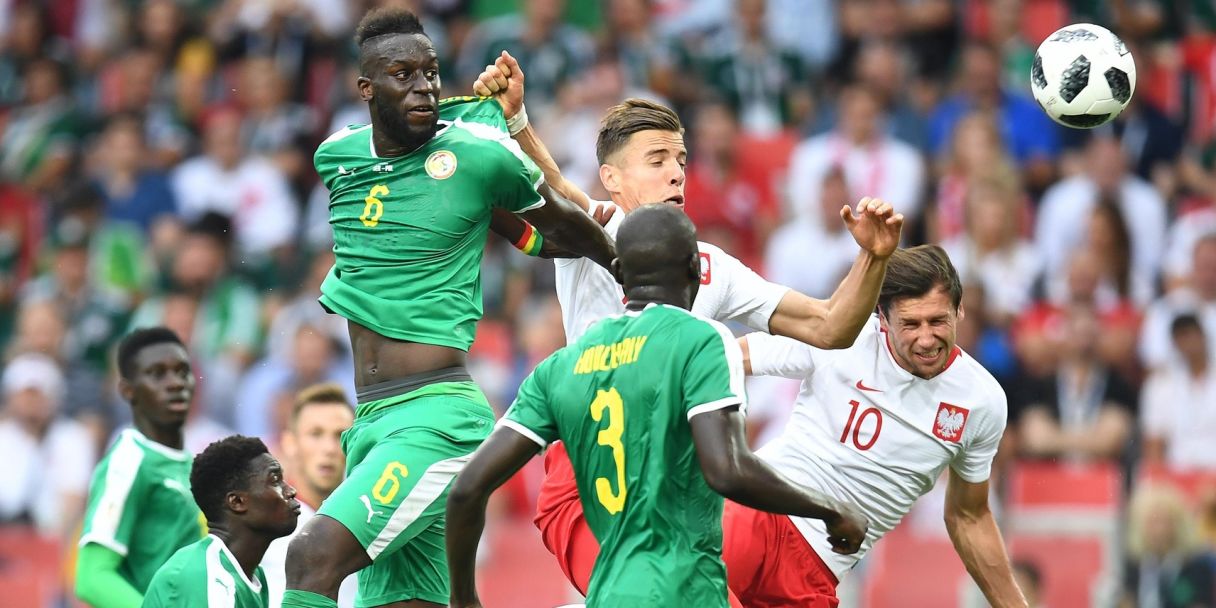 Senegal defender Kalidou Koulibaly challenging for a header at the FIFA World Cup 2018. Pic: Tim Groothuis/Witters Sport via USA TODAY Sports
Senegal 2022 roster updates
What a roster they have. Sadio Mane is the star, but with Mendy, Koulibaly (above) and others they've got depth. Aliou Cisse knows his best team, and by leading Senegal to back-to-back World Cups he's already a hero.
Netherlands 2022 roster updates
With a fiery past and without having been at 2018, Netherlands are something of a mystery this winter which is strange for a team of their reputation. They have excellence all over the pitch, nowhere more than at centre-back, but they might just be lacking a bit of depth beyond their XI.
How did Qatar qualify for the World Cup?
Have the Netherlands ever won the World Cup?
Who is in Group A at the World Cup?
Who will win Group A at World Cup 2022?