World Cup Group B betting odds and predictions: Can the USA beat the Brits to knockout stage qualification?
The nature of a World Cup group stage almost guarantees competitive football between 32 teams who have all earned their place in the tournament, and there are few World Cup 2022 groups that highlight that more than World Cup Group B, with England, Wales, the United States and Iran all set to battle for a place in the knockout rounds this winter.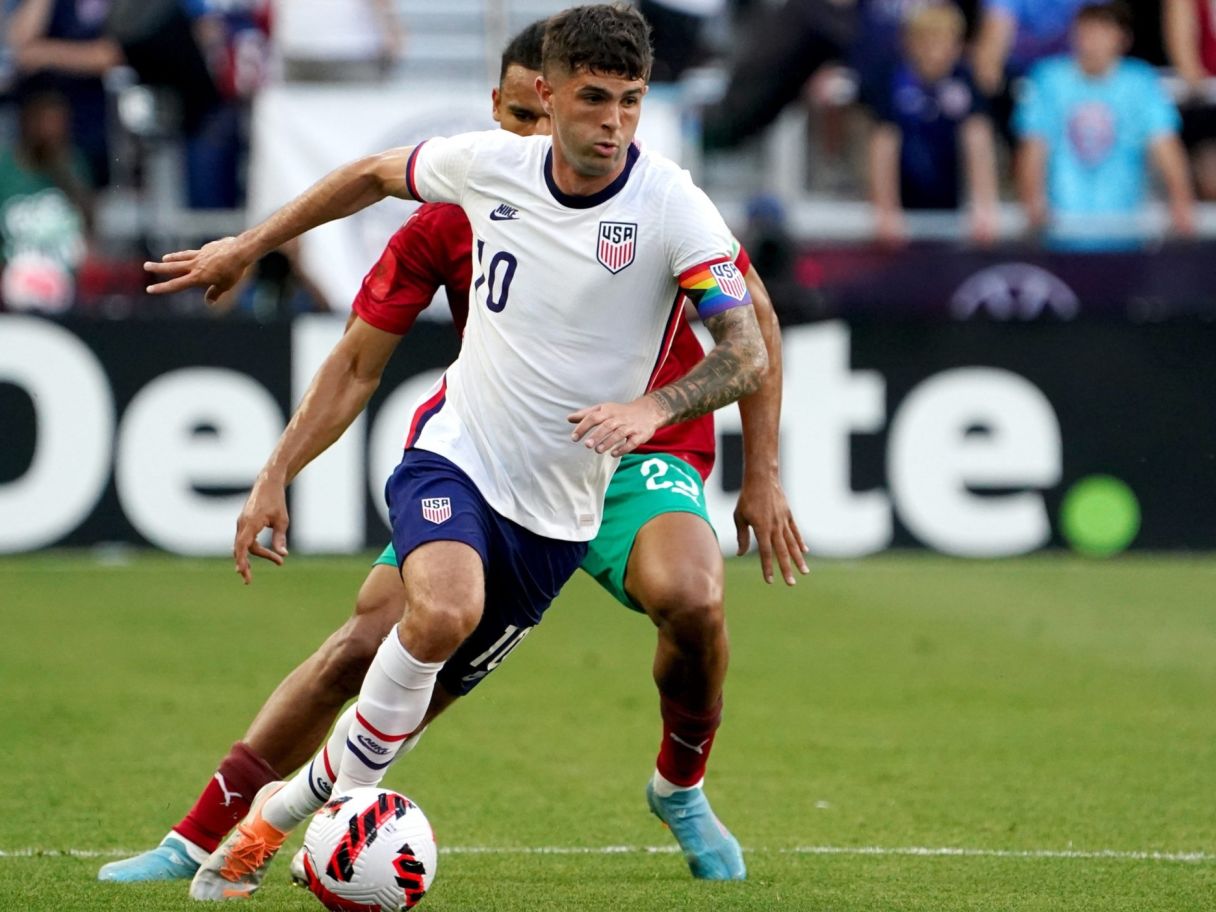 United States forward Christian Pulisic (10) on a jinking run. Pic: Syndication The Enquirer
World Cup Group B fixtures
| World Cup Group B Fixtures | When (ET) | Where |
| --- | --- | --- |
| England vs Iran | November 21, 8am | Khalifa Int'l Stadium |
| USA vs Wales | November 21, 2pm | Ahmad Bin Ali Stadium |
| Wales vs Iran | November 25, 5am | Ahmad Bin Ali Stadium |
| England vs USA | November 25, 2pm | Al Bayt Stadium |
| Wales vs England | November 29, 2pm | Ahmad Bin Ali Stadium |
| Iran vs USA | November 29, 2pm | Al Thumama Stadium |
Jump to:
World Cup 2022 Group B predictions
Having made it to the semifinals in Russia despite all of Harry Kane's 2018 World Cup goals, and losing out in the European Championship final last year, it's hard to make anybody other than England the favorites to top World Cup Group B, even taking their poor recent form into account.
Gareth Southgate has done a fine job in charge of the Three Lions and a lot of people in England will be expecting them to go that extra step in Qatar and finally end their 56-year wait for a World Cup win.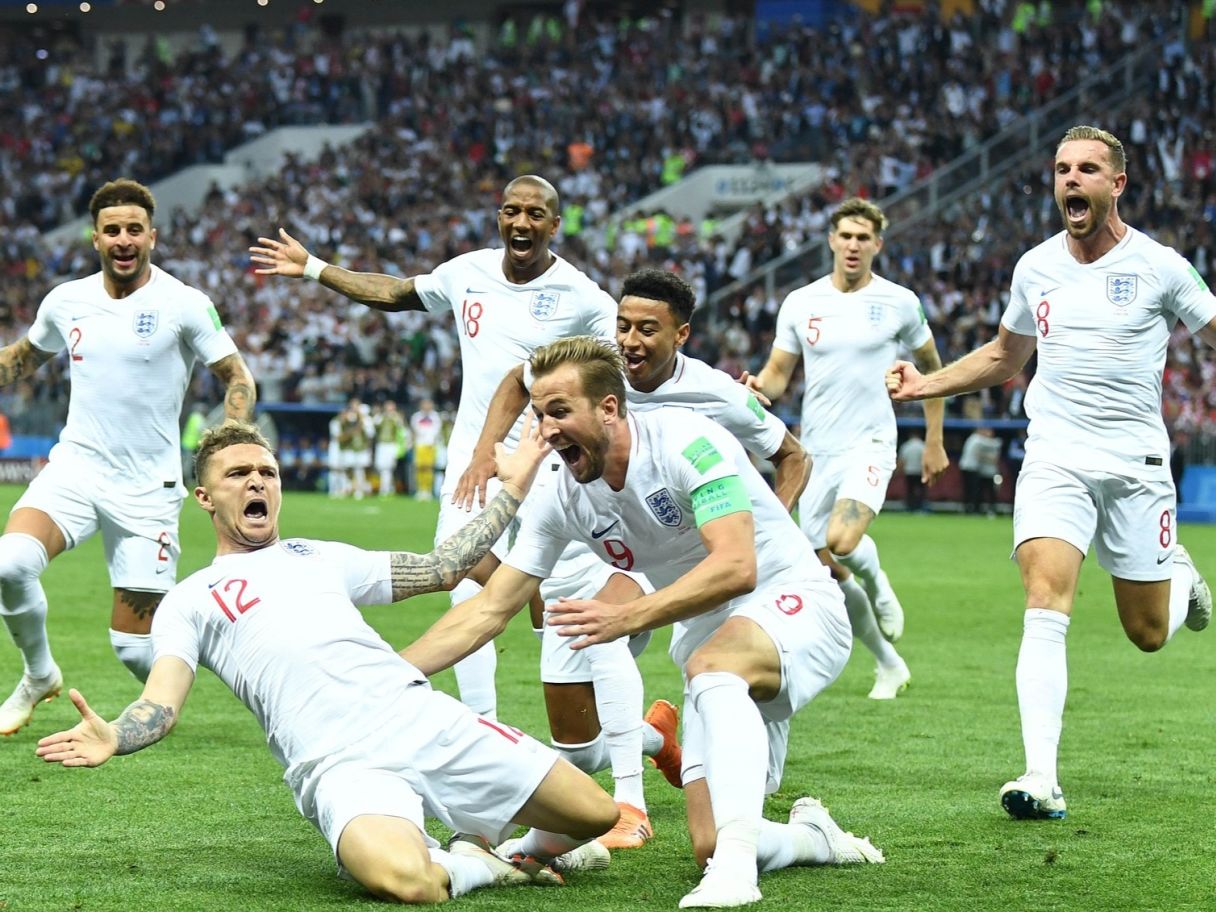 England defender Kieran Trippier (12) celebrates with forward Harry Kane (9) during the 2018 World Cup semifinal. Pic: Tim Groothuis/Witters Sport via USA TODAY Sports
Boasting an impressive squad with options almost all over the field, anything other than top spot to advance from the World Cup 2022 groups will be a disappointing return for England.
After England, World Cup Group B is entirely open and any of the three teams could advance. The United States, though, will feel that their time to advance and perhaps play the role of dark horse is now.
Christian Pulisic has had a mixed time at Chelsea and he'll want to star in Qatar.
World Cup Group B betting picks
England to qualify from Group B

Wales to not qualify from Group B
USA World Cup 2022 overview
The USMNT have started to find their groove lately, having suffered the humiliation of somehow not qualifying for the 2018 World Cup in Russia. Now, they boast possibly their greatest-ever generation of players.
Christian Pulisic is their obvious leader and often referred to as Captain America, but beyond him they have players with experience at big clubs in Sergino Dest, Gio Reyna, Yunus Musah, Weston McKennie, and Brenden Aaronson, to name but a few.
That said, though, Gregg Berhalter hasn't really managed to find a way to get the best out of those stars as a team, and they do often look like a team of individuals rather than a cohesive unit.
https://twitter.com/LDNFootbalI/status/1508242482915590148
Pulisic will be the threat as any fans of the Premier League will be aware of from when he's played at Chelsea and been on form, but they aren't quite watertight at the back and they have weaknesses that each of the other three teams in World Cup Group B can exploit given what they have at their respective disposals.
On their day, though, they've got those individuals who can make a difference.
Read the USA's match-up previews here:
USA picks and predictions
Christian Pulisic top team goalscorer

USA to fail to qualify from Group B
England World Cup 2022 overview
Gareth Southgate's England should be topping World Cup Group B and they'll be hoping that Harry Kane's 2018 World Cup goals return this fall, with the Spurs striker having scored six times in Russia, including a hat-trick against Panama.
Wales, the US, and Iran will all be fearing Kane (below) this winter, but they'll have plenty more beyond him to worry about as well. Jadon Sancho hasn't exactly been brilliant for Manchester United, but he can threaten if he plays, as can Jack Grealish, Raheem Sterling, and Mason Mount.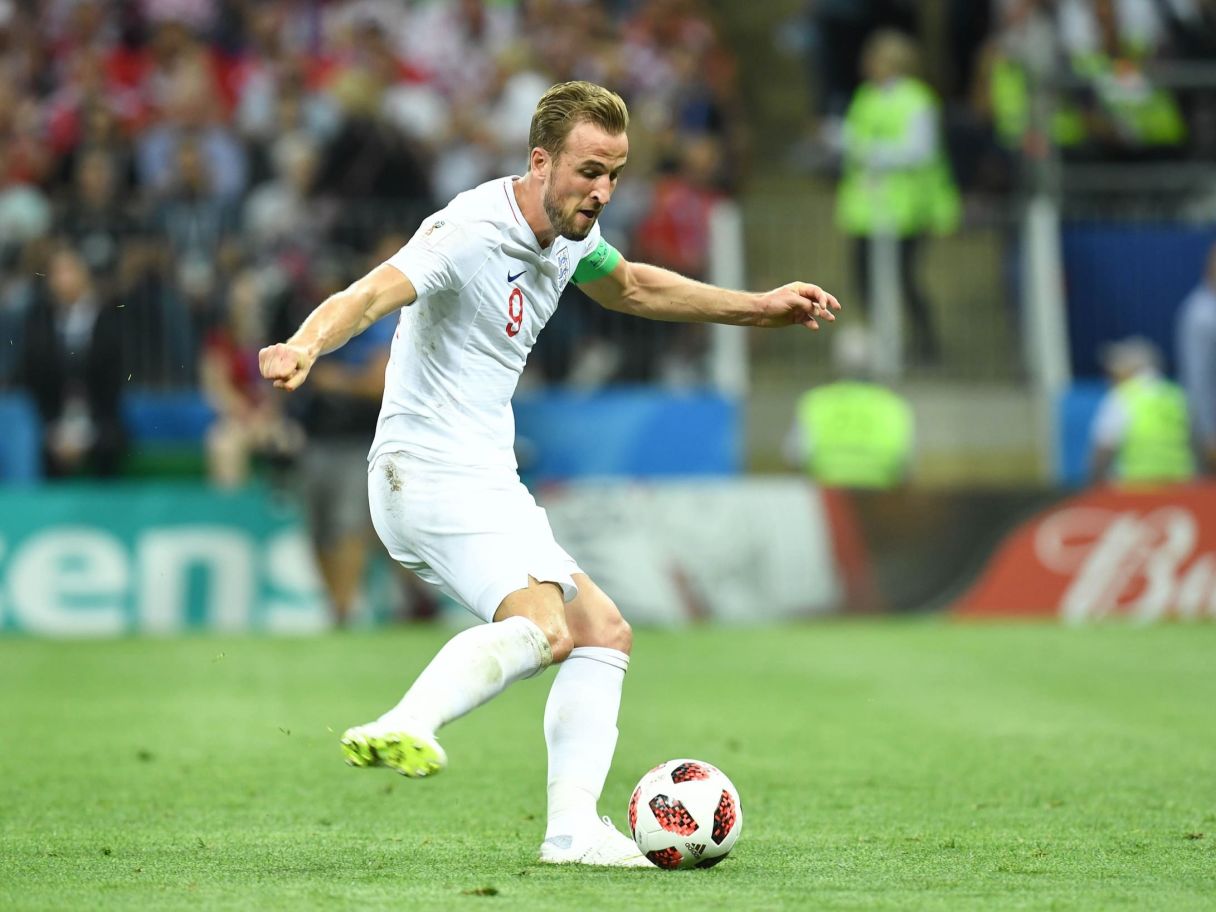 England forward Harry Kane (9) at the 2018 FIFA World Cup. © Witters Sport-USA TODAY Sports
Questions have started to be asked of England though after four games without a win in June, losing to Hungary twice (1-0 and 4-0) and drawing with both Germany and an experimental Italy side as well.
They should, though, have enough about them to advance as World Cup Group B winners, and there's still time for them to rediscover their form, though Italy and Germany in September's Nations League games will test them.
Sterling will be a player to watch as he hasn't had the consistency he'd have hoped for with Manchester City of late but he tends to deliver when he represents his country and Southgate will be relying on him.
England picks and predictions
England to qualify from Group B

Harry Kane top team goalscorer
Iran World Cup 2022 overview
Iran's sacking of Marc Wilmots was a blessing, as they had started the qualification campaign in far from convincing manner, losing to both Iraq and Bahrain.
Dragan Skocic has proved to be the right man for the job though since taking charge in 2020, and he successfully guided them to the World Cup group stage, topping a group that included World Cup regulars South Korea en route.
Mehdi Taremi, Sardar Azmoun, and Alireza Jahanbakhsh could cause problems for a lot of teams this winter in attack and they can be a handful if they're all on their day, but they'll play three tough teams in World Cup Group B and they tend to be more reactive in big games when they might be better off playing on the front foot.
They are, though, the most complete Asian representatives when it comes to both attacking and defensive strengths, and they're more than capable of sitting in and being tight.
They'll have to decide what they're best at before Qatar though and to draw up a system that allows them to make a positive impact on these World Cup 2022 groups.
Iran picks and predictions
Mehdi Taremi top team goalscorer

Over 3.5 team goals
Wales World Cup 2022 overview
Wales came through the playoffs to make it to the World Cup group stage and they won't want their journey to end there, particularly with this likely to be Gareth Bale and Aaron Ramsey's last chance to do something with their country in a World Cup.
In World Cup Group B, they'll back themselves to progress but it won't be easy and they'll likely be battling with the U.S. and Iran until the final matchday has come to a close.
This winter sees Wales back in the World Cup group stage for the first time in 64 years, having last qualified as far back as 1958, and on that occasion they fell in the quarterfinals, which is an ending they'd take now albeit in a very different tournament.
Wales forward Gareth Bale in action for Real Madrid. © Brad Penner-USA TODAY Sports
Their performances this fall are likely to depend on Gareth Bale, with the new Los Angeles FC man always integral for his country and having previously led their to the semifinals of Euro 2016.
Robert Page in charge hasn't had the easiest of tasks in replacing Ryan Giggs in the circumstances that presented themselves, but he's done a good job of introducing fresh young faces into his side and having them click with the older generation.
Wales picks and predictions
Gareth Bale top team goalscorer

Over 3.5 team goals
World Cup 2022 Group B scenarios
The so-called 'Battle of Britain' on matchday three is going to decide a lot, and there's every chance that the game between England and Wales will see the losers fall out at the World Cup group stage and the winners advance to the knockout rounds. Having never met before at a World Cup proper, the stakes could hardly be higher.
But more than just advancing, England will want to top the group. The winners of World Cup Group B will face World Cup Group A's runners-up, and vice-versa. With Group A consisting of hosts Qatar, Ecuador, Senegal and the Netherlands, it's likely to be the Africans or Europeans awaiting in the first knockout round.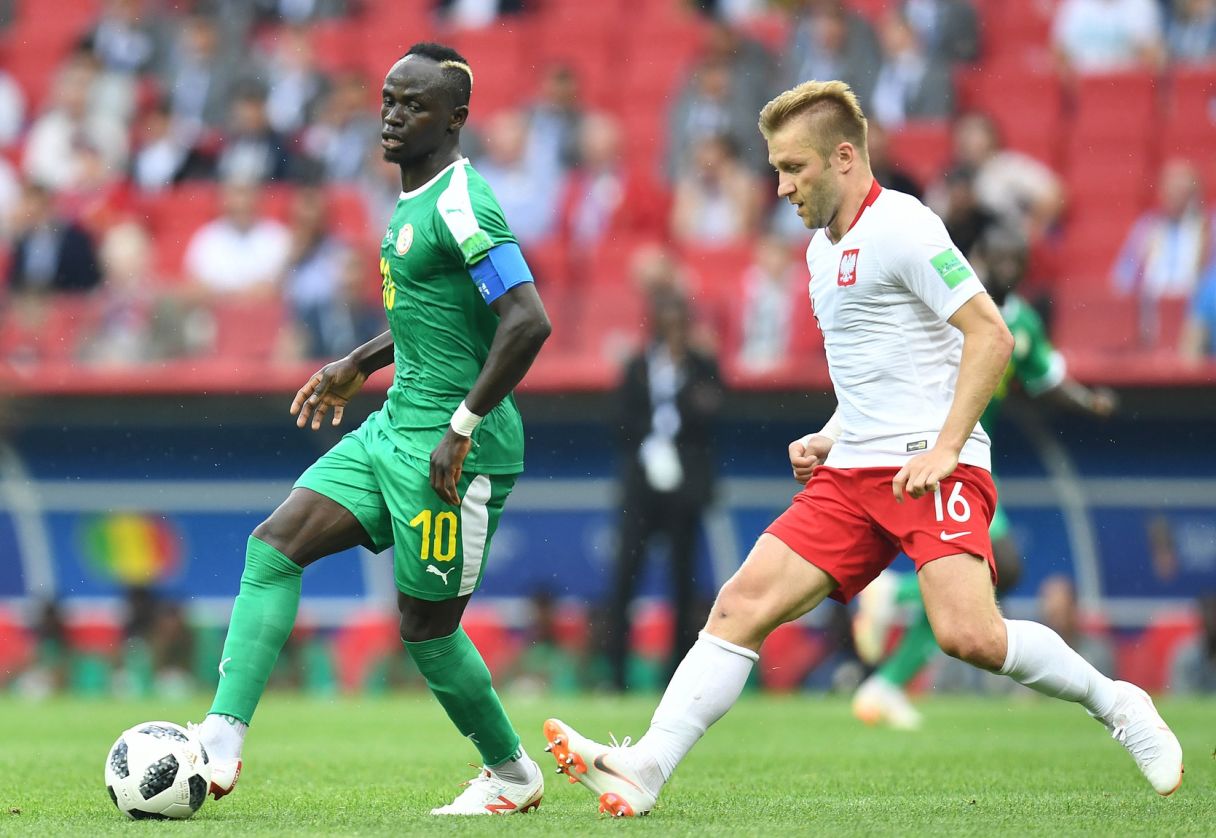 Sadio Mane (10) snd Senegal could be facing the winner of England vs Wales. Pic: Tim Groothuis/Witters Sport via USA TODAY Sports
Iran's game with the United States in that same round will be just as important, and this really is likely to be one of the World Cup groups with absolutely everything still to play for until the very end of the final matchday.
It's not too difficult to see a scenario in which everything is still to play for for each of the four teams in the third and final round, and World Cup Group B might just be the most gripping of them all.
World Cup 2022 Group B players to watch
Christian Pulisic is one of the names that jumps out immediately here, as the weight of expectation surrounding the USMNT is firmly on his shoulders, and he'll have to carry the team on his back if they are to advance.
There is a lot of talent in the USMNT, but nobody else in the group has the same spark and flash as the Chelsea man does when he's really on his day, so he'll likely play a starring role for them and be at the centre of attention one way or another.
Then there' the obvious choice of England's Harry Kane, after scoring six goals in 2018, and five of those came in the World Cup group stage before they dried up somewhat in the knockout rounds en route to the semifinal.
Kane is one of the most-complete forwards in world football and he's been delivering on a weekly basis with Tottenham for years now. His lack of silverware is often used against him, and what better way to silence those critics than by leading his country to their first World Cup triumph since 1966 to get his hands on the first trophy of his career?
Group B players to watch picks
Harry Kane top goalscorer in Group B

Christian Pulisic top USA goalscorer
World Cup Group B roster updates
England 2022 roster updates
Gareth Southgate won't have an easy time choosing his England roster this winter, with there being plenty of competition across the field. Fikayo Tomori has entered the frame thanks to his excellent performances with AC Milan, even helping them to win Serie A for the first time in 11 years, and he should be key. Also impressing in Italy is Tammy Abraham, and he'll be ready to fill in for Harry Kane when needed.
Iran 2022 roster updates
Sardar Azmoun, Bayer Leverkusen's new man, brings a lot of quality to the Iran team while also boating excellent physically too. He's good in the air, and can threaten in front of goal. Along with Mehdi Taremi and Alireza Jahanbakhsh in attack, they are the men to watch out for in this Iran squad.
USA 2022 roster updates
Christian Pulisic's injury record became a concern for the USMNT in recent years but those concerns appear to have been forgotten now, meaning he'll be the star this winter. Juventus' Weston McKennie will be key in midfield as well, and he'll be hoping to pass on a lot of what he's learned with the Italian giants.
Wales 2022 roster updates
Gareth Bale's move to Los Angeles FC in MLS allows him to get a good run of playing time ahead of the World Cup, which is exactly what Wales would have wanted. He'll also enjoy a nice climate in LA as opposed to having to deal with British autumns had he returned to Wales or England. Aaron Ramsey will need to find a solution.
How did the USA qualify for the World Cup?
Have Harry Kane ever won the Golden Boot?
Did Christian Pulisic play in the World Cup qualifiers?
Who will win Group B at World Cup 2022?
Image credits : Ricardo Pepi (9) of the United States. © Kareem Elgazzar/The Enquirer / USA TODAY NETWORK, United States head coach Gregg Berhalter. © Reuters-USA TODAY Sports, 4:3 sizing - United States forward Brenden Aaronson celebrates his goal with the defender Antonee Robinson. © Trevor Ruszkowski-USA TODAY Sports