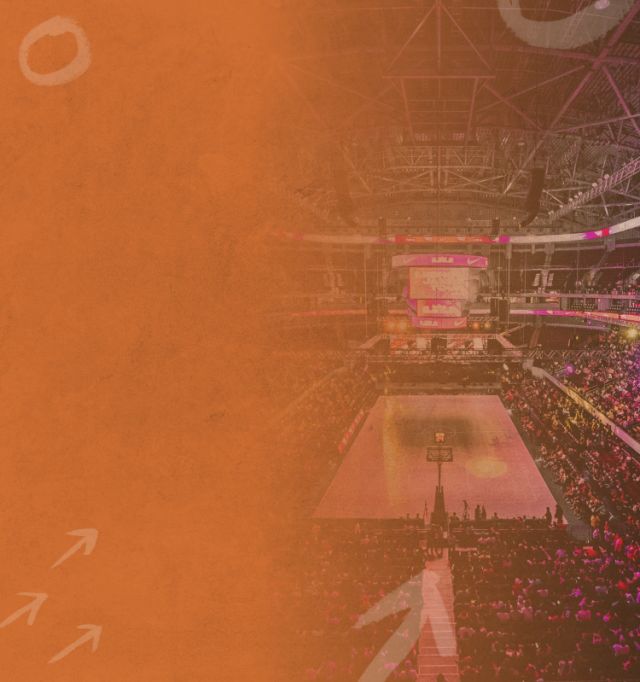 2022 March Madness Bracket: Expert predictions and printable bracket
Now is the time for March Madness predictions as the NCAA tournament is upon us. There are millions of combinations available when filling out your March Madness bracket as the juicy matchups begin right off the bat when the March Madness first four hit the court mid-week. Here are some notes on each region of the NCAA tournament bracket, along with our predicted bracket and a printable blank version for you to fill out yourself.
Tommy's love of sports betting blossomed in the early 1990s as he began making regular trips to Las Vegas sportsbooks. The winner of ESPN Insider's 2014 Las Vegas Super Bowl Prop contest, Tommy started his own sports betting site 10 years ago and uses data and analytics to make selections on college basketball and Major League Baseball.   
West
Memphis (9) has been rolling as their red-hot offense propelled the Tigers to their conference tournament championship game. However, their March Madness first-round matchup vs Boise State (8) is not ideal. Boise State slows the tempo and their defense matches up very well vs Memphis' offense. Look for an underrated Boise State squad to advance.
New Mexico State (12) is a dangerous team with a lot of talent in their starting five. New Mexico State is a top forty NCAA 2-point shot percentage team and junior guard Teddy Allen is a big reason why. Allen averages just under 20 points per game and is a double-digit certainty. UConn (5) should be very careful in this dangerous 12 vs 5 matchup.
We aren't very high on Texas Tech but their path to the sweet sixteen is an easy one based on their bracket position. Tech is an older squad with experience and a March Madness elite eight matchup with the Duke Blue Devils seems very probable.
South
Chattanooga (13) is a big and physical team that gets Illinois (4) in round one. Chattanooga's power ranking doesn't fall too far behind Illinois and sophomore guard Malachi Smith is a handful to defend. Chattanooga can keep things close and don't be surprised with an upset in this first-round matchup.
Houston's (5) an athletic and well-coached squad but they must stay on their toes vs a UAB (12) team that can score. UAB's junior point guard Jordan Walker is fun to watch. He plays way bigger than his 5-11 stature and he won't be intimidated by Houston's aggressive defense. Houston has a nice road to go deep if they can clear this March Madness first-round game vs UAB.
Ohio State (7) is the name but Loyola-Chicago (10) is the game. Ohio State's defensive efficiency has been on a gradual decline even prior to the Big 10 conference tournament. Loyola-Chicago's elite assist to turnover ratio and their NCAA tournament pedigree should be respected. The lower seed Ramblers should get the job done here - don't let Ohio State ruin your bracket!
Midwest
Auburn (1) has an easy path to the March Madness sweet sixteen as they land a pair of very beatable teams in Jacksonville State (16) and USC/Miami . However, a March Madness elite eight matchup with the Iowa Hawkeyes looks probable and that's where Auburn's quest to get to the March Madness championship game may end.
Wisconsin (3) gets what amounts to a home game in their first-round matchup as they play in Milwaukee. Wisconsin is the most likely opponent for Auburn in the sweet sixteen. Wisconsin is a nice team to back for the point spread as they protect the ball well and have elite level assist ratios on offense.
The Midwest bracket, in our opinion, is the easiest of the four and Kansas (1) should be strongly looked at in elite eight and sweet sixteen props but we don't see this No.1 seed reaching the March Madness championship game.
East
Baylor (1) gets to play up the road from Waco in Fort Worth Texas. This is another No.1 seed that we see bowing out before the final four. Last year's champion has teams like Saint Mary's, UCLA, and Kentucky potentially in their path. That is a tough gauntlet for even a top squad like Baylor.
UCLA (4) The Bruins have won eight out of their last 10 games while taking top-ranked Arizona to the limit for most of the PAC 12 conference championship final. They should get by and cover the spread vs Akron (13) in round one but a showdown with St. Mary's looms after that. They'll have to earn it, but the well-coached Bruins could make a run.
Murray State (7) vs San Francisco (10) is an intriguing first-round matchup. Murray State went a perfect 18-0 in their conference to earn the 7-seed while San Francisco's senior guard Jamaree Bouyea led the Dons to a 24-win season. Look for San Francisco to pull off the mild upset in round one.
Look for the March Madness championship matchup to come out of the west (Gonzaga) and south (Arizona), with the Wildcats, who opened the season at a whopping +5000 to win March Madness, being crowned NCAA National Champions.
March Madness Brackets: Download here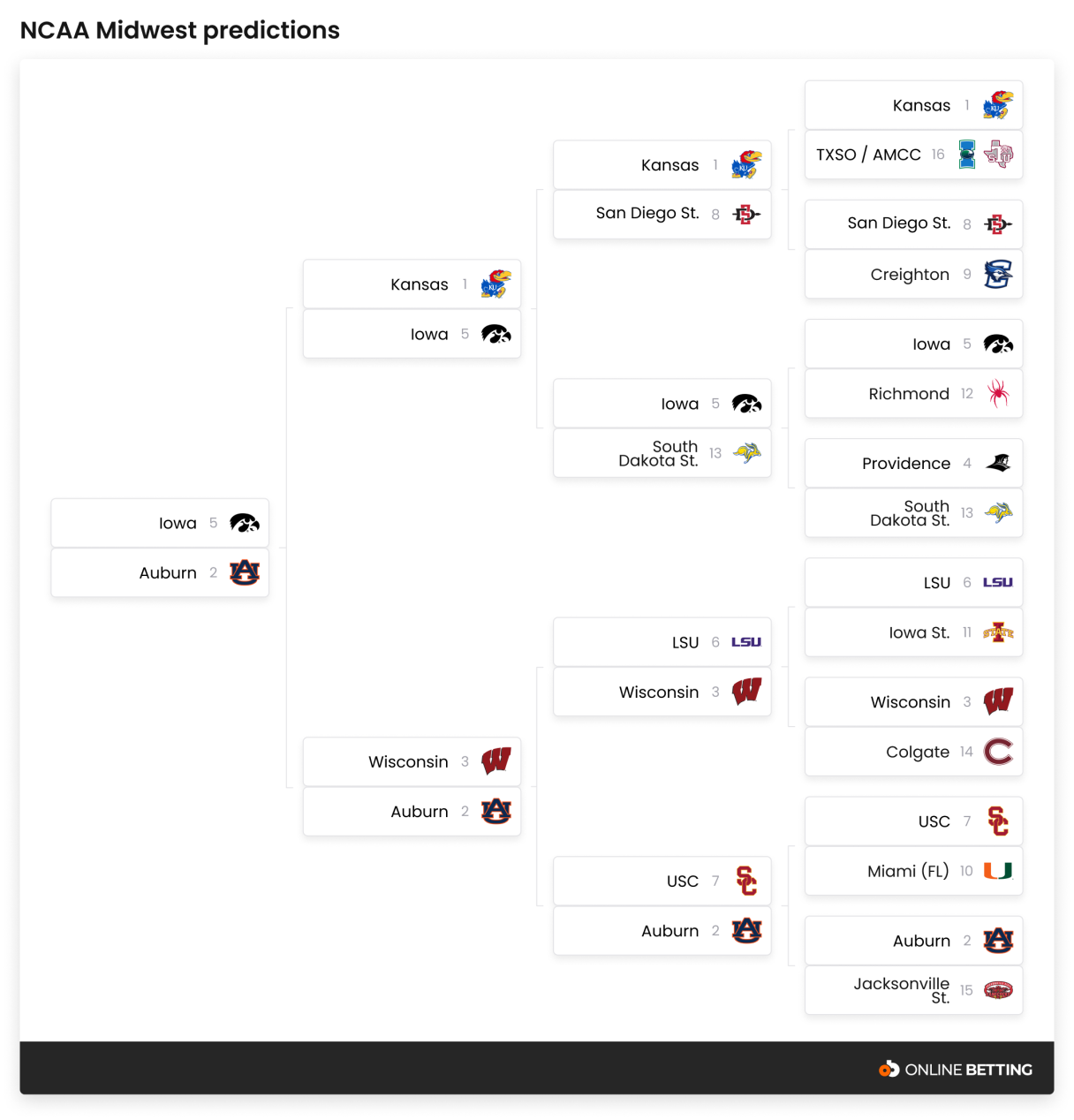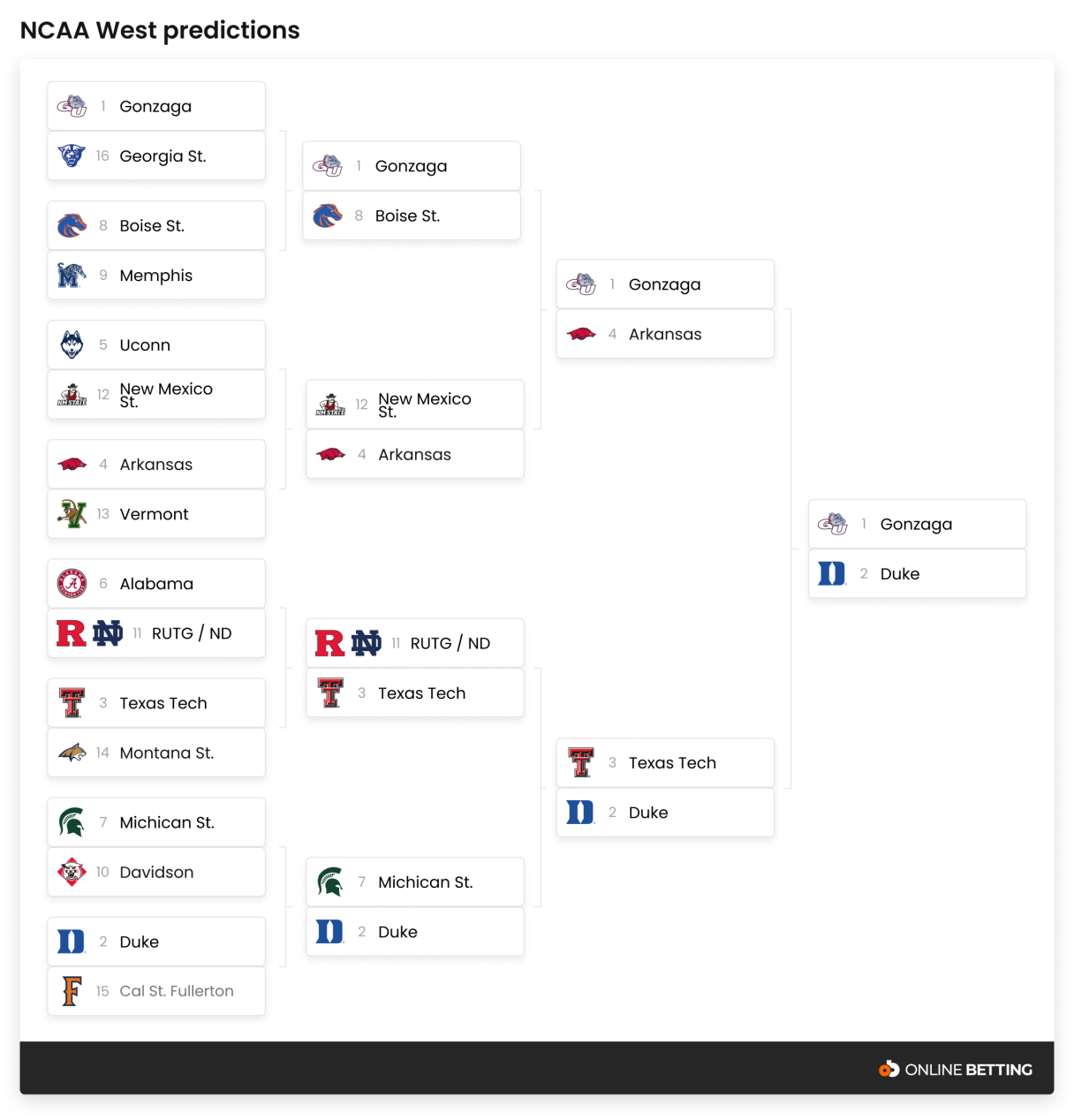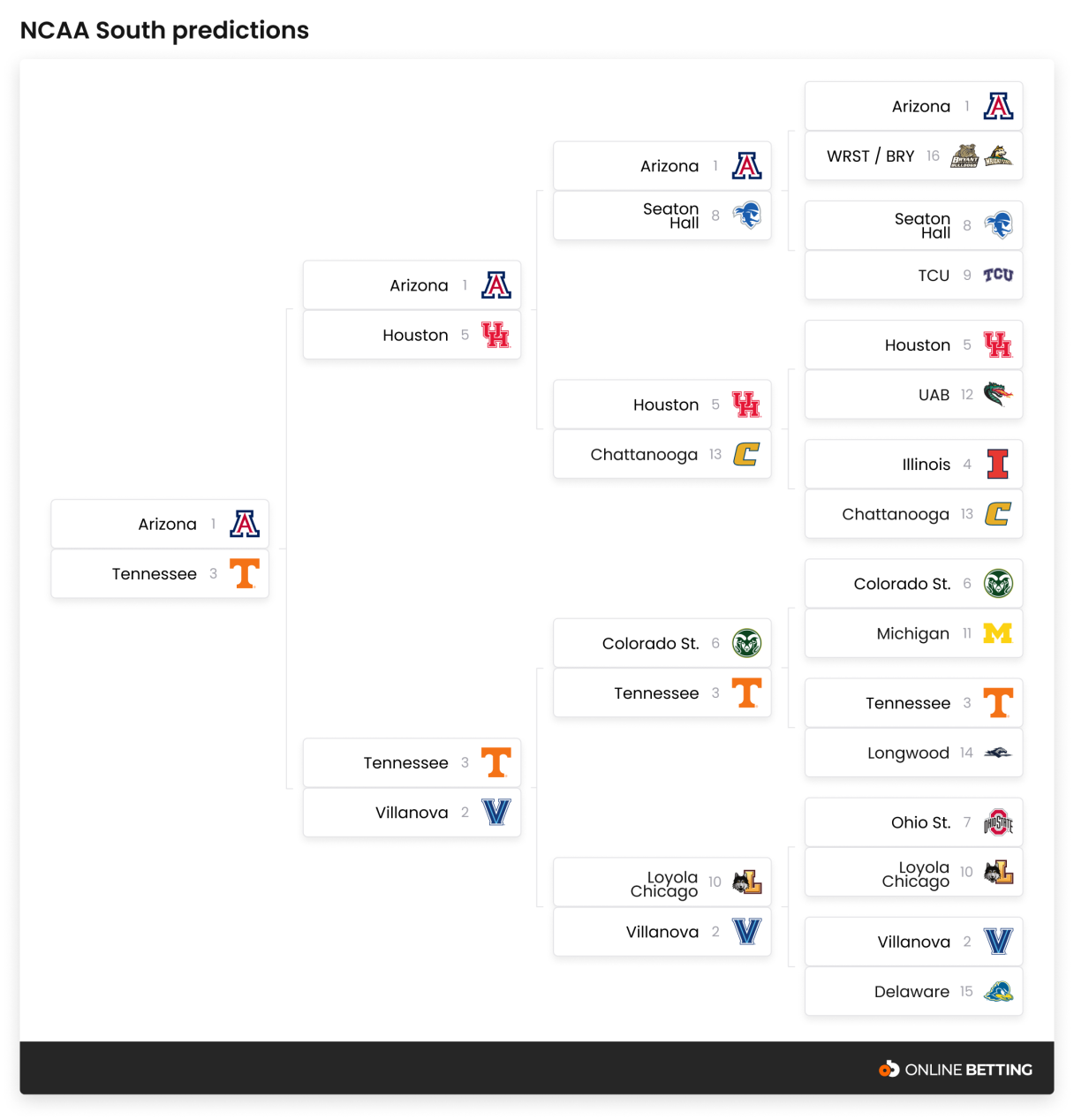 NCAAB Odds
Odds updated: Jul 18, 2:10 PM UTC
NCAAB Standings
America East
American Athletic Conference
ASUN
Atlantic 10
Atlantic Coast
Big 12
Big East
Big Sky
Big South
Big Ten
Big West
Colonial Athletic Association
Conference USA
Horizon League
Independents
Ivy League
Metro Atlantic Athletic
Mid-American
Mid-Eastern Athletic
Missouri Valley
Mountain West
Northeast
Ohio Valley
Pacific-12
Patriot League
Southeastern
Southern
Southland
Southwestern Athletic
Summit
Sun Belt
West Coast
Western Athletic
Division
America East
All Divisions
Team
Conf
W
L
Pct
Home
Away
Div
Ats
OU

1

Albany

3-13
8
23
.258
5-7
3-16
0-0
10-17-1
20-8-0

2

Binghamton

8-8
12
17
.414
8-7
4-10
0-0
13-14-0
14-12-1

3

Bryant

8-8
17
12
.586
10-4
7-8
0-0
11-15-1
12-15-0

4

Maine

7-9
13
16
.448
8-4
5-12
0-0
15-11-1
14-12-1

5

Massachusetts Lowell

11-5
24
7
.774
15-0
9-7
0-0
17-10-1
16-12-0

6

New Hampshire

9-7
14
14
.500
10-4
4-10
0-0
12-14-0
12-13-1

7

NJIT

4-12
7
22
.241
5-8
2-14
0-0
15-12-1
18-10-0

8

UMBC

8-8
18
13
.581
13-3
5-10
0-0
15-15-0
13-17-0

9

Vermont

14-2
20
10
.667
11-1
9-9
0-0
16-12-1
17-12-0
Last updated: Jul 18, 1:22 PM UTC
Best college basketball offers 2021