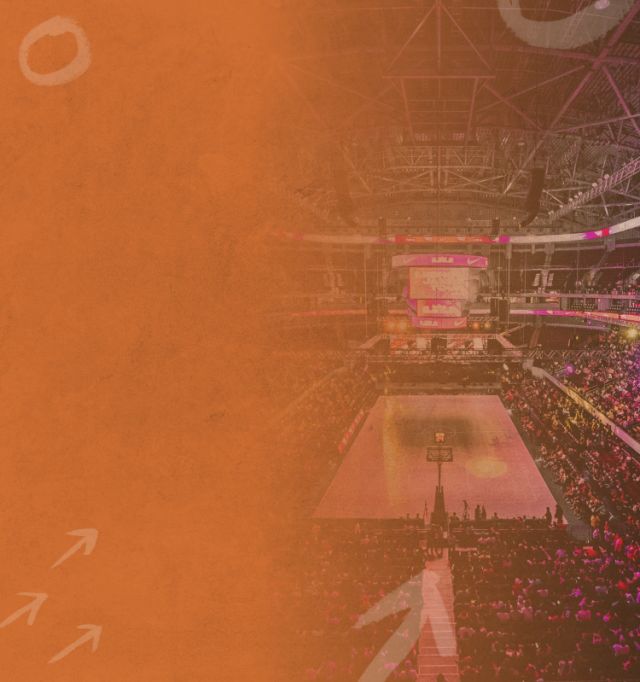 2022 NCAA March Madness tournament for beginners
March Madness. It's what everyone will be talking about for the next month. If you don't happen to follow college basketball but still want to get in on the action, you've come to the right place! We will give you a crash course on what March Madness is, how it works, how to fill out a March Madness bracket for beginners, and what you can do to make some money while watching it.
Who competes in March Madness?
There are 358 Division I schools that make up the college basketball landscape but only 68 of those teams qualify for this single-elimination tournament. Out of the 68 available spots, 32 of them are earned by teams that win their conference tournaments. The remaining 36 spots are called "at-large" bids and are granted by a selection committee on "Selection Sunday" which takes place this year on Sunday, March 13, 2022. The selection committee is also responsible for ranking the teams from No.1 to No.68 and then dividing them into four regions: East, West, Midwest, and South. This helps determine which seeds are placed in which region. For fairness and for the chance to have the "best" teams meet in the National Championship game, the committee tries not to place the best No.1 seed in the same region as the best No.2 seed and so on.
The concept is aimed to reward the better teams with easier routes to the National Championship game. After the opening round, teams are not reseeded which means that all potential matchups for the subsequent rounds are established clearly before the first game of the tournament gets underway.
March Madness format
March Madness is famous for utilizing a single-elimination bracket-style format that can create chaos and upsets beginning in the opening round. This year, the tournament gets underway on March 15/16 with four "play-in" games. These games consist of teams that were the selection committee's last four "at-large" selections and as such, they must face each other for the right to compete in the first round of the tournament. The first round of the tournament takes place on March 17/18 and the second round is slated for March 19/20. The Sweet 16 goes on March 24/25 while the Elite Eight takes place on March 26/27. The Final Four is slated for April 2 and the NCAA Championship game takes place on April 4, 2022.
March Madness pools
This is perhaps the most exciting part of March Madness besides watching the last-second buzzer-beaters on your television. March Madness pools are very straightforward to enter. All you need to do is fill out a March Madness bracket by selecting the team you believe is going to win each matchup from the opening round until the finals and submit it by the deadline. When do March Madness brackets lock, you ask? Well, they lock right before the first game of Round One, so this year that means March 17 at 11:59 AM EST.
How to score March Madness brackets
If you've joined an online bracket challenge, the system will automatically update your score as the tournament progresses. If you want to score your own bracket, you simply give yourself one point for each correct team you pick from round one through to the NCAA Championship Game. If you want to have a more complex scoring system, you can increase the points for each correct pick after each round. For example, one point for a correct pick in round one, two points for a correct pick in round two, three points for a correct pick in the Sweet 16, etc.
Tips for filling out a March Madness bracket
Since we are giving you a crash course on March Madness, we will offer you a simple yet effective way to tackle the bracket. To start, you should have some idea of which teams you believe will make the Final Four. These will be the teams that earn you the most points in any March Madness bracket pools you join. From there, it's important to understand that while upsets do happen, a sure-fire way to have your bracket busted after round one is by picking too many of them. The higher-ranked team typically comes out on top in the opening round as No.1 seeds own a 143-1 against its first-round opponent (No.16). Likewise, the No.2 seed has a record of 135-9 which equates to a 93.5-win percentage.
When looking to pick an upset be sure the teams you choose have shown the ability to play well outside of their home gym. Typically, those teams will be experienced squads with the ability to score at will in a hostile environment. And lastly, have fun with it. Immerse yourself in the chaos that is college basketball and enjoy every second.
Want to read more? Try these articles:
March Madness bracket advice for beginners
What is the bracket and how to fill it?
Latest picks for March Madness
Prop bets explained for March Madness 
NCAAB Odds
Odds updated: Jul 18, 2:10 PM UTC
NCAAB Standings
America East
American Athletic Conference
ASUN
Atlantic 10
Atlantic Coast
Big 12
Big East
Big Sky
Big South
Big Ten
Big West
Colonial Athletic Association
Conference USA
Horizon League
Independents
Ivy League
Metro Atlantic Athletic
Mid-American
Mid-Eastern Athletic
Missouri Valley
Mountain West
Northeast
Ohio Valley
Pacific-12
Patriot League
Southeastern
Southern
Southland
Southwestern Athletic
Summit
Sun Belt
West Coast
Western Athletic
Division
America East
All Divisions
Team
Conf
W
L
Pct
Home
Away
Div
Ats
OU

1

Albany

3-13
8
23
.258
5-7
3-16
0-0
10-17-1
20-8-0

2

Binghamton

8-8
12
17
.414
8-7
4-10
0-0
13-14-0
14-12-1

3

Bryant

8-8
17
12
.586
10-4
7-8
0-0
11-15-1
12-15-0

4

Maine

7-9
13
16
.448
8-4
5-12
0-0
15-11-1
14-12-1

5

Massachusetts Lowell

11-5
24
7
.774
15-0
9-7
0-0
17-10-1
16-12-0

6

New Hampshire

9-7
14
14
.500
10-4
4-10
0-0
12-14-0
12-13-1

7

NJIT

4-12
7
22
.241
5-8
2-14
0-0
15-12-1
18-10-0

8

UMBC

8-8
18
13
.581
13-3
5-10
0-0
15-15-0
13-17-0

9

Vermont

14-2
20
10
.667
11-1
9-9
0-0
16-12-1
17-12-0
Last updated: Jul 18, 1:22 PM UTC
Best college basketball offers 2021