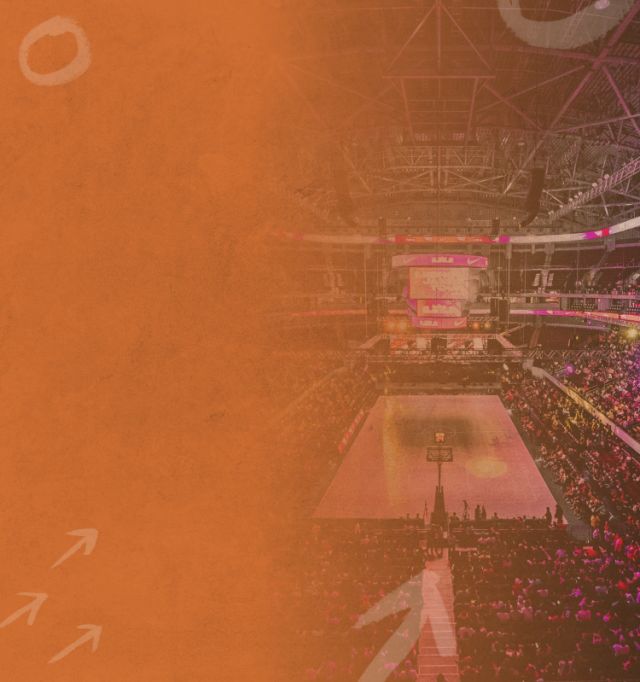 NCAAB March Madness: Players to Watch
We are less than one week away from the 2022 March Madness Selection Sunday show and the anticipation is palpable. Not only will we find out the March Madness schedule, but we will be able to start piecing together our March Madness bracket and teams will be able to start game-planning for their NCAA March Madness first-round opponents.
Lost in the shuffle of all the bracket excitement is the talent that will be on display. We have compiled a list of the top-10 players to watch for during this year's March Madness tournament.
Players to Watch: March Madness 2022
Oscar Tshiebwe, Power Forward, Kentucky Wildcats
For most, Oscar Tshiebwe is the National Player of the Year. Tshiebwe checks in at 6'9, 260 pounds, and has notched 11 games with at least 20 points, five games with at least 20 rebounds, and an absurd 24 double-doubles on the year. He's a force on the inside and if the opposition can't come up with a game plan to neutralize him, the Wildcats' chances of making a deep run in the tournament are high.
Chet Holmgren, Power Forward/Center, Gonzaga Bulldogs
Chet Holmgren is likely headed to the NBA next season. He's got the game to be a high draft pick and potentially become a star. Listed at seven feet tall, Holmgren took his talents to Gonzaga in search of a National Championship and has contributed 14.4 points, 9.7 rebounds per game, while shooting 43.8 percent from behind the arc. Did I mention he's a seven-foot freshman? Gonzaga is going to be a tough out for anyone this tournament and my NCAA March Madness predictions have them getting to the March Madness Final.
Jabari Smith, Power Forward, Auburn Tigers
If you are looking for a player in this tournament that can play lockdown defense while taking over the game with his sharpshooting, you shouldn't look further than Auburn's Jabari Smith. Smith checks in at six-feet-ten and fits the newer NBA mold of big men who can shoot. He averages 2.3 three-pointers per game on 42.5 percent shooting and he's eclipsed the 20-point mark in 13 games this season. Smith has the Auburn Tigers primed for a No.1 seed in the tournament and poised to pounce on a deep tournament run.
Jaden Ivey, Guard, Purdue Boilermakers
Listed at six feet, four inches tall, Ivey is the straw that stirs the drink at Purdue. A projected top-three draft pick in the upcoming NBA Draft, Ivey is an incredibly gifted shooter and his ability to create shots for both himself and his teammates is unmatched. This season, he's averaging 17.4 points on 46 percent shooting, 4.8 rebounds, and 3.1 assists per contest.
Paolo Banchero, Power Forward, Duke Blue Devils
Banchero has been the only consistent player on an inconsistent Duke team this season. At six-feet-ten and 250 pounds: he is a freak of nature that can bang bodies on the inside while stepping back and knocking down three-pointers consistently. Banchero averages 16.9 points, 7.8 rebounds and three assists per game, and if he can get support around him, Duke could be dangerous.
Johnny Davis, Shooting Guard, Wisconsin Badgers
If you were looking for a Swiss Army knife in this tournament, your search would stop at Johnny Davis. Listed at six-feet-five, Davis can score with the ball in his hands and create opportunities for his teammates. He also has a knack for hunting down rebounds and limiting the opposing team's best guards. Wisconsin won't be picked by many to get to the March Madness Final Four, but Davis is a player that could carry his team deep.
Benedict Mathurin, Shooting Guard/Small Forward, Arizona Wildcats
Mathurin, the pride of Montreal, Quebec was just named a Wooden Award (player of the year) finalist. The six-foot-seven sophomore has led the Wildcats to a 27-3 overall record and a No.2 seed in the country. Mathurin is a catch-and-shoot player that can heat up rather quickly. He averages 17.4 points, 5.7 assists, 2.5 rebounds, and 1.1 steals per game while shooting 47 percent overall and 38 percent from beyond the arc. He's the one to watch on arguably the best team in college basketball.
Keegan Murray, Small/Power Forward, Iowa Hawkeyes
If you love watching teams that play at a fast pace and put up a ton of points, Iowa is the team for you. The Hawkeyes are led by the six-feet-eight Keegan Murray who has been compared to the likes of Tobias Harris. Murray does it all for the Hawkeyes as he averages 23.3 points, 8.5 rebounds, 2 blocks, 1.3 assists, and logs over 31 minutes of action per game. His size, reach and athleticism make him a matchup nightmare for opposing big men and he is right up there with Holmgren, Smith, and Ivey as must-see TV.
Collin Gillespie, Point Guard, Villanova Wildcats
Collin Gillespie decided to forego the NBA draft for one more year in the NCAA ranks. So far, it's paid off as the reigning co-Big East Player of the Year has Villanova looking dangerous entering March Madness. Gillespie leads by example and, while his playing style might not be as flashy as others on this list, he still averages 16.5 points per game and puts down threes at a 42.7 percent clip. If the Wildcats get a good draw in the bracket: I wouldn't bet against Gillespie in any Sweet 16 or Elite Eight matchup.
Ochai Agbaji, Guard, Kansas Jayhawks
Ochai Agbaji is a four-year senior at Kansas and the undisputed team leader. He will be named the Big-12 Player of the year and will be the focal point if the Jayhawks make a deep run in March. Agbaji play style can be characterized as a sharpshooter as he averages 20.2 points on 48.7% field goal percentage (42.2 percent from three), and 5.2 rebounds.
NCAAB Odds
Odds updated: Jul 18, 2:10 PM UTC
NCAAB Standings
America East
American Athletic Conference
ASUN
Atlantic 10
Atlantic Coast
Big 12
Big East
Big Sky
Big South
Big Ten
Big West
Colonial Athletic Association
Conference USA
Horizon League
Independents
Ivy League
Metro Atlantic Athletic
Mid-American
Mid-Eastern Athletic
Missouri Valley
Mountain West
Northeast
Ohio Valley
Pacific-12
Patriot League
Southeastern
Southern
Southland
Southwestern Athletic
Summit
Sun Belt
West Coast
Western Athletic
Division
America East
All Divisions
Team
Conf
W
L
Pct
Home
Away
Div
Ats
OU

1

Albany

3-13
8
23
.258
5-7
3-16
0-0
10-17-1
20-8-0

2

Binghamton

8-8
12
17
.414
8-7
4-10
0-0
13-14-0
14-12-1

3

Bryant

8-8
17
12
.586
10-4
7-8
0-0
11-15-1
12-15-0

4

Maine

7-9
13
16
.448
8-4
5-12
0-0
15-11-1
14-12-1

5

Massachusetts Lowell

11-5
24
7
.774
15-0
9-7
0-0
17-10-1
16-12-0

6

New Hampshire

9-7
14
14
.500
10-4
4-10
0-0
12-14-0
12-13-1

7

NJIT

4-12
7
22
.241
5-8
2-14
0-0
15-12-1
18-10-0

8

UMBC

8-8
18
13
.581
13-3
5-10
0-0
15-15-0
13-17-0

9

Vermont

14-2
20
10
.667
11-1
9-9
0-0
16-12-1
17-12-0
Last updated: Jul 18, 1:22 PM UTC
Best college basketball offers 2021