Hard Rock Sportsbook review
Chris is a sports betting expert who has spent years learning how sportsbooks work and how to beat the markets. In addition to his own personal success with betting, Chris now also spends his time producing educational content for his followers across YouTube and Twitter. As a huge NBA, NFL and MLB fan, Chris enjoys the entertainment sports betting can bring, but also understands the hard work required to develop his knowledge and keep up with the markets in order to turn a consistent profit.
Hard Rock Sportsbook: Our verdict
Overall Rating: 4.35
Hard Rock, one of the world's leading entertainment companies for decades, has created a sportsbook product worth trying. Users can expect a highly intuitive app that makes locating your favorite team and placing wagers on them second nature, even if you're a rookie.
Hard Rock Sportsbook offers odds for all of your favorite sports and a renowned live betting feature, backed up by industry-leading customer service to take care of all of their bettors' needs. New customers can also expect to receive their winnings hassle-free from Hard Rock, thanks to the quick payouts provided.
Hard Rock Sportsbook pros and cons
| PROS | CONS |
| --- | --- |
| Impressively polished and smooth app. | Lacks major features such as live streaming. |
| Offers odds on all major sports. | Limited availability within US markets. |
| Quick payout options. | Some limitations when it comes to same-game parlays. |
| Industry leading customer service. | |
How to sign up to Hard Rock Sportsbook
Signing up for a sportsbook should be a simple and effortless process that requires just a few minutes, and Hard Rock's Sportsbook offers a straightforward registration process to get you started quickly and easily.
After you've created an account by entering your email address and username, you'll be directed to a page where some of your personal information is required. Your name, date of birth, address, and last four digits of your SSN are required to confirm your identity and age. Existing retail customers will have the option to sign up using their Wild Cards Reward details . It's important to note that users must be in a state that has legalized gambling. Also equally important, Hard Rock Sportsbook requires geolocation (if using your phone) to be shared in order to confirm your location in an approved state. Users can expect similar measures for online sign-ups using the Hard Rock Sportsbook's website.
Hard Rock Sportsbook welcome offer
One of the most enticing and decisive factors for potential users is the signup bonus. A majority (if not all) sports bettors want to know how much they're going to receive in free bets for creating an account, making a deposit and placing a bet.
Hard Rock Sportsbook provides users with a fairly average welcome offer. 'Get 3 Risk-Free Bets For Max $100' is the current promotion. During this time new customers will receive up to $100 if any of their first three wagers lose. For example, if a customer loses their first bet of $100, Hard Rock Sportsbook will provide a $100 free bet and that concludes the promotion.
The free bet is credited to the user after the initial bet is graded a loss and has to be used within 7 days of issuance. There are welcome offers provided by rival sportsbooks that definitely are more alluring, but a $100 free bet certainly isn't the worst welcome offer in the world and should definitely be considered.
Hard Rock Sportsbook bonuses and promos
Overall rating: 4.0
Hard Rock Sportsbook promote themselves heavily as a sport wagering platform that has great offers and promos such as risk-free bets, different bonuses and boosts offered routinely throughout the sports betting seasons. Users will be happy to find that this is true and a considerable amount of helpful bonuses and promotions are offered when using Hard Rock Sportsbook.
Free bets
Hard Rock Sportsbook pride themselves on offering top-level free bets to their customers. A nice free bet is always welcome, and users can expect to find a variety of these free bet offers at Hard Rock Sportsbook.
For example, Hard Rock Sportsbook recently offered a Sunday night baseball promotion that earns you a free $10 bet by placing a $25+ same-game parlay, and they also had a similar offer for UFC bettors, with a $20 free bet available if you place $77+ in bets on a specific event (in this case UFC 277).
In both cases, the bets placed had to have minimum odds of -250 in order to qualify you for the free bet, while state-specific free bet restrictions may also apply. Free bets generally have to be used within seven days.
Deposit bonuses
Currently the only deposit bonus offered by Hard Rock Sportsbook is the initial welcome offer for new users explained above. However, Hard Rock Sportsbook incentivizes a lot of its customers with free bet offers based on qualifying parlays and other bets. Users can expect to find many more free bets than deposit bonuses, whcih aren't advertised as frequently.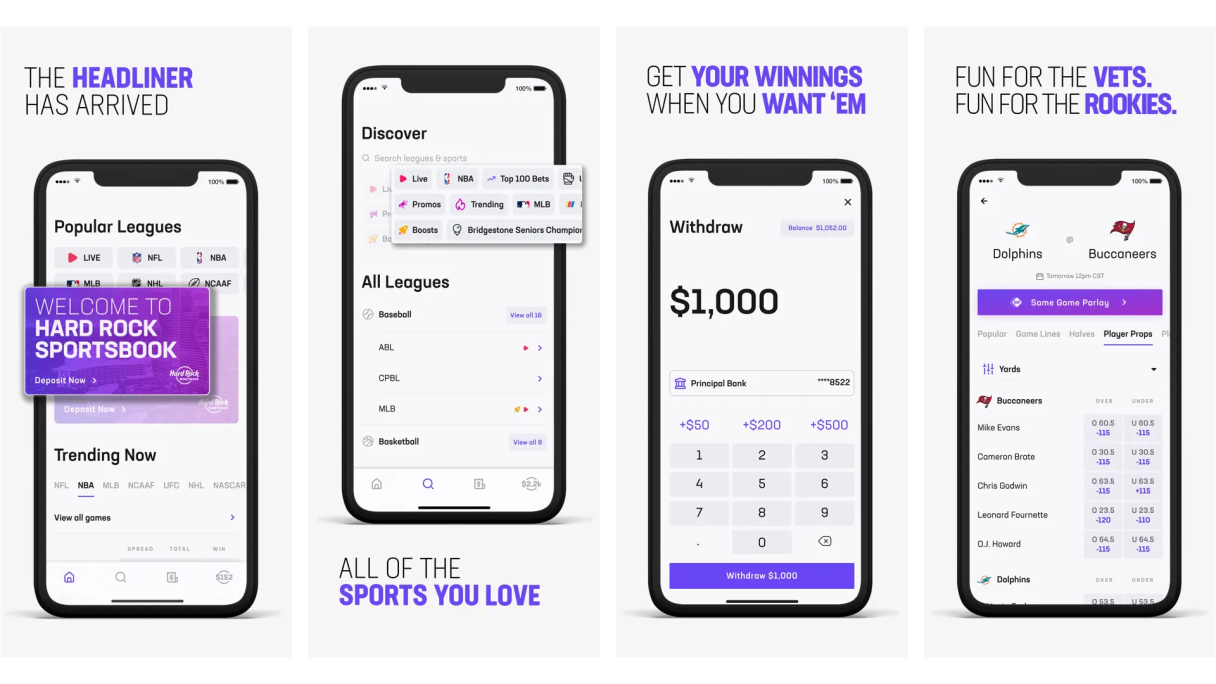 Hard Rock Sportsbook key features
Live betting is one of the most sought-after forms of wagering in today's sports betting world. Hard Rock Sportsbook not only offers this key feature, but also does so with extensive markets available for live in-game action. Users can expect live game props as well as the opportunity to wager on their favorite players and different team prop markets. In comparison to their rivals, Hard Rock Sportsbook has just as many in-depth live markets, but it does fall short of its competitors when it comes to live streaming, which is not currently offered.
Hard Rock Sportsbook user experience
Overall rating: 4.5
Hard Rock Sportsbook is an easy to use and secure sportsbook regulated in the US. The site has clearly been designed to create a simple betting experience, and bettors can expect to find less clutter than most rival sportsbooks.
From the simple signup process that takes just a few minutes to complete, to placing parlays of your favorite three teams for the day, you'll have a hard time finding a more straightforward sports wagering platform to use when placing bets. The odds boosts are conveniently located and there's a smooth process to both deposit and withdraw your betting funds.
How to place a bet at Hard Rock Sportsbook
Placing a bet using Hard Rock Sportsbook is quick and easy. Once you're logged in, simply choose your market, then select the team or game you want to bet on. Clicking on the odds for that specific wager will highlight the odds and add the selection to your betslip, which will automatically populate at the bottom of the screen or app. Then all you have to do is input your stake and hit the 'Done' button to confirm your ticket, then click 'Place Bet' to make it official.
Hard Rock Sportsbook deposits and withdrawals
Overall Rating: 4.0
Hard Rock payout speed
Hard Rock Sportsbook advertises quick payouts and seamless transactions, with customers able to move their funds from their bankroll to their bank account fast. Typical payout times vary depending on the withdrawal method used, but can be expected in as little as 24 hours. Slower transaction methods can take from three to five days, which is standard for most top-tier sportsbooks.
Hard Rock Sportsbook deposit methods
| Option | Minimum deposit | Maximum deposit | Process time |
| --- | --- | --- | --- |
| Credit Card | $10 | $25,000 | Instant |
| PayPal | $10 | $1,000,000 | Instant |
| ACH eCheck | $10 | $50,000 | Instant |
| Play+ | $10 | $50,000 | Instant |
| PayNearMe | $10 | $500 | Within 30 mins |
Hard Rock Sportsbook withdrawal methods
| Option | Minimum withdrawal | Maximum withdrawal | Process time |
| --- | --- | --- | --- |
| ACH eCheck | $10 | $100,000 | 3-5 business days |
| PayPal | $10 | $100,000 | Up to 48 hours |
| Play + | $10 | $25,000 | Instant |
| Cash at the Cage | $1 | n/a | Instant |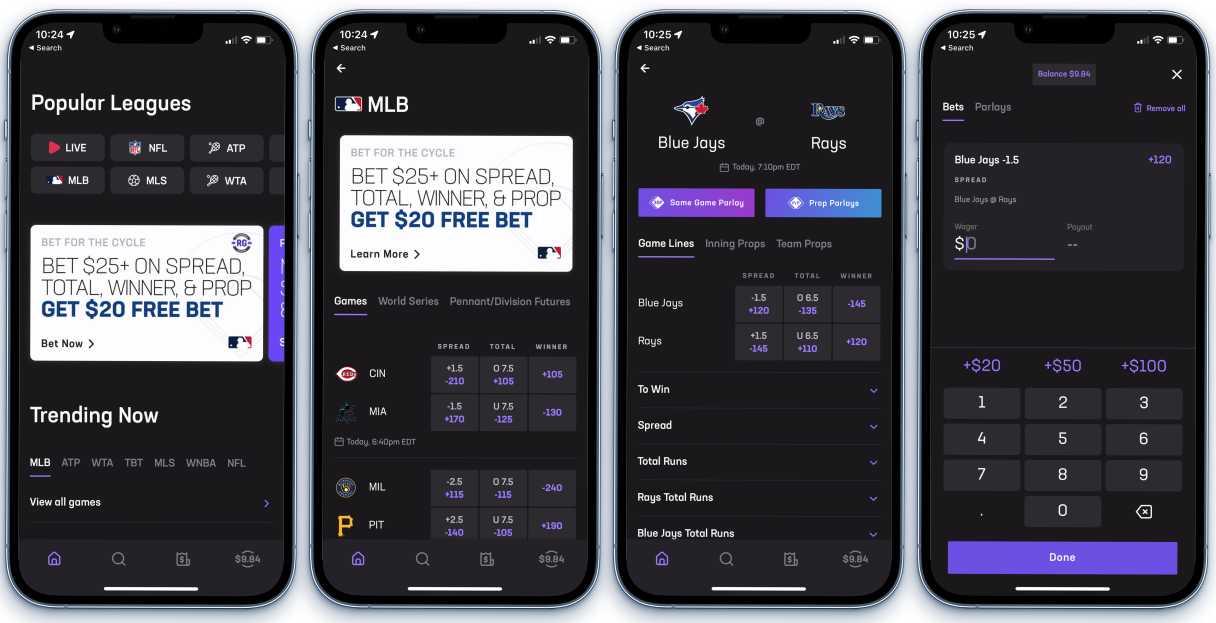 Hard Rock Sportsbook app review
Overall rating: 4.5
Hard Rock's sportsbook app is arguably one of the most underrated sports betting apps on the market. The app is smooth to operate and has a similar navigation to FanDuel's offering. Hard Rock Sportsbook provides customers with a lightning-quick response time when searching for markets or trying to place those last-minute wagers. It also provides a layout that captures four sporting events at a time on screen, making it even easier to parlay your favorite teams of the day with reduced scrolling. Promotions are suitably located in the middle of the app and a search feature on the bottom tab bar makes it easy to find whatever team you're looking to place a wager on.
Additionally, there's a dark mode for a black background option and the font is comfortable sized enough that you can read the screen without straining your eyes. The Hard Rock Sportsbook app operates faster and is more responsive than the website version. The Hard Rock Sportsbook app is free, and available for both Android and iOS devices.
Hard Rock Sportsbook odds comparison
Overall rating: 4.0
Hard Rock Sportsbook has great prices on some of its spreads and total plays specifically for its NBA and MLB markets. Users can expect to find more juice on some lines and less on others, but this is no different to most other major sportsbooks. An example of this was a game between the Mets and Marlins during the current MLB season. The Mets were favorites at -140 while the Marlins were underdogs at +115. Depending on which side you wanted to take, there were better odds for the Mets as favorites on other sportsbooks. In comparison, the underdog Marlins at +115 were the best price you'd find for them using 10 other top-tier regulated sportsbook's odds.
Hard Rock Sportsbook betting options
Overall rating: 4.0
Hard Rock Sportsbook's odds are comparable to those offered by the other big-name sportsbooks. However, while users will see some favorable lines on spreads or money lines in major sporting events, other times Hard Rock Sportsbook has more juice on their lines than their competitors. This makes it important to shop around for the best odds to ensure you always get the best price.
During the NFL and MLB seasons, users will find that Hard Rock Sportsbook provides value on some lines and at other times no value at all. Winnings are taxed as with all other major sportsbooks regulated within the US. Typically winnings of $600 (or winnings that are 300 times the original bet stake) are subjected to a 24% withholding tax rate.
What markets does Hard Rock Sportsbook offer?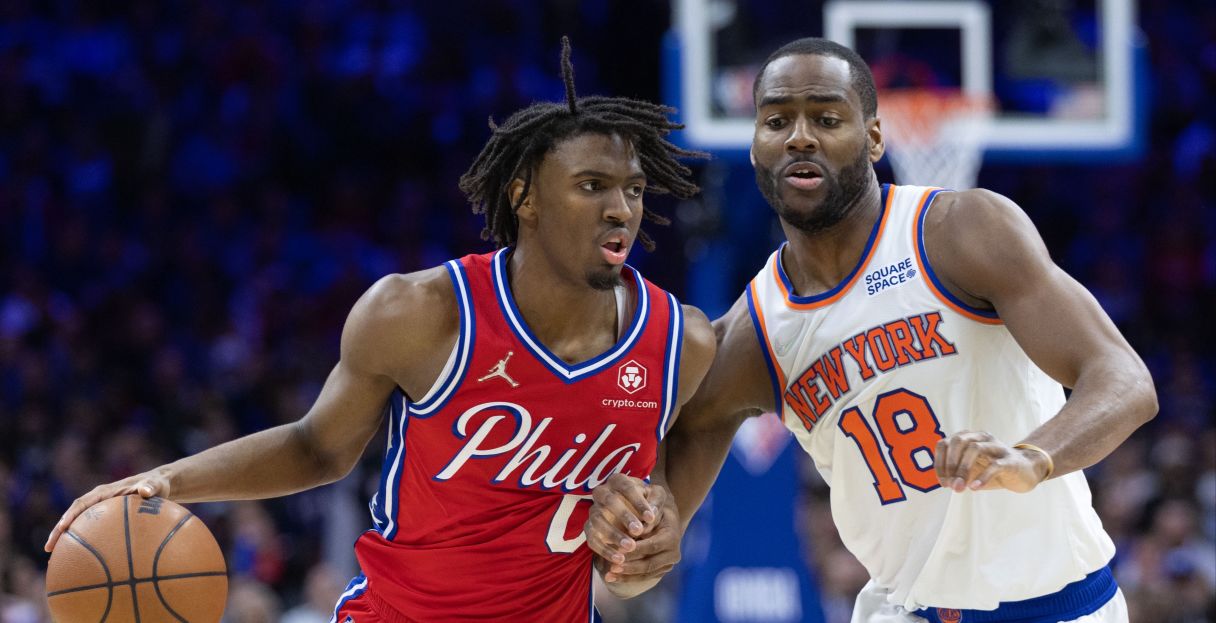 Users can wager on various markets in the NBA, as well as across all major sports and league. © Bill Streicher-USA TODAY Sports
Hard Rock Sportsbook offers betting on all the major sports leagues. New users can expect to be able to wager on NBA, NFL, NHL, MLB, soccer, NCAAB, NCAAF, boxing, golf, tennis and more. Within the various sports markets mentioned, Hard Rock Sportsbook offers a lot more than your traditional moneyline, total and point spread options. Hard Rock regularly offers team and player props, as well as other game props such as halves/quarters for all major sports.
In-depth markets such as first quarter total points and wide receiver receiving yards are my favorite secondary markets to bet when using Hard Rock Sportsbook. Futures markets are also listed, although they are limited in number and often not posted ahead of their major rivals' markets.
While I enjoy the markets listed by Hard Rock Sportsbook, the one disappointment is the limitation in same-game parlay action. Users will find only a few markets that can be combined while trying to build a same-game parlay. All in all, Hard Rock offers a generous amount of wagers that can be made in a variety of different markets.
Does Hard Rock Sportsbook offer live betting?
An absolute must-have feature for any sportsbook looking to grow its brand and establish itself as a leader in the industry is a strong live betting option. Hard Rock Sportsbook doesn't disappoint in this regard, and has the option helpfully located in the top left corner of its app and website. Users can expect to find live in-play betting available for the major sports, plus a number of secondary sports, with a generous amount of live betting markets on offer. Real-time scores and odds are changed every few seconds to make live wagering an easy, enjoyable experience.
Hard Rock Sportsbook player protection
Overall rating: 4.5
Hard Rock Sportsbook is a licensed and regulated sportsbook throughout its localities within the US. Regulated sportsbooks typically require strong protection of user's personal information and the funds uploaded to their account. Customers will be pleased to find this level of security associated with Hard Rock Sportsbook. In a recent partnership with Accertify, Hard Rock Sportsbook further strengthened its fraud protection measures.
Hard Rock Sportsbook does an excellent job of advertising their responsible gaming tools and resources. Users will immediately find a host of helpful resources just one click away from the home page, under the 'My account' section of the app, and appropriately located beside the 'Sign In' button on the website. Responsible gaming tools such as deposit limits, wager limits, timeouts, session limits and session reminders are all offered and can be customized. Additionally, Hard Rock Sportsbook offers a self-exclusion option. The feature allows customers to set a voluntary time frame to step away from the app. Options ranging from six months to permanent are listed.
Hard Rock Sportsbook customer service
Overall rating: 5.0
Hard Rock Sportsbook has a dedicated customer service team willing to help users with their immediate needs. With a 24/7 live chat feature via their mobile app, getting to engage instantly with a knowledgeable associate can be invaluable for a user's perception of a sportsbook. Hard Rock Sportsbook also offers a phone number, Twitter account and email address to assist with customers' requests.
How to contact Hard Rock Sportsbook in the US
Where is Hard Rock Sportsbook legal?
Currently, Hard Rock Sportsbook is offered in Arizona, New Jersey, Iowa, and Virginia. Virginia is also planning to launch a land-based casino in 2023. Ohio is said to be the next state to grant access to Hard Rock Sportsbook and customers can anticipate an early 2023 arrival. With regulations and sports gambling laws continuing to be passed monthly, it can be expected that Hard Rock Sportsbook will continue its expansion to other states within the US in the months and years to come.
Is Hard Rock Sportsbook regulated in the US?
Hard Rock Sportsbook is completely regulated within the United States. Currently, Hard Rock Sportsbook is regulated in Virginia, New Jersey, Iowa and Arizona. Since Hard Rock Sportsbook is regulated and legal in the US, customers do not need to worry about collecting their winnings or being defrauded. Users are protected as a customer within state regulations, which is the biggest difference from unregulated offshore sportsbooks.
Hard Rock Sportsbook reputation
Backed by one of the most famous entertainment brands in the world, Hard Rock Sportsbook has the support and trust of Hard Rock, its parent company. With approximately 250 properties located in more than 75 countries, Hard Rock has established and developed its brand impressively since the company's inception in 1979.
From a sports wagering perspective, Hard Rock Sportsbook is working to continue establishing itself among the top-tier wagering platforms to provide the most elite sports betting experience. Promoted as a 'simple, easy and fun' way to wager on your favorite sports, Hard Rock Sportsbook is known for offering all the top sport markets, backed up by its easy and reliable withdrawal methods. Hard Rock Sportsbook has a partnership with Navajo Nation Gaming Enterprise (NNGE), which operates and oversees five hospitality and gaming facilities from New Mexico to Arizona. As Hard Rock Sportsbook continues establishing itself in major markets it seems realistic that sports partnerships with the brand will increase.
Hard Rock Sportsbook review conclusion
If Hard Rock Sportsbook is looking to contend with the major sportsbooks in the US it'll most likely need to continue adding key features such as live streaming, while adding more incentives via their rewards program will also encourage more users to join.
However, Hard Rock has done an excellent job so far of creating a smooth app that offers markets across all of the major US betting sports. With so many different markets available (especially for live betting), Hard Rock Sportsbook provides a little something for everyone, and is absolutely worth trying if you're in an eligible location and looking to add another sportsbook to your betting roster.
Hard Rock Sportsbook key information
| Year founded | 2019 |
| --- | --- |
| Licensed in US | Yes |
| Available in US | Yes |
| Licenses | Iowa, Arizona, New Jersey, Virginia |
| Operating regions | US |
| Average payout speed | 1-5 business days depending on withdrawal method |
| 24/7 support | Yes via live chat |
| Languages | English |
| Number of sports offered: | 15 |
| Number of markets: | Hard Rock offers an extensive amount of markets within sporting events. Additionally, Customers can expect 10+ typical markets for standard bet types. |
| Live betting: | Yes |
| Cash out offered: | Yes |
| App: | Available for both Android and iOS devices |
| Additional products: | Casino, Poker |
Can Hard Rock Sportsbook be trusted?
Is Hard Rock Sportsbook legit?
Can you win money at Hard Rock Sportsbook?
Does Hard Rock Sportsbook payout?
How fast does Hard Rock Sportsbook payout?
Do you have to pay taxes when you win at Hard Rock Sportsbook?
Read our expert sportsbook reviews
Brand disclaimer
The brands featured in this article are for illustrative and commentary purposes only. There are no commercial associations between the website and any brand featured in this article. Trademark rights and copyrights relating to the teams featured on this page belong to their respective owner(s), which are not associated or affiliated with OnlineBetting.com in any way and did not license rights or authorise or sponsor this article.