DraftKings sportsbook review
Chris is a sports betting expert who has spent years learning how sportsbooks work and how to beat the markets. In addition to his own personal success with betting, Chris now also spends his time producing educational content for his followers across YouTube and Twitter. As a huge NBA, NFL and MLB fan, Chris enjoys the entertainment sports betting can bring, but also understands the hard work required to develop his knowledge and keep up with the markets in order to turn a consistent profit.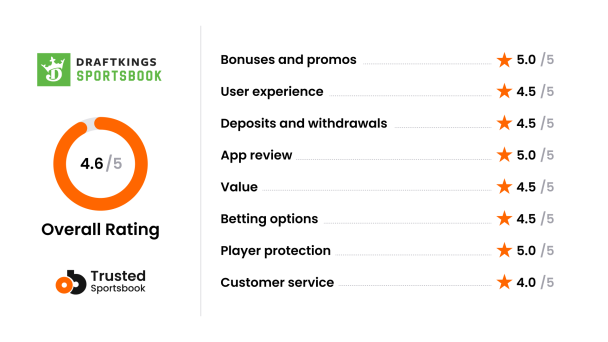 DraftKings: Our verdict
Overall rating: 4.6
DraftKings Sportsbook, the first online sportsbook in the United States, is regarded as one of, if not the, top books across the country. So, what's all the hype about?
For starters, DraftKings has a super simple sign up process that'll only takes a few minutes to complete. After signing up you'll find DraftKings to be one of the easiest sportsbooks to use both through the app (my personal favorite) and the website. DraftKings offers some of the most competitive odds for NBA and NFL action and has an extensive variety of sports to be wagered on. Although their customer service department could be improved upon, I'd absolutely recommend giving DraftKings a shot. All of the incentives offered via the signup bonuses and frequent odds boosts and promos make it worth it, as we'll discuss in greater detail in this review.
DraftKings pros and cons
| Pros | Cons |
| --- | --- |
| Competitive promos offered routinely. | Odds in secondary markets can be extremely juiced. |
| Sleek functionality that's hard to beat. | Can sometimes limit users who win consistently during short time frame. |
| Various markets, across different sports, to bet year round. | Customer service department could be expanded to solve disputes/concerns quicker. |
How to sign up to DraftKings
Signing up for DraftKings Sportsbook is fairly similar to that of other top sportsbooks. New customers will find the process takes just a few minutes. Just provide the standard information required for all sportsbook sign ups (username, email address, password), and then verify your personal information, agree to terms and confirm your location. DraftKings will confirm your age and identity as part of the sign up process. It's also important to note that you'll have to enable geolocation tracking via your mobile device to confirm you're in a state that has legalized online sports betting.
After you've completed those steps you'll instantly be able to check out everything DraftKings offers. The only thing required from this point is the need to deposit funds before you're able to place your first bet.
Like all sportsbooks, new customers will find that the DraftKings' welcome offer and sign up bonus changes frequently. Even within the regularly changing promotional periods, DraftKings has a competitive offer compared to the industry standard.
Currently, DraftKings welcome offer is: Bet $5 to get $200 instantly in free bets. New users just need to bet at least $5 on college football or NFL to get $200 of free bets credited to their account instantly. The promotional periods are usually around two months and are offered in all states that have legalized sports betting. Free bets are typically valid for seven days, can't be redeemed for cash and aren't refundable.
DraftKings bonuses and promos
Overall rating: 5.0
DraftKings has a variety of bonuses and promotions that should be taken advantage of by customers. DraftKings does a good job of spreading the offers around throughout all of the major sporting markets and there's almost always ongoing promotions and bonuses. In the fall, you can count on having NFL and NBA bonuses and throughout the summer MLB and PGA Tour promos will likewise be available.
One example that comes to mind is the Home Run Derby Bet offer that took place during the MLB season last year. By opting in and placing at least a $25 bet I earned a 50% MLB same game profit boost. You'll find offers like this throughout every major sports season.
DraftKings also offers a loyalty rewards program for both new and registered users. The sportsbook uses a tiered system where users accumulate 'crowns' as bets are made. These 'crowns' are basically loyalty points that can be exchanged for bonuses and other rewards at the bonus store.
Free bets
The Refer a Friend bonus is an ongoing offer that provides the referring user a chance for a free bet. By simply sharing your personal referral link with a friend or family member and having them deposit at least $25, you will earn a $25 free bet, depending on if certain depositing conditions are met. The more your family member or friend deposits, the more you'll earn. For example, a $100 deposit on their end equals a free $100 bet for you.
Deposit bonuses
DraftKings frequently has highly competitive deposit bonuses that typically last for different promotional periods. Typically, these bonuses are only applicable to new customers, but DraftKings does a decent job of making the offers available across all eligible states.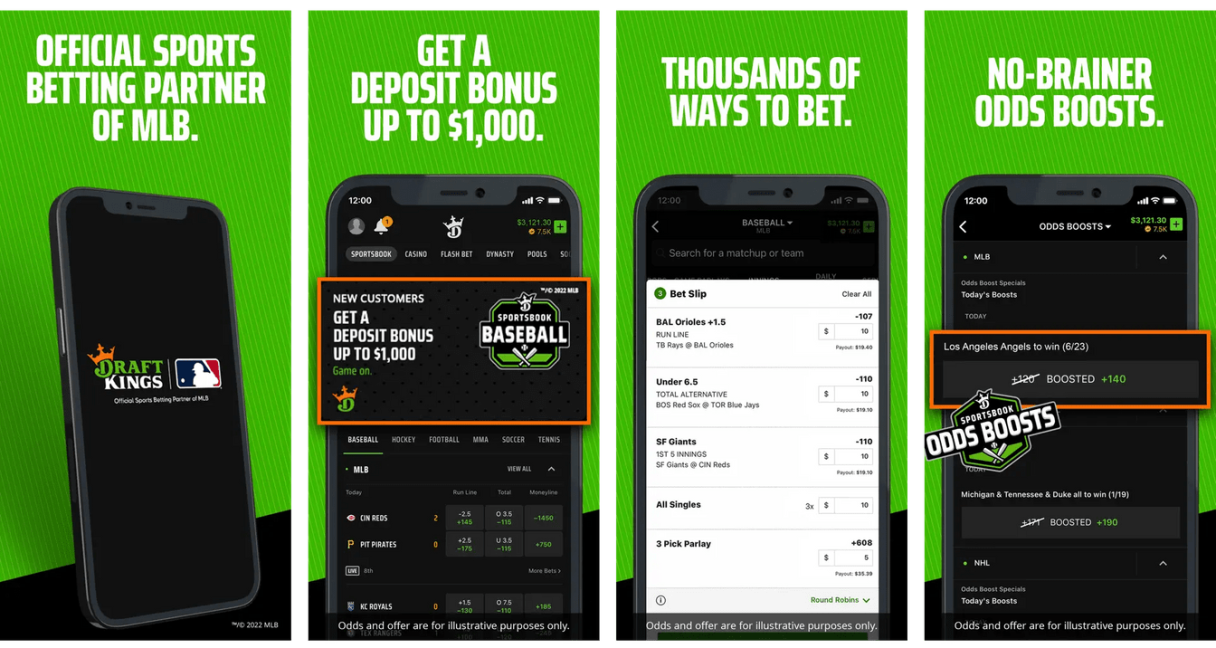 DraftKings key features
Like most of the heavy hitters in the sports betting industry, DraftKings gives customers more than just spreads, totals and moneyline markets to bet on. You'll find one of the most comprehensive live betting platforms, with real-time updates on the app and website. I personally love that DraftKings has an In-Game tab conveniently located displaying current odds. Not all top sportsbooks have this option – it's definitely a helpful feature that separates it from the pack.
A must-have feature for all in the sports betting industry is the new and highly popular live cash out option. DraftKings doesn't disappoint, including the feature that allows users to take their profit or cut their losses before the game concludes.
The sportsbook has also introduced the Betting Pools for sports. A private betting pool to play with family and friends that's sure to keep the trash talking going. You're also able to enter public contest pools for an opportunity to win cash prizes. Lastly, DraftKings also offers an online casino in states that qualify.
DraftKings user experience
Overall rating: 4.5
DraftKings Sportsbook offers one of the most user-friendly experiences of any sportsbook. New customers will find both the app and the webpage simple to navigate, helping you find exactly what you're looking for. The layout is one of the first things that I found impressive after signing up. Some competitors are still struggling to find the balance between making sure their homepages aren't too jumbled, while having everything you need. Not here.
All the current sports markets can be found in the middle section of the app and on the left side of the webpage. Additionally, some of the best promotions of any sportsbook can be found at the top of both the app and website. Users will also find it easy to locate live events to be wagered on, as well as a search tab for all sports. Your bet slip tab is conveniently in the center at the bottom of the app, and on the right side of the webpage. Lastly, DraftKings obviously make it easy to find your favorite betting markets such as moneylines, spreads and totals, but also the secondary markets such as team props, player props and half/quarters are in plain sight require very little in-depth searching.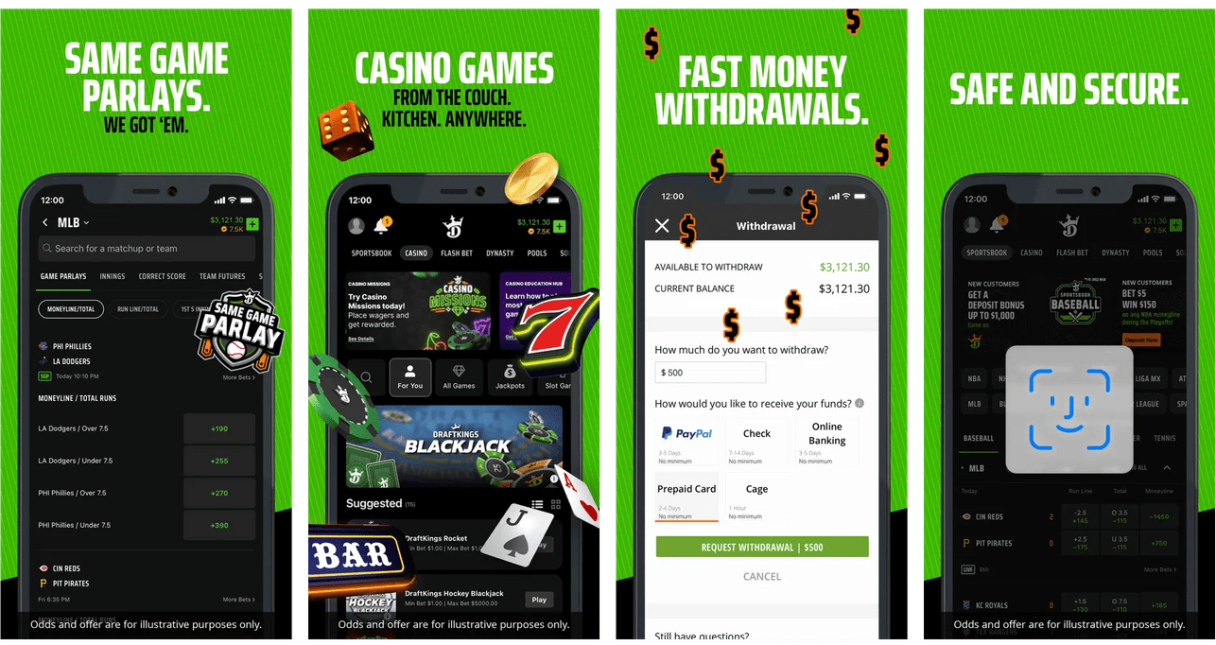 How to place a bet at DraftKings
DraftKings makes it as simple as possible to place a bet. New users can simply select a sport which they're interested in placing a wager on. Next, find the team/player you're interested in betting on, and clicking on the tab of the market/secondary market. DraftKings has literally made it that easy to bet on the team you think has an edge.
DraftKings deposits and withdrawals
Overall Rating: 4.5
DraftKings payout speed
When it comes to DraftKings withdrawal speeds, they offer some of the fastest payouts of any sportsbook. Funds are typically credited to your account shortly after you bet wins. In terms of withdrawing money, the process is simple and highly convenient for its customers. Visiting your profile both on the app and on the website will lead you to the Withdraw tab where funds can be transferred either through online banking, debit cards, PayPal or via check. There are no DraftKings withdrawal fees.
DraftKings deposit methods
DraftKings Sportsbook offers a wide variety of deposit options for new and existing users. Online banking (recommended), credit/debit cards, e-gift cards, DraftKings gift cards, PayPal, Venmo Play+ prepaid cards and wire transfers are all offered. DraftKings has a minimum deposit of $5.
| Option | Minimum deposit | Maximum deposit | Process time |
| --- | --- | --- | --- |
| Credit card | $5 | $20,000 | Instant |
| PayPal | $5 | $20,000 | Instant |
| Bank transfer | $5 | $20,000 | Instant |
| eCheck | $20 | $20,000 | Instant |
| Wire transfer | $100 | $20,000 | Instant |
| Play+ prepaid card | $5 | $20,000 | Instant |
DraftKings withdrawal methods
| Option | Minimum deposit | Maximum deposit | Process time |
| --- | --- | --- | --- |
| Debit card | None | Not listed | 1-3 days |
| Bank transfer | None | $100,000 | 3-5 days |
| eCheck | None | $100,000 | 1-3 days |
| PayPal | $1 | $60,000 | 3-5 days |
| Play+ | None | $25,000 | 2-4 days |
| Check | $15 | $50,000 | 3-7 days |
| Wire transfer | $20,000 first time withdrawal. $10,000 successive withdrawal. | None | 24-48 hours |
| Cage | None | $100,000 | 1 hour |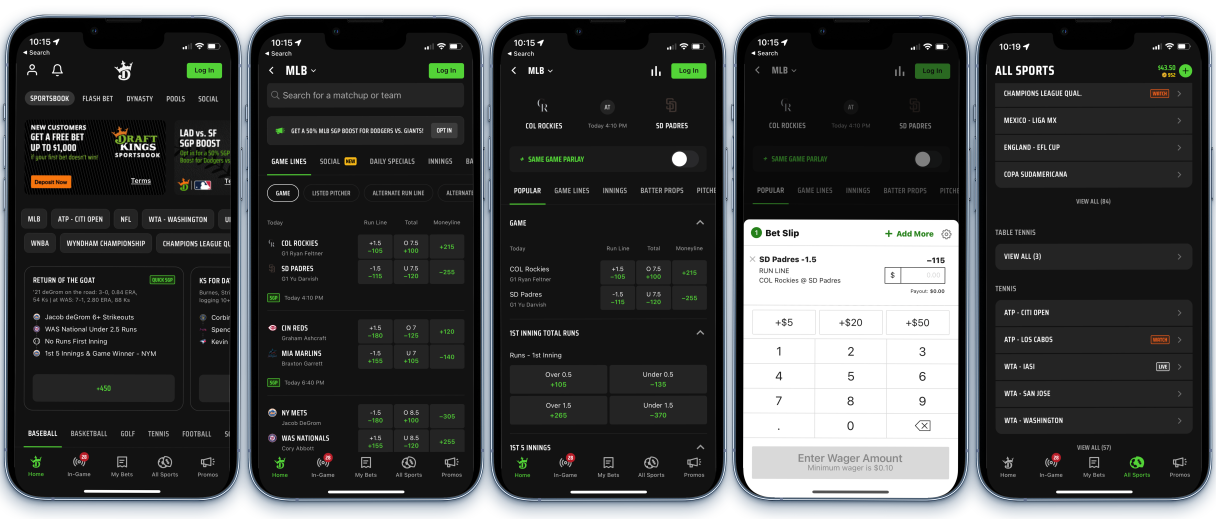 DraftKings app review
Overall rating: 5.0
You'll find the DraftKings Sportsbook app to be one of the best on the market. Everything is formatted in an easy to find way that makes the app experience convenient and intuitive. It's pretty rare that you'll experience any glitches, freezes or crashes.
It's easy to find the key features such as the same game parlay option, the early cash out feature and, most importantly, the withdrawal of your funds when that time is necessary. One of my favorite things about the app is how quick it is to find what I'm looking for because the app feels so organized. During the MLB season, I bet a lot of 'No Runs First Innings', a secondary market that can be exhaustingly difficult to find on other sportsbooks, including some of the top ones. Markets such as this one are named and are typically only a click or two away from the home page.
Customers will find that the app and the web version have extremely similar functionalities. DraftKings do a really good job of making sure both the app and web version mirror each other well for user's comfort, no matter which version is being used. The app is available both on Android and iOS devices.
DraftKings odds comparison
For the novice bettor, one of the things that may go overlooked when comparing sportsbooks is the actual odds that sportsbooks advertise. Getting competitive and valued lines is arguably the most important part of sports betting if your goal is to be profitable long-term.
Users will find that DraftKings has competitive odds. Sure, there's juiced lines and at times other sportsbooks will have better lines on primary markets such as moneylines, totals and spreads, but DraftKings holds their own pretty well in most markets in comparison to other books. At times you'll find a half point or even a full point difference between top competitors. These are the times you want to take advantage of lines that are more favorable to your bet and DraftKings will have some of those favorable betting lines without the juice at times.
DraftKings betting options
Overall rating: 4.5
Does DraftKings have good odds?
DraftKings offers competitive lines among top sportsbooks in the US. At times you'll find value on lines when comparing odds to other sportsbooks, and then at times you'll find that it may be better to place the same bet on a different sportsbook because of juice on the lines.
NBA and NFL spreads are my personal favorites to bet using DraftKings as I've found value in their lines compared to other top sportsbooks, even if it's just a half point in my favor. Long term these bets will increase my bottom line.
Winnings are taxed as with all other major sportsbooks regulated within the US. Typically winnings of $600 (or if the amount won is 300 times the original bet) are subjected to a 24% withholding tax rate.
What markets does DraftKings offer?
DraftKings offers a wide variety of sports that can be wagered on. New users will find all of the major markets available – the NFL, NBA, NHL, MLB, college football and basketball, and the top soccer leagues.
Within all these sports, you'll find secondary markets that go beyond the moneyline, spread and total bets. Same game parlays are easy to create and player props for your favorite NBA and NFL players are widely available.
DraftKings may not be first to offer the future bets but they're typically in the top three to five to offer lines. One of my personal favorites and a market that separates DraftKings from its competitors, is the teams total prop. A lot of the top sportsbooks don't have team totals and instead just have spreads. I love being able to place a wager on how many runs a team will score or how many points the Lakers will score before halftime.
Does DraftKings offer live betting?
Similar to the other major sportsbooks, DraftKings offers the highly popular live betting feature. You'll find the sportsbook offers live betting on all the major sporting markets in the MLB, NBA, NFL, NHL and more. There's also a bevy of secondary sporting markets that can also be bet on. Soccer, tennis, darts, and lacrosse are just a few from the list. Clicking the In-Game tab on either the website or app will narrow your options to all current action that can be wagered on. In my experience, live betting is most popularly used for NBA, NFL, and college basketball markets. This feature is also more commonly used by the user who are watching the game live.
While these markets are there for the customer who thinks that they've found an edge on a live game, DraftKings doesn't offer any tips in-game to assist its users. They do however provide real-time updates throughout the app so you're not having to toggle between two different devices to get access to live scoring.
DraftKings player protection
Overall rating: 5.0
DraftKings is a safe sportsbook that's regulated with sports betting approved states in the US. For that reason, customers can feel comfortable knowing that their private information and their bankroll are in good hands. In comparison to some other offshore books unregulated outside of the US, the same assurances don't exist, which results in those sportsbooks not being able to promise the same level of security.
DraftKings does an excellent job of advertising responsible gambling and having resources for its customers. Unlike most of its competitors, you'll see encouragements for gambling responsibly on multiple pages throughout their website – even on the Depositing FAQ page. The sportsbook offers customers the ability to set daily, weekly and monthly limits on the amount that they can deposit into their account.
DraftKings customer service
Overall rating: 4.0
While the sportsbook has a lot of innovative features and gets the credit that it deserves, the customer service department could use some improvement. DraftKings urges users to contact their customer support team via submitting a request for the fastest assistance. However, the live chat feature is with a bot, not a representative. Other major sportsbooks have 24/7 customer service support via live chat. DraftKings does offer an email address to submit a request. A phone number is located after doing some deeper digging, but it's only used to leave a voicemail that'll be responded to via email at a later date.
How to contact DraftKings in the US
| | |
| --- | --- |
| Live chat 24/7 | No, but you're able to chat with a bot that's only limited to the website's FAQ section. |
| Email | sportsbook@draftkings.com |
| Phone | 1(855) 357-2377 is the phone number listed to leave a voicemail for the sportsbook. However, the voicemail system is automated and DraftKings will respond via email. |
| Twitter | @DK_Assist |
Where is DraftKings legal?
DraftKings is currently legal in 16 states throughout the US, all of which have approved regulation for the sportsbook:
Additionally, it was also launched in Ontario, Canada in early 2022 as the first province to have regulated online sportsbooks. As states continue to pass legislation to legalize sports betting, it'd be a pretty good bet to bank on DraftKings continuing their expansion.
Kansas , Maryland and Ohio are expected to be next in line to gain access to the household named sportsbook.
Sports betting in the United States
Is DraftKings regulated in the US?
Yes, DraftKings is completely regulated. This means bettors can feel safe with their money because DraftKings has liability funds that operate separately from their expenses. In comparison to some of the offshore sportsbooks that aren't regulated, the same level of security for your money can't be promised. Having an account with a regulated sportsbook like DraftKings significantly increases the likelihood of you being paid out for your bets that've won.
DraftKings reputation
DraftKings Sportsbook is well respected within the sports betting industry. The sportsbook brings over a lot of its loyal customers from Daily Fantasy Sports which makes the transition to legal sports betting a lot less strenuous.
DraftKings is seen as a trusted brand that's regulated throughout a number of US markets. DraftKings has also accumulated numerous partnerships with sports industries and teams. Some of the biggest partnerships include the Golden State Warriors, New York Knicks, New England Patriots, Pittsburgh Steelers and Colorado Avalanche. These are just a few but DraftKings has official partnerships with more than 25 sporting teams/markets in the industry.
DraftKings conclusion
Overall, DraftKings can absolutely be considered a comprehensive, one-stop shop for all of your betting needs. From the very beginning customers will find a competitive sign up bonus that'll be worth the registration. Additionally, there's so many other innovative features that can be taken advantage of, such as the live betting with real-time updates, the easily crafted same game parlays feature, and the variety of sports available to the large customer base.
No matter what your niche may be, DraftKings has something for everyone, and they make signing up effortless for customers. There's also ongoing promos and boosts that should be utilized to beef up your bankroll with increased odds. Users can rest assured some of the best offers in the industry will come from DraftKings Sportsbook. Lastly, I'd recommend checking out DraftKings for some of the most competitive odds for point spreads and other major betting markets during the NBA and NFL seasons, among other sports.
DraftKings key information
| | |
| --- | --- |
| Year founded | Originally founded in 2011 as just DraftKings for Daily Fantasy Sports, DraftKings Sportsbook launched in August 2018 in New Jersey. |
| Licensed in US | Yes |
| Available in US | Yes |
| Licenses | Yes, DraftKings has licenses in 16 states currently and you can almost guarantee they'll continue their expansion as other states legalize sports gambling. |
| Operating regions | US and Ontario, Canada |
| Average payout speed | Depends on withdrawal method but typically within one to three days. |
| 24/7 support | Yes, via an online bot but not a customer service representative. |
| Languages | English |
| Number of sports offered | Literally every sport you can think of; DraftKings offers all major sports within the US. You'll find 18 different sports to bet using their sportsbook. |
| Number of markets | Events, Futures, Specials, Casino, Daily Fantasy Sports |
| Live betting | Yes |
| Cash out offered | Yes |
| App | Available for both Android and iOS devices |
| Additional products | Daily Fantasy Sports, Casino |
Can DraftKings be trusted?
Can you win money at DraftKings?
How fast does DraftKings payout?
Do you have to pay taxes when you win at DraftKings?
Read our expert sportsbook reviews
Brand disclaimer
The brands featured in this article are for illustrative and commentary purposes only. There are no commercial associations between the website and any brand featured in this article. Trademark rights and copyrights relating to the teams featured on this page belong to their respective owner(s), which are not associated or affiliated with OnlineBetting.com in any way and did not license rights or authorise or sponsor this article.