TheScore Bet sportsbook review
Chris is a sports betting expert who has spent years learning how sportsbooks work and how to beat the markets. In addition to his own personal success with betting, Chris now also spends his time producing educational content for his followers across YouTube and Twitter. As a huge NBA, NFL and MLB fan, Chris enjoys the entertainment sports betting can bring, but also understands the hard work required to develop his knowledge and keep up with the markets in order to turn a consistent profit.
TheScore Bet: Our verdict
Overall rating: 4.42
TheScore Bet sportsbook is a sleek app that provides sports bettors with an exciting experience when wagering on their favorite team or player. It offers a lucrative up to $1,000 match bonus that's competitive among any of its rivals, and all major sports events and leagues can be wagered on. With the integration of Bet Mode, in conjunction with its parent app theScore, simplified sports betting has arrived.
Limited to Ontario, Canada for now, as theScore Bet has transitioned out of its handful of US markets, it still provides an immense sports betting experience through their live betting, early cash out features and more.
TheScore Bet pros and cons
| Pros | Cons |
| --- | --- |
| Straightforward and easy to use app. | Limited to only Ontario, Canada. |
| Early cash out offered. | No desktop functionality. |
| Strong customer service team via multiple support functions. | Lacks some key features such as loyalty program and live streaming. |
How to sign up to theScore Bet
Signing up for theScore Bet is a quick and easy process and is similar to that of most other industry-leading sportsbooks. You'll need to visit their webpage in order to enter your phone number, giving you a link so that you can download their app on your phone.
After doing so, open the app and click the Sign Up button. You'll be prompted to enter the same personal information required at other sportsbooks – email, username, password, last four digits of your SSN etc. Finally, you scan a state–issued ID and take a picture of yourself to confirm your identity. With that, you're all done.
TheScore Bet welcome offer
Like most industry leading sportsbooks, theScore Bet typically provides a generous welcome offer. However, currently there aren't any welcome offers available to customers in the US. This most likely has to do with the recent transition out of the US and migration to focus solely on expansion in Canada. This is disappointing to potential customers interested in engaging in sports wagering using theScore Bet's sportsbook. However, since theScore Bet has had top level welcome offers in the past, it's probable the offers will return in the future. 
During its time in the US, theScore Bet sportsbook had offered a 100% deposit match up to $1,000. This offer would give new customers a chance to deposit any amount up to $1,000 and have it matched in free bets if their initial bet didn't win. This was a very enticing and competitive welcome offer for even amongst industry leading sportsbooks, and is still available in Ontario, Canada.
TheScore Bet bonuses and promos
Overall rating: 5.0
TheScore Bet offers incentivized bonuses and promotions throughout major sports seasons. For example, during the summer, MLB was the biggest sport being played and theScore Bet offered a 20% MLB Parlay Win Multiplier. During this promo users could bet $1 on a at least a four-leg parlay, consisting of all MLB selections, with odds collectively greater than +150, to land an extra 20% in winnings paid in up to $100 of free bets.
Additionally, theScore Bet offers NFL First Touchdown Scorer Win and Get promotions during the NFL season. Using this promo allows users to bet on the first touchdown scorer of any NFL game and receive a free match of their bet of up to $25 if their original bet clicks.
Unfortunately, theScore Bet doesn't have a loyalty program, something that could benefit its regular customers who use the app routinely. Users also won't find any significant odds boosts on offer whilst using the app.
Free Bets
TheScore Bet offers free bets to its customers who participate in or complete promotions available to them. After earning a free bet, you'll be able to find it under the My Account page using the app. In the top-right corner of the screen you'll see the Free Bet button, which shows customers all of their current free bets. You can also see free bets directly on your bet slip that are available when placing a wager.
Deposit Bonuses
At the time of writing the only deposit bonus that's offered is the signup bonus (available only in Ontario, Canada) which gives customers a matched bonus of up to $1,000 in bet credits. The offer is widely advertised throughout theScore Bet's app and social media platforms.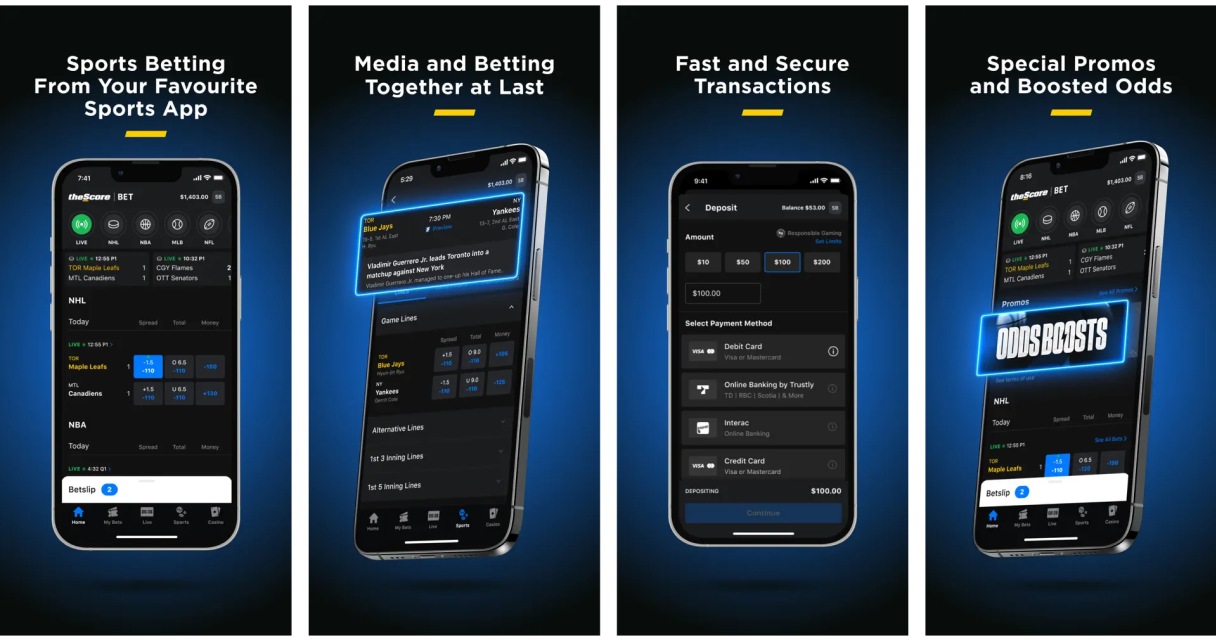 TheScore Bet key features
As it stands, theScore Bet sportsbook may be considering expansion of some of the most routine features offered by rival sportsbooks now that it's located solely in Canada. It lacks both the Casino feature, a loyalty rewards system and live streaming for current sport events. These features are becoming standard among the top-rated sportsbooks in the world.
Arguably the best feature theScore Bet offers is Bet Mode. This combines theScore app and theScore Bet app to simplify the betting experience by combining the stats used on their parent company app with that of the sports betting app. TheScore Bet additionally offers a cash out option available on its app for qualifying bets. Another key element that is a must for top sportsbooks is the live betting feature, and theScore Bet doesn't disappoint. It offers easily accessible live betting via their mobile app on iOS and Android devices.
TheScore Bet user experience
Overall rating: 5.0
TheScore Bet sportsbook is easy to use and seamless to navigate. The app is a branch of the parent company's (theScore) app that has a large following in the US as well as Canada. Finding all relevant information for sign up bonuses and locating different sports/markets within the app is quicker than rival sportsbooks because of the pristine functionality of theScore Bet's app. Placing a bet, whether a straight or parlay, can be done within seconds and is an effortless experience.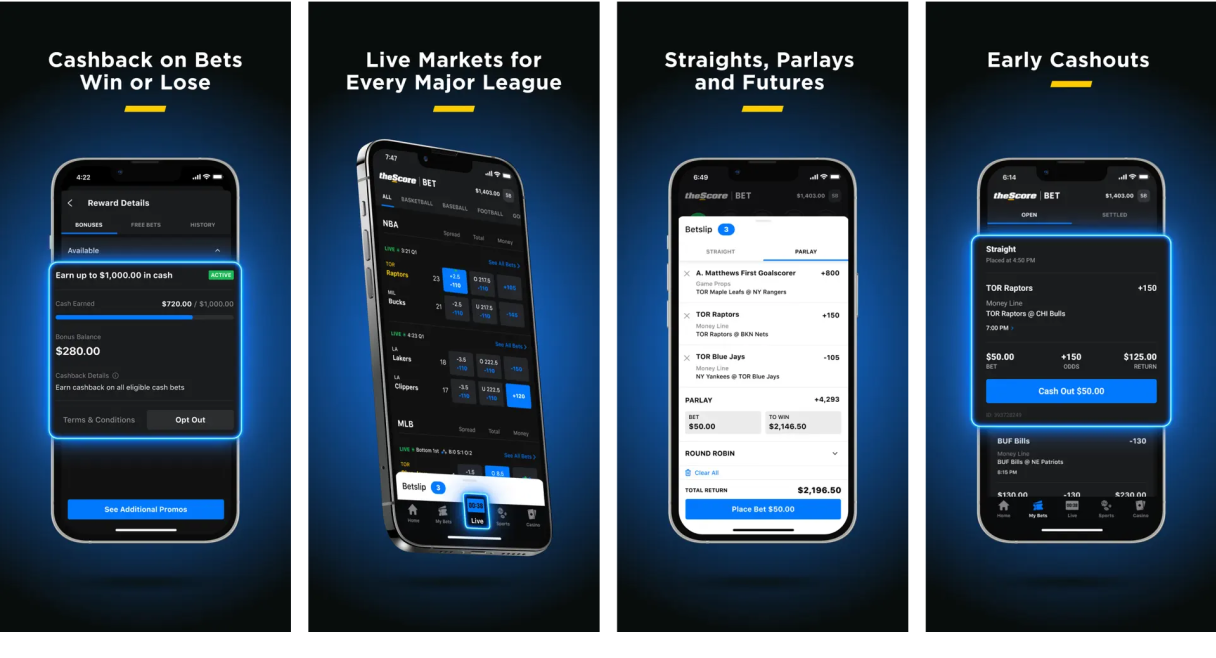 How to place a bet at theScore Bet
Placing a bet at theScore Bet sportsbook is as easy as it comes. Once you've successfully created an account just log in. Select the market, and team or player you'd like to bet on, and tap that selection. This will prompt your bet to be added to your bet slip. If you'd like to add additional bets you can, with the last step being to determine how much you'd like to wager.
TheScore Bet deposits and withdrawals
Overall Rating: 3.5
TheScore Bet payout speed
TheScore Bet has been known to be slightly slower when processing transactions when withdrawing funds. Typical processing time can take anywhere from one to six business days depending on which withdrawal method is selected. Slower transactions are typically through electronic fund transfer. It's also important to keep in mind that using the same deposit and withdrawal method helps theScore Bet process transactions quicker.
TheScore Bet deposit methods
| Option | Minimum deposit | Maximum deposit | Process time |
| --- | --- | --- | --- |
| Credit/debit card | $10 | Not Listed | Instant |
| Bank transfer | $10 | Not Listed | Instant |
| PayPal | $10 | Not Listed | Instant |
| eCheck | $10 | Not Listed | Instant |
TheScore Bet withdrawal methods
TheScore Bet offers four different methods to withdraw funds from your bankroll to your bank account. Customers won't be able to withdraw funds without uploading a government-issued ID prior to requesting withdrawal.
| Option | Minimum withdrawal | Maximum withdrawal | Process time |
| --- | --- | --- | --- |
| Online banking (Trustly) | $10 | $9,999 | 1-3 business days |
| Interac (Canada only) | $10 | Not Listed | 1-3 business days |
| PayPal | $10 | Not Listed | 1-3 business days |
| Electronic Funds Transfer | $10 | Not Listed | 3-6 business days |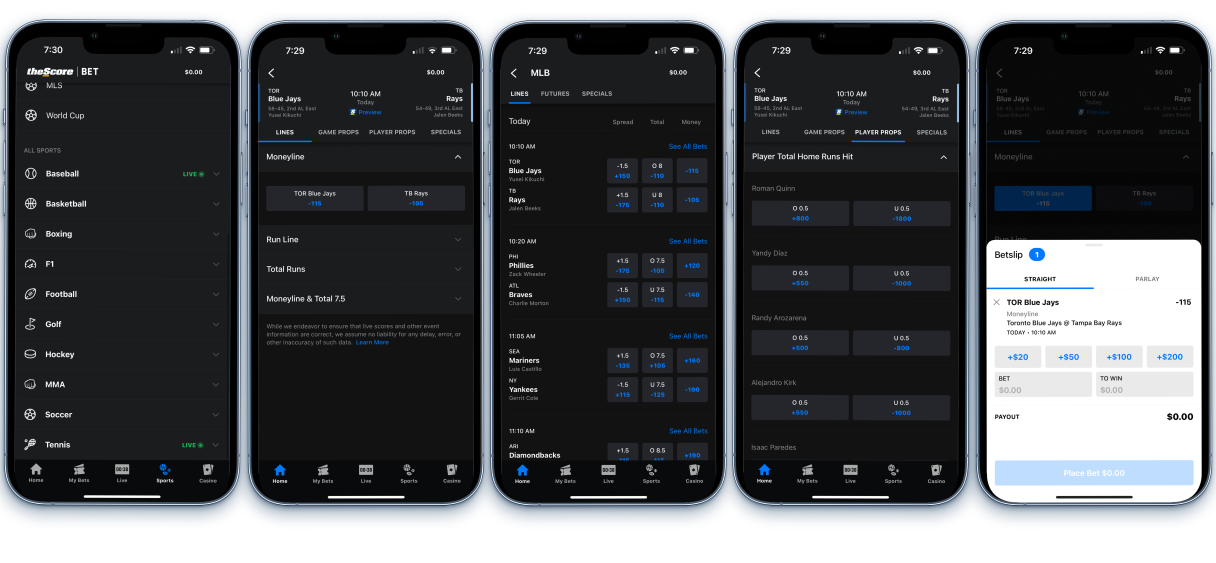 TheScore Bet app review
Overall rating: 5.0
TheScore Bet only offers an app version of their platform to its users. Customers looking to place bets on desktops or laptops won't be pleased but since most sports betters prefer to wager on their phones it's not the biggest turnoff.
Customers will find a sleek design when looking to place wagers on theScore Bet sportsbook. They can also expect a fast and clean platform that makes it easy to locate markets and place their favorite moneyline or spread wagers quickly. As expected, theScore Bet app does mirror the company's incredibly popular theScore app. New users can download theScore Bet app on both iOS and Android devices.
TheScore Bet odds comparison
Overall Rating 4.0
Generally, theScore Bet offers competitive odds compared to leading industry sportsbooks. It really depends on which market you're looking to bet and which team or player you're looking to back. Within major sports markets, users can expect to find vig or juice on moneylines and spreads. Vig can be defined as the difference between the price the sportsbook gets the line and the price that they sell it on their sites to customers. This is why line shopping is considered an important art for sports bettors looking to pay low and win big, increasing their bankroll over time. Additionally, prop bets can be found elsewhere at cheaper prices during most times.
TheScore Bet betting options
Overall rating: 3.5
Does theScore Bet have good odds?
Odds found at theScore Bet are pretty standard compared to the markets offered by other industry-leading sportsbooks. Like competitors, theScore Bet offers standard juice lines with typical odds on moneylines for your favorite sports. Even within the prop market, users can expect -115 to -125 odds that can be found elsewhere at -105 to -110.
Future bets will be found to have vig included so shopping around to check other sportsbooks first may be a better option to get the best price. TheScore Bet sometimes imposes limits for bettors who are on a hot streak, and the maximum payout for any wager is $2,500,000. Like all regulated sportsbooks, theScore Bet will send notifications to tax authorities for winnings that pay out a wager of $600 or more at +3000 odds or greater.
What markets does theScore Bet offer?
All major leagues across most major sports are featured on theScore Bet. New customers will find basketball, football, hockey and baseball to be the front and center on the app. Additionally a few secondary sports such as rugby, table tennis, MMA and soccer are also available.
When it comes to bet types, theScore Bet won't blow any other leading sportsbooks out of the water with their offering but does provide a variety of markets. Users can expect to find moneylines, teasers, round robins, futures, totals and parlays, to name just a few.
More in-depth bet types like specific player, team and game props won't be there, however. The theScore Bet app does offer the highly popular same game parlay feature and provides future bets that are listed similarly to other major sportsbook competitors.
Does theScore Bet offer live betting?
TheScore Bet offers live betting opportunities. New customers shouldn't expect the same amount of markets as offered on most leading rival companies like FanDuel or DraftKings however. What we can expect is available markets during major sporting events throughout the day. For example, during NFL Sunday, you'll be able to place wagers on a specific team you think should win via point spread or moneyline.
But locating how many receiving yards a running back will gain out of the backfield or how many catches your favorite receiver will have most likely won't be an option. Additionally, theScore Bet doesn't offer live streaming for its live betting, something most top-level sportsbooks are currently doing.
TheScore Bet player protection
Overall rating: 4.5
TheScore Bet Sportsbook is legit, pledging that keeping customers' personal information safe is very important to them. Additional features, besides a standard password, such as security questions and generated emails upon every login, keep users' information safe.
TheScore Bet sportsbook also pledges that they're committed to providing responsible gaming that promotes both fun and safety. It has various responsible gaming resources within its app that are easily located and new users can expect to find the ability to set limits on the amount of time spent on the app, the amount of money wagered and the account history for the current year. Additionally, theScore Bet has a self-exclusion program which allows users to voluntarily take a break, as well as other responsible gaming resources listed.
TheScore Bet customer service
Overall rating: 4.0
A test interaction with theScore Bet's customer service team via the app was unable to be completed. However, when reaching out via email for support, the response was received in a timely manner and satisfied my inquiry.
How to contact theScore Bet in the US
Where is theScore Bet legal?
As of July 1, 2022, theScore Bet is only available in Ontario, Canada. Penn National Gaming, which also operates the Barstool Sportsbook, decided to focus more on expansion in Canada and continue growing Barstool in the US.
Before theScore Bet pulled out of the United States, the sportsbook was legal and regulated in New Jersey, Colorado, Iowa and Indiana. Note that 19 is the legal gambling age in Ontario, Canada.
Sports betting in the United States
Is theScore Bet regulated in the US?
Launching in New Jersey in 2019, theScore Bet soon became regulated in a handful of other states throughout the US. However, on June 15, 2022 theScore Bet announced that it was shutting down its operation in the US, focusing its future efforts on expansion in Ontario, Canada, where its parent company theScore app is based. At the time of writing theScore Bet is only regulated in Ontario. TheScore Bet's sister company, Barstool, does operate and is regulated within the US.
TheScore Bet reputation
Being a descendant of its highly popular sports media app, theScore Bet has developed a solid reputation for itself. With its recent transition out of the US and now only being located in Ontario it'll be interesting to see what happens as it looks to only expand its presence north of the US.
If theScore Bet is looking to continue its growth and build on its reputation, they should focus on creating more markets for its customers to choose from, integrating a loyalty rewards system and increasing its payout speed, which will all help attract new bettors. Currently theScoreBet has partnerships with both the Toronto Blue Jays and PGA TOUR.
TheScore Bet conclusion
TheScore Bet sportsbook currently provides a decent sports betting experience for its customers to place wagers and win real money. Although, as mentioned, the company is experiencing a transition out of the US and focusing on Canada, there's still tremendous upside to signing up to theScore Bet for Canadian customers. New users will find a generous first deposit matched bonus up to $1,000 and one of the fastest and most user-intuitive apps in the sports betting industry.
The app provides all major sports for users to wager on, as well as the must-have same game parlay feature. Customers can also expect an option to cash out of their wagers early to take early profit. The app does currently lack some key features such as loyalty program and live streaming, but overall provides a decent sports betting proposition for its now Canadian only potential customer base.
TheScore Bet key information
| Year founded | 2019 |
| --- | --- |
| Licensed in US | No |
| Available in US | No |
| Licenses | Ontario |
| Operating regions | Ontario |
| Average payout speed | One to six business days |
| 24/7 support | Yes |
| Languages | English |
| Number of sports offered | 13 |
| Number of markets | Limited compared to rivals but constantly growing |
| Live betting | Yes |
| Cash out offered | Yes |
| App | Available for both Android and iOS devices |
| Additional products | None currently |
Can theScore Bet be trusted?
Can you win money at theScore Bet?
Does theScore Bet payout?
How fast does theScore Bet payout?
Do you have to pay taxes when you win at theScore Bet?
Read our expert sportsbook reviews
Brand disclaimer
The brands featured in this article are for illustrative and commentary purposes only. There are no commercial associations between the website and any brand featured in this article. Trademark rights and copyrights relating to the teams featured on this page belong to their respective owner(s), which are not associated or affiliated with OnlineBetting.com in any way and did not license rights or authorise or sponsor this article.