SugarHouse sportsbook review
Chris is a sports betting expert who has spent years learning how sportsbooks work and how to beat the markets. In addition to his own personal success with betting, Chris now also spends his time producing educational content for his followers across YouTube and Twitter. As a huge NBA, NFL and MLB fan, Chris enjoys the entertainment sports betting can bring, but also understands the hard work required to develop his knowledge and keep up with the markets in order to turn a consistent profit.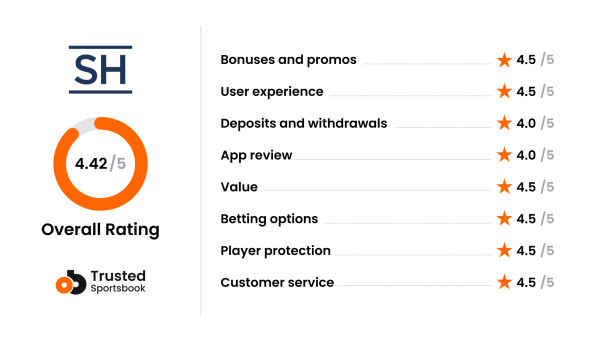 SugarHouse: Our verdict
Overall Rating: 4.42
SugarHouse is a must-have sportsbook for some of the best moneyline and spread odds on the major sports across more than 50,000 betting markets. Users also have access to place in-play bets using the highly popular live betting feature and collect early winnings using the sportsbook cash out feature which lets users take their cash early before a contest ends.
The sportsbook has a variety of secondary markets across the major leagues, including player, team and game props to give bettors more options to wager on action they're interested in.
SugarHouse pros and cons
| PROS | CONS |
| --- | --- |
| Same game parlays offered. | Periodical glitching in the app at peak use hours. |
| Live streaming of sporting events. | Better promotions/bonuses offered elsewhere. |
| Exceptional customer service. | Limited licenses, which can restrict access for some. |
| More secondary markets offered than most rivals. | |
How to sign up to SugarHouse
SugarHouse provides an easy and convenient way to sign up, similar to major sportsbooks, through either their website or app. Your basic personal information is needed to sign up after selecting a screen name, email address and password. Next, you'll be asked to submit a photo of a state ID to verify your identity and age. Lastly, you'll provide answers to a pair of security questions that enable two-factor authentication. The sign up process shouldn't take more than a couple of minutes and is industry standard.
SugarHouse welcome offer
SugarHouse offers a relatively competitive welcome offer, but there are definitely rivals that have more incentives for signing up. The 100% Match Bonus Up to $250 is the offer advertised during most promotional periods. Using this welcome offer gives users a credit to their account the size of their initial deposit, up to $250. This promo only requires a 1x play-through, meaning that if you win your first bet with the bonus money, you're then able to withdraw the money that you've won. In comparison, some other rivals require up to 5x play-through. Users will have 30 days to wager all the bonus money before the offer expires.
SugarHouse bonuses and promos
Overall rating: 4.5
SugarHouse isn't a sportsbook that's gained its popularity based on its bonuses and promos offered, but does still incentivize its customers from time to time with different offers that should be considered for odds boost and parlay insurance.
For example, during the tennis season you'll find the 20% Tennis Profit Boost which is available on all odds -200 or greater. The downside to this offer and others on SugarHouse is that maximum wager and maximum additional winnings are sometimes set. In this example, $25 is the max wager and $250 is the max additional winnings that can be won during this promotion.
Another incentive that's offered frequently is the advertised Daily Odds Boost Special that covers moneylines, spreads, parlays and props. This gives users a way to bet on their favorite sports in the most common markets without the vig or juice associated with typical lines on rival sportsbooks.
Free Bets
SugarHouse offers free bets throughout the major sport seasons. For example, during the MLB season you'll find a Bet $25 on a MLB Same Game Parlay and Receive a Free $10 Bet. Customers can expect to find similar options during NFL and NBA seasons and on other major leagues and competitions.
Deposit Bonuses
Users will find that SugarHouse offers more profit boosts and odds boosts than deposit bonuses. The only deposit bonus currently promoted on its website and app is the $250 Deposit Bonus Match.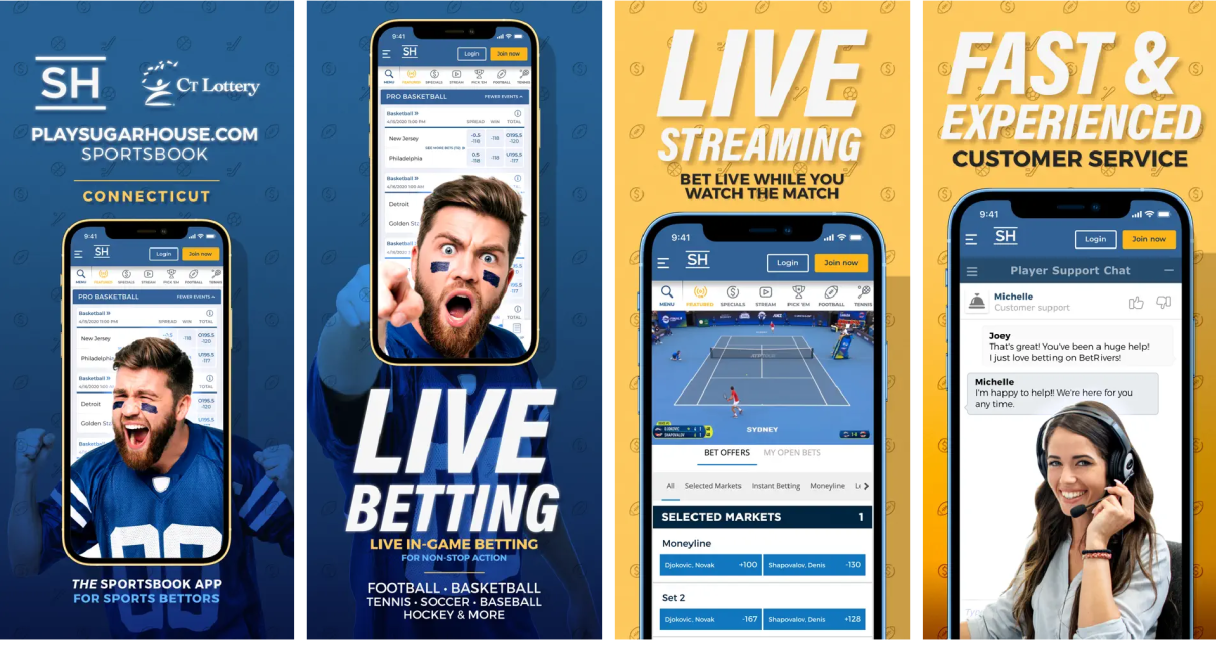 SugarHouse key features 
SugarHouse offers the highly popular live betting feature that has grown to be a must-have for top sportsbooks throughout the US. Live betting takes customers' experience to the next level with the option to place wagers on contests that you're currently watching. SugarHouse also has the early cash out option which allows users to end their bets early and take early profits based on the current action.
Users will also find SugarHouse to have iRush rewards, their version of a rewards program. Users get free membership within the 11 tiers where the more money you bet the more points you accumulate. The points can be used to redeem birthday presents, free plays and even multipliers on wagers.
SugarHouse user experience
Overall rating: 4.5
SugarHouse, while somewhat limited geographically in the US, provides an excellent experience for those who use the sportsbook regularly. It's effortless to utilize both the website and app, even for new customers. From a quick sign up process, to seamlessly crafting same game parlays, or searching for your favorite teams to bet on, SugarHouse often flies somewhat under the radar with the level of user-intuitiveness provided throughout their sportsbook. Not to mention, placing a standard bet can be done in just seconds if you're ever rushing to get those last-minute wagers placed.
How to place a bet at SugarHouse
New users will find that placing a bet on SugarHouse is as easy as it is on most rival sportsbooks. Find the sport you'd like to wager on using the left side menu, both on the website and app. After you've found the event and outcome that you'd like to bet, simply click on the button with the odds that you'd like. This will add the bet to your bet slip that will populate automatically after you've made your selection. After entering the amount you'd like to wager, select Place Bet and you're now in the action.
SugarHouse deposits and withdrawals
Overall rating: 4.0
SugarHouse payout speed
Customers will find the payout process at SugarHouse is a pleasant and hassle-free experience. For most, one of the decisive factors that determines if they'll sign up for a sportsbook is how easy it is to withdraw funds that they've won. Typical payout speed at SugarHouse Sportsbook can be less than minutes when using the RushPay option and between one to two business days for all other standard withdrawal methods.
SugarHouse deposit methods
SugarHouse offers a few less deposit options than most major sportsbooks in the US. Even with that said, there's still plenty of popular options to have your account funded to get one step closer to the betting action. Note that all options may not be available in all locations and vary by state.
| Option | Minimum deposit | Maximum deposit | Process time |
| --- | --- | --- | --- |
| Credit Card | $10 | $25,000 | Instant |
| PayPal | $10 | $25,000 | Instant |
| Bank Transfer | $10 | $25,000 | Instant |
| eCheck | $10 | $25,000 | Instant |
| Play+ Prepaid Card | $10 | $25,000 | Instant |
| PayNearMe | $10 | $2,000 | Instant |
SugarHouse withdrawal methods
| Option | Minimum withdrawal | Maximum withdrawal | Process time |
| --- | --- | --- | --- |
| Bank Transfer | $10 | $25,000 | Instant |
| Play+ Prepaid Card | $10 | $25,000 | 1-2 business days |
| PayPal | $10 | $25,000 | 1-2 business days |
| Cash | $10 | $500.00 | 1-2 business days |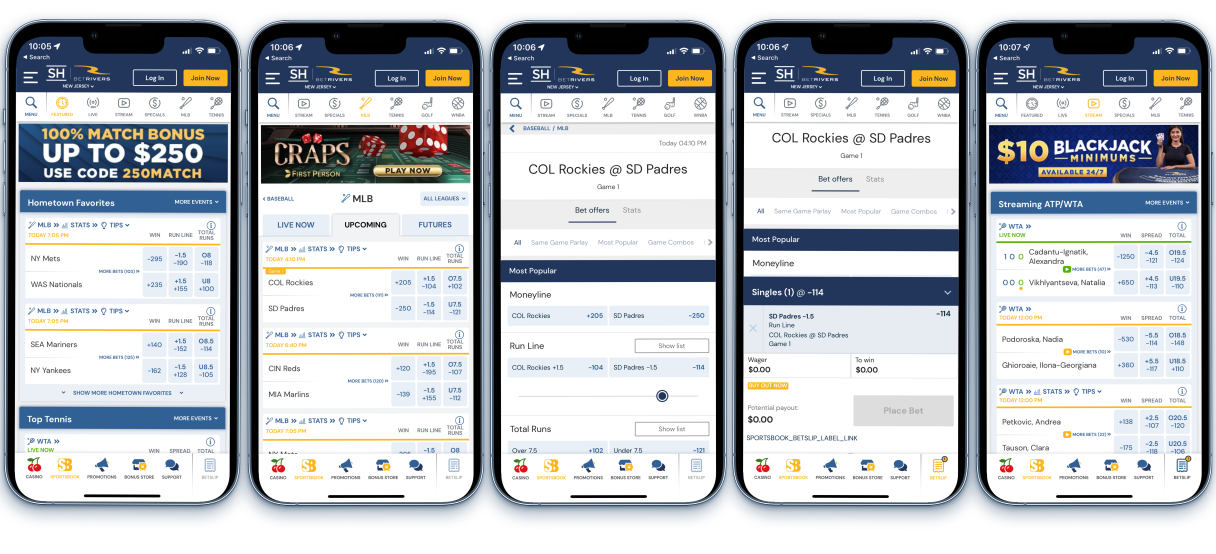 SugarHouse app review
Overall rating: 4.0
The SugarHouse mobile app is free on both iOS and Android devices. If you're used to using a major sportsbook app, this is a little different in feel. The layout has a pretty solid interface and functionality but feels a bit cluttered because there are so many tabs at the bottom and top of the screen. Additionally, there's the Cherries Casino tab at the bottom which feels like it should be in the Menu section to ensure sports gamblers aren't confused with casino games. The app will occasionally glitch at peak times and force restarts automatically, which can lead to frustrated customers trying to place bets or locate events.
However, users will find that most of the popular features and markets are easily located and within a few clicks away from the home page, including the responsible gaming section. The app functions similarly to the web page version.
SugarHouse odds comparison 
Overall Rating: 4.5
New users can count on SugarHouse to have competitive odds in some major markets and some juiced lines below the standard -110 odds on in other major markets. SugarHouse has developed a reputation for having some of their most competitive odds in some of the bigger sports markets, such as the NBA and NFL, if we're looking for value on moneylines and spreads. Likewise, there's still value on some of their player and team props that don't offer too much additional vig.
Overall, there's a tiny shortage in odds comparisons when compared to some of the biggest sportsbooks in the US, but SugarHouse is still a clear competitor when line shopping.
SugarHouse betting options
Overall rating: 4.5
Does SugarHouse have good odds?
In comparison with other top leading sportsbooks, SugarHouse does a good job of holding their weight with competitive odds. Like most sportsbooks, you won't find value on every line offered, but at times you'll find some of the most aggressive lines of any market available.
Competitive odds are offered throughout major sports with the best lines provided for NBA and NFL spread and moneylines. But there are other markets that aren't as juiced and provide value against competitors. SugarHouse has been known to impose betting limits for sharp bettors who have a proven track record of consistently winning. Winnings are taxed and you can expect the sportsbook to keep a history of your bets on file to send to the IRS if a certain amount is won within a fiscal year. The amount is determined by local legislation.
What markets does SugarHouse offer?
New users will find SugarHouse to have markets for all major sports. Basketball, baseball, boxing, football, golf, hockey, tennis and a ton of others are all offered. Within popular sports, you can place wagers in multiple competitions. For instance, there's a lot more leagues under basketball than just the NBA, NCAAB and European leagues.
Beyond just the regular spread and moneyline bets, SugarHouse offers more than 150 different betting markets on some single game actions. It's pretty easy to find prop markets for players and teams, futures and first/second half bets. Same game parlays can be easily crafted as well as live betting offered using the Live tab on their app and website. Futures are posted in advance as well. It's common to see NFL future bets placed two to three months in advance before the season starts.
Does SugarHouse offer live betting? 
SugarHouse, like a lot of its rivals, has live betting. The number of markets available during live betting depends on the popularity of the event but you can find up to eight to 12 different markets during live events. An example, during a live tennis match there's game lines, points and set markets that can all be wagered on during live contests.
Unlike a lot of its competitors, SugarHouse offers live stats located right beside the betting markets that shows users stats from the players/team that's been bet on.
SugarHouse player protection 
Overall rating: 4.5
Because SugarHouse is backed by a government body, you can be sure that the sportsbook is safe and secure. Completely legal and regulated in available states, SugarHouse provides securities that offshore books don't, adding an extra level of protection for users to ensure their personal information and money is safe.
SugarHouse has a bevy of responsible gaming resources offered on both their website and their app. Users have the option to set deposit limits by the day, week or month. Additionally, the self-exclusion option allows users to ban themselves from using the app for a certain time frame. Lastly, users can expect to find the Gamblers Anonymous phone number and website, as well as the company's commitment to preventing underage gambling in the Responsible Gambling section of the app and website.
SugarHouse customer service
Overall Rating: 4.5
SugarHouse Sportsbook customer service has a pretty decent track record with most of its users. During a live player support chat, I found the customer service department to be polite, knowledgeable and quick to help me resolve my issue at hand.
How to contact SugarHouse in the US
Where is SugarHouse legal?
SugarHouse is currently legal and regulated in three states within the US. New Jersey, Pennsylvania and Connecticut are the lucky three states to have access to this sportsbook, with all three having access to online betting, with Connecticut having a retail sportsbook option as well. Additionally, with sports betting now legal in New York, they're the next state waiting to have approval confirmed to gain online access.
Is SugarHouse regulated in the US?
Yes, SugarHouse is a fully regulated sportsbook within its three localities in the US. Connecticut, New Jersey and Pennsylvania all have licenses to operate SugarHouse, providing customers sitting on the fence about signing up a little more reassurance to do so. Regulated sportsbooks are a lot safer with your personal information and increase the likelihood of your winnings making it to your bank account compared to unregulated offshore sportsbooks.
SugarHouse reputation
SugarHouse Casino, which has been licensed in Pennsylvania since 2006, has an extensive history of being one of the best casinos in the area. Rush Street Interactive, which launched SugarHouse sportsbook, has been in business since August 2018. Over the years SugarHouse has developed a very respected reputation. Some of that reputation is through its partnerships. SugarHouse has official collaboration with both the NHL's Philadelphia Flyers and the Wells Fargo Center.
SugarHouse review conclusion
For the users in states who have access to SugarHouse, you'll find the sportsbook to have value due to its impressive moneyline and spread no vig odds all season long. New customers looking for a sportsbook with an unlimited market of secondary odds will be pleased to find that SugarHouse has markets that match just about any rival in the industry. New bettors looking for quick payouts and the ability to cash out on early winnings during live games will also enjoy this reputable sportsbook.
SugarHouse key information
| | |
| --- | --- |
| Year founded: | Casino launched in 2016; Sportsbook launched in 2018. |
| Licensed in US: | Yes |
| Available in US: | Yes |
| Licenses: | New Jersey, Pennsylvania, Connecticut |
| Operating regions: | U.S. |
| Average payout speed: | Depends on withdrawal methods. Typically within 1-3 business days. |
| 24/7 support: | Yes |
| Languages: | English |
| Number of sports offered: | 20 |
| Number of markets: | More than 150 different markets across major sports industries. |
| Live betting: | Yes |
| Cash out offered: | Yes |
| App: | Yes, available on iOS and Android devices. |
| Additional products: | Casino |
Can SugarHouse be trusted?
Can you win money at SugarHouse?
How fast does SugarHouse payout?
Do you have to pay taxes when you win at SugarHouse?
Read our expert sportsbook reviews
Brand disclaimer
The brands featured in this article are for illustrative and commentary purposes only. There are no commercial associations between the website and any brand featured in this article. Trademark rights and copyrights relating to the teams featured on this page belong to their respective owner(s), which are not associated or affiliated with OnlineBetting.com in any way and did not license rights or authorise or sponsor this article.