Caesars sportsbook review
Chris is a sports betting expert who has spent years learning how sportsbooks work and how to beat the markets. In addition to his own personal success with betting, Chris now also spends his time producing educational content for his followers across YouTube and Twitter. As a huge NBA, NFL and MLB fan, Chris enjoys the entertainment sports betting can bring, but also understands the hard work required to develop his knowledge and keep up with the markets in order to turn a consistent profit.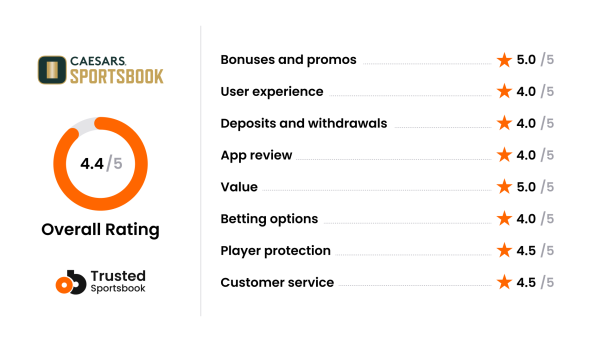 Caesars: Our verdict
Overall rating: 4.4
Caesars Sportsbook is regarded as one of the best in the United States for online sports betting. What customers will find is that the highly reputable sportsbook holds its weight just fine against its rivals, and is definitely recommended to both novice and experienced sports bettors.
Caesars is known for its abundant sign-up bonus for new users. Typically, a risk-free bet up to $1500 is credited to your account in the form of a free bet if your first bet loses. Additionally, Caesars offers the quickly growing and highly popular live betting option that's taken sports betting to the next level. Bettors will also find a user-friendly interface – on the app and on the web version – as well as some of the best customer service on the market.
Caesars pros and cons
| Pros | Cons |
| --- | --- |
| Extremely generous promotions/odds boosts are consistently offered. | Geolocation verification sometimes takes multiple attempts via the app and website. |
| Extensive markets throughout all major sports. | Missing some key secondary markets for major sports (team totals, etc). |
| Highly competitive odds compared to most elite sportsbooks. | Isn't equipped with real-time stats to have wagers tracked within the sportsbook. |
| Early cash out options that allow wagers to be settled before games finish. | |
How to sign up to Caesars
Caesars makes signing up for users a relatively easy process. After downloading the app, select Register Now. From here you'll be prompted to enter some personal information – your name, email, and date of birth and some other identifying information.
Next, you'll be prompted to upload a copy of your government issued ID, the last step of the registration process. Once completed, you're able to upload funds and start wagering. Note, all users must be at least 21 years of age to gamble using Caesars Sportsbook. In comparison to its rivals, Caesars Sportsbook is similar in sign up process when it comes to ease and time required.
Caesars welcome offer
Customers find Caesars has one of the most competitive welcome offers of any sportsbook, in the form of its free bet. These free bets typically come with promo codes and are frequently offered in the range of: 'Bet up to $1,500 risk-free'. If you lose the bet, Caesars sends a free bet equal to your previous wager up to $1,500 within three days. This offer is typically to be used within 30 days of creating your account.
Caesars bonuses and promos
Overall rating: 5.0
Caesars is known for its consistent and generous promotions. No matter the season, users will almost always be able to take advantage of a special profit boost or promo code. Caesars also has an exclusive rewards program for its users, giving the sportsbook an edge over some of its most fierce competitors still lacking this incentive. The rewards program lets members earn reward credits through casino gaming and entertainment activities at over 50 locations throughout the country. One online credit is rewarded for every $5 in potential profit on your wagers.
My all-time favorite sportsbook promotion also comes from Caesars. During the 2021-2022 NBA season I bet $100 over a two-month period and Caesars sent me a $150 NBA Store gift card. I used the $150 to get an authentic throwback Shaquille O'Neal jersey and was stoked about the deal.
But there's other offers as well. Caesars offers Profit Boosts, increasing net winnings that can be applied to individual bets or parlays. Selections that qualify for the boost will prompt a notification to the users after the bet has been added to their bet slip.
Caesars is also one of the only sportsbooks that offer special trips via different fun contests. During the 2021-2022 NFL season, there was a contest giveaway where Super Bowl tickets were awarded to the winners.
Caesars Free Bets
One of the things that Caesars is really known for is their generous and consistent offer of free bets. Throughout different sports seasons, you'll always be able to find different promotions where you're able to wager a certain amount on a bet and in turn receive a free bet. An example that sticks out happened during the NFL season last year.
Using 'The Longest Yards' promo I was able to earn a free bet (to be used within seven days) when I placed a standard pregame point spread bet of up to $50 just because the team I selected covered the spread. Similar options are always presented in the promos tab on the app or webpage during the NBA, MLB, and NHL seasons.
Caesars deposit bonuses
Users will find Caesars to have one of the most competitive free bet offers of any sportsbook. These free bets typically come with promo codes and are frequently offered as 'bet up to $1500 risk-free'. If you lose the bet, Caesars will send a free bet up to $1500 within three days of your bet losing. This offer is to be used typically within 30 days of creating your account.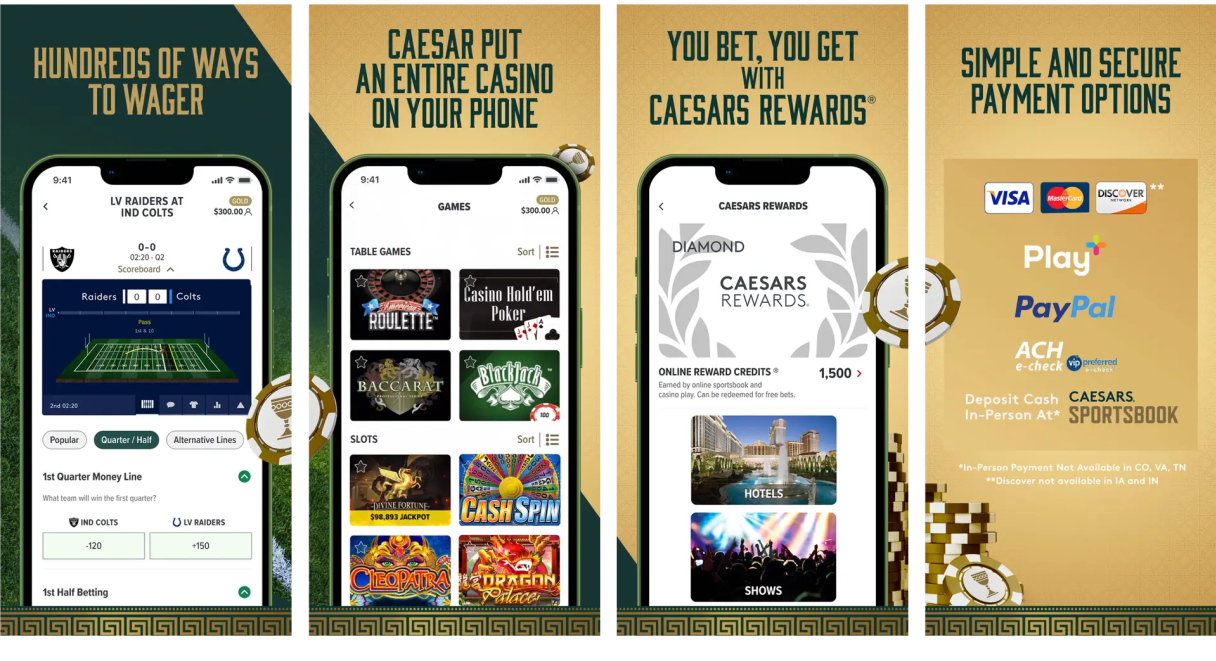 Caesars Sportsbook key features
Like many of its competitors Caesars offers a variety of betting options beyond your normal spreads, totals and moneylines. Users will find key features like the Early Cash Out option convenient. This option allows users to split the difference on live bets that aren't going their way, as well as take a percentage of their winnings before waiting until the contest ends.
Live betting has become a must for sportsbooks looking to stay in competition with some of the best in the game and Caesars doesn't fall short in that regard. The 'Live' tab is always located in the top-right corner of the webpage and the app and gives customers a chance to take their best shot at in-game markets.
You'll also find same game parlays for different sporting events where multiple legs can be combined and placed in a single bet for increased odds. The highly popular and rapidly growing feature is a must have for all sportsbooks looking to continue adding customers.
Caesars user experience
Overall rating: 4.0
New customers will find it simple to use the sportsbook. Caesars does a really good job of laying out the most popular sports at the top of the homepage, both on the web page and in the app. Promotions and your bet slip are favorably located at the bottom with their own tabs.
It also can't be overstated how easy it is to view available bonuses. Specific bonuses for users can be found right in the center of the home page after opening the app.
Caesars could improve customers' experience by providing live up-to-the-minute stats and ensure that they're not falling behind their competitors who already have this feature.
How to place a bet at Caesars
New users will find it almost effortless to place their first wager using Caesars Sportsbook. It's as simple as finding the sporting event and market you'd like to bet by selecting the odds, then adding the wager amount. Lastly, you click 'Place Bet' and your first wager is added to your bet slip.
Caesars deposits and withdrawals
Overall rating: 4.0
Caesars payout speed
Withdrawing funds from your bankroll to your bank account is an easy process using Caesars Sportsbook, although it does come with limited options in comparison to deposit methods. Online banking, ACH, bank transfer and Caesars Sportsbook and Casino Play+ Prepaid accounts are the four options you'll find for withdrawing funds. You'll find your money is typically in your account within 24 hours if you've selected online banking as your option to withdraw. Additionally, bank transfers can take up to five business days and PayPal can take up to three business days. There's a $10 minimum withdrawal amount for each withdrawal option, apart from PayPal, who doesn't require a minimum. It's also important to note that using the same method to deposit and withdraw funds makes the process a lot more efficient.
Caesars deposit methods
| Option | Minimum deposit | Maximum deposit | Process time |
| --- | --- | --- | --- |
| Credit card | $10 | $25,000 | instant |
| Paypal | $10 | n/a | instant |
| Bank transfer (via Trustify) | $20 | $25,000 | instant |
| ACH eCheck | $20 | $100,000 | instant |
| Skrill | $10 | n/a | instant |
| Play+ prepaid card | $20 | n/a | instant |
You'll find Caesars has all of the standard deposit methods of other rivals in the sports betting industry. Credit/Debit card, bank transfer, PayPal, PayNearMe, and Pre-Paid Play+ are your options for adding money to your account. I've personally always used credit/debit just because I used it the first time and found it pretty easy.
Caesars withdrawal methods
Withdrawing money from sportsbooks should be as easy as depositing it and that's what you'll find at Caesars. Using the Withdraw button under My Account is a simple process that can be done in just a few moments. See below for withdrawal methods and other specifics. Note that some states may have different withdrawal options and the maximum withdrawal amount varies by method. There are no Caesars withdrawal fees.
| Option | Minimum withdrawal | Maximum withdrawal | Process time |
| --- | --- | --- | --- |
| Credit card | $10 | n/a | instant |
| Paypal | none | $10,000 | Typically within 24 hours but can take up to 72 hours |
| ACH eCheck | $10 | $5,000 | instant |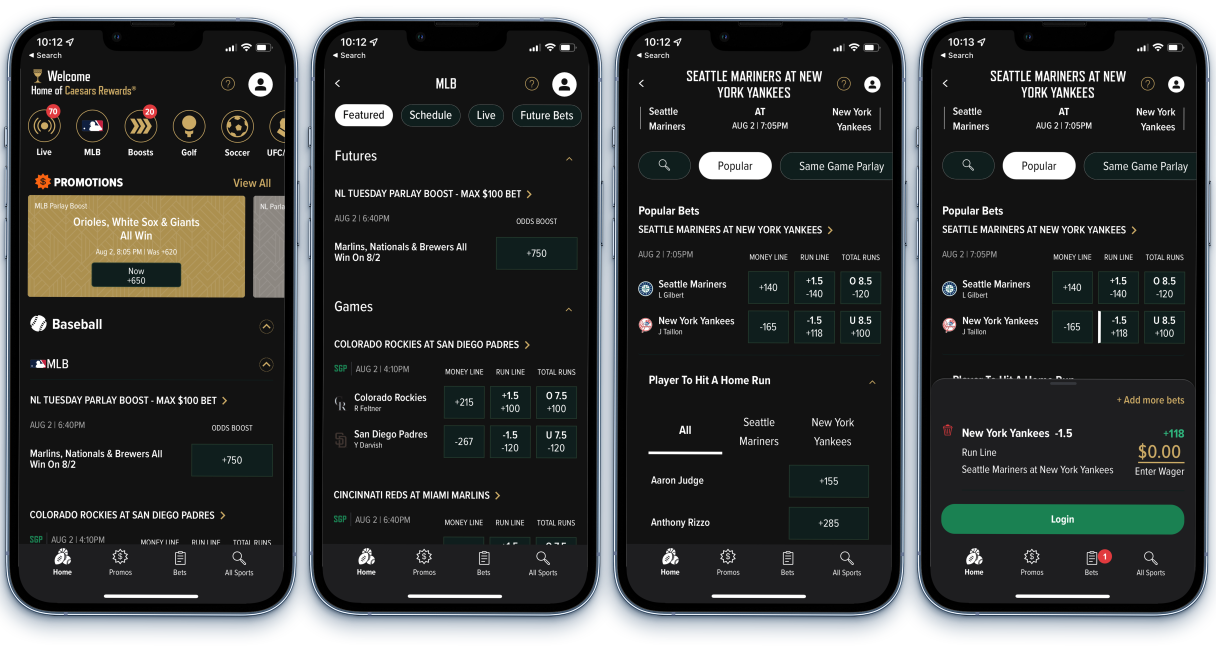 Caesars app review
Overall rating: 4.0
The Caesars Sportsbook app (available on both iOS and Android devices) has a real well-polished finish, making it easy to identify which market you're looking for when placing wagers. The layout is impressive and user-friendly in the sense that all of the commonly used markets are extremely easy to find. However, my gripe with using the app is that I've experienced glitches, freezes and crashes during peak hours of sports betting. Caesars should take some time to update this problem to minimize customers' frustration when trying to use the app.
My favorite parts would have to be the location of the live betting markets. Conveniently located in the top-left corner, this makes it effortless to identify action currently taking place for its users. Then there's also the 'All Sports' and 'Promos' buttons, located on the bottom row of the app. There's no quicker way to identify current promotions available and find specific sports that you're interested in betting than using the search function to minimize time.
Lastly, I've found the app to have the same functionality as the website which also makes it interchangeable no matter which version you're using. Overall, Caesars has done a very nice job developing the app and it's one of the more easier-to-use sports betting apps on the market. I'd recommend using it over the webpage for convenience. There are occasionally geolocation issues when using the webpage version that don't happen on the app.
Caesars odds comparison
Overall Rating: 5.0
Caesars stacks up well against the competition when it comes to having competitive odds across most markets. Sure, you'll find juiced -140 to -165 lines at times in common markets, but you'll also find some of the most attractive lines with major sports markets. During the NBA and NFL season, Caesars is a must for early spreads and moneylines for very enticing prices. In the quickly popular NRFI (No Runs First Inning) market during MLB season, more times than not you'll find better odds than FanDuel, DraftKings and even BetMGM. Caesars is also known to have the absolute best lines for European soccer and World Cup betting.
Caesars betting options
Overall rating: 4.0
Does Caesars have good odds?
Caesars offers standard industry lines of -110 and similar. You'll find juiced moneylines similar to its competitors, but in some secondary markets, such as No Runs First Inning in MLB, there's plenty of value. The minimum wager is $0.10, while on the opposite end, $2 million is the max payout for a single winning wager. Winnings at Caesars are taxed as the sportsbook is regulated and licensed – standard across the industry. Similar to other sportsbooks, Caesars maintains a record of all bets placed and won by each of its users for documentation purposes.
What markets does Caesars offer?
Caesars Sportsbook offers a wide variety of betting options for its customers. You'll find all major sports like baseball, basketball, football, hockey, tennis and soccer. Additionally, there's also niche markets for sports like volleyball, darts, lacrosse and the like.
Within the wide variety of sports to wager on, users will find all major markets such as moneyline bets, totals (over/under), parlays, player and team props, futures, win totals, round robins, game props and teasers. Caesars Sportsbook is actually my favorite sportsbook to check odds for future bets. For whatever reason, I've almost always found the best odds when comparing future prices with other rival sportsbooks.
One of my favorite things about the Caesars Sportsbook is the 'All Sports Search Feature'. With so many different sports to bet on and markets to choose from, having the option to search for what you're interested in cuts down on the time spent looking throughout the app.
Does Caesars offer live betting?
It seems that if sportsbooks are looking to set themselves apart from the competition, live betting is a must-have feature and Caesars Sportsbook offers just that. Caesars list in-game odds for all major betting markets to include the NBA, NFL, MLB, NHL and major soccer leagues, to name just a few.
Within those different sports, you'll find the opportunity to wager live spreads, moneylines, totals, team props and even some quarter/half bets. Even in European table tennis, you'll find that you can live bet match correct score and match points odd/even. While Caesars does offer the live betting market on all of these sports and more, what you won't find is any live stats or tips to assist you with making educated choices.
Caesars player protection
Overall rating: 4.5
Caesars is a safe and secure sports betting platform. The operators hold licenses in each jurisdiction it operates within the US.
Locating the Support tab on the web page and then navigating to the Help section located within the app, customers will find Caesars offering responsible gambling information and resources. These resources are two clicks away from the home page on both the app and web page for an easy find and are often promoted across Caesars' twitter account and website. Caesars keeps your personal information and data secure from third-party companies and hackers trying to obtain information electronically.
Caesars customer service
Overall rating: 4.5
During a test interaction, I found Caesars to have fairly competitive customer service. The representative was polite, knowledgeable and pretty quick to respond to my request.
How to contact Caesars in the US 
| Option | Y/N |
| --- | --- |
| Live Chat 24/7 | Yes, via their mobile app and online webpage |
| Email | Yes, az@caesarssportsbook.com |
| Phone | Yes, 1-800-474-0606 |
| Twitter | Yes, @CaesarsHelp |
Where is Caesars legal?
Caesars Sportsbook has partnered with land-based casinos throughout the quick expansion in a number of states that have legalized sports betting. Here's a list of all of the current states that have access via online betting through the website/app or at casino locations.
Arizona (online betting and casino locations)

Colorado (online betting and casino locations)

Illinois (online betting and casino locations)

Indiana (online betting)

Iowa (online betting and casino locations)

Louisiana (online betting and casino locations)

Michigan (online betting)

Mississippi (casino location)

Nevada (online betting and casino locations)

New Jersey (online betting and casino locations)

New York (online betting and casino locations)

Pennsylvania (online betting and casino locations)

Rhode Island (online betting)

Tennessee (online betting)

Virginia (online betting)

Washington D.C. (online betting)

West Virginia (online betting and casino locations)
Caesars is also available in Ontario, Canada as of April 4th 2022. Ontario is the first province to legalize and regulate sports betting in Canada. Besides the states already listed, Caesars is planning to make a splash in Maryland, both for online betting and a casino location fairly soon.
With the aggressive and rapid expansion of the sportsbook, I'd expect Caesars to continue landing in other states as legislation is passed to have sports gambling legalized. Note that the legal gambling age is 21 in all states within the US.
Is Caesars regulated in the US?
Yes, as one of the most recognized casino brands in the US, Caesars is fully regulated within the different legislations that have passed laws to allow sports gambling in their respective states. This should bring new bettors even more comfort if you're thinking about signing up to Caesars. Regulated sportsbooks come with increased safety measures. It also comes with decreased chances of users being scammed out of their money and having their personal information shared unwillingly.
Sports betting in the United States
Caesars reputation
Caesars Sportsbook is a highly reputable sportsbook throughout the sports betting industry. In 2021, Caesars acquired William Hill, expanding its online sportsbook presence even more, coupled with the expansion of sports betting by states in the US. Going back even further, William Hill has been operating within the United States for almost 90 years and has built a sturdy and loyal customer base.
Due to its highly successful reputation Caesars have been able to create partnerships with some of the biggest corporations and teams in the US. Some of the bigger partnerships include the NBA, New York Mets, Michigan State Spartans Athletics, Chicago White Sox, Indy 500 and Indianapolis Motor Speedway, Washington Capitals and the New York Knicks, among others. In addition to the ones listed, the Arizona Diamondbacks and Washington Wizards are set to have a retail sportsbook built into their stadiums.
Caesars review conclusion
I think it's safe to say Caesars is an excellent choice for new sports bettors due to some of the elite features and qualities that it offers. It's going to be difficult to find a sportsbook that's as easy to use and offers the consistent profit/odds boost Caesars does, in conjunction with different sports that can be wagered on both live and pre-live.
Caesars sets itself apart from other sportsbooks with the integration of live-betting, same-game parlay features, the generous welcome offer for new users and the competitive odds across almost every sport in various markets. Adding these exciting tools to enhance the users experience with the straightforward use of both their app and web page makes signing up for Caesars an obvious no-brainer.
Caesars key information
| Caesars sportsbook | |
| --- | --- |
| Year Founded: | 1996 |
| Licensed in US: | Yes |
| Available in US: | Yes |
| Licenses: | AZ, IL, IA, LA, MI, MD, CO, VA, NJ, NC, NY, TN, WV, Washington DC, and NV |
| Operating regions: | United States |
| Average payout speed: | Payout speed varies depending on the selected withdrawal method but is typically within five business at the slowest rate |
| 24/7 support: | Yes, via live chat |
| Languages: | English |
| Number of sports offered: | 17 |
| Number of markets: | 5 |
| Live betting: | Yes |
| Cash out offered: | Yes |
| App: | Yes, available for both Android and iOS users |
| Additional products: | Casino, resorts |
Can you win money at Caesars?
How fast does Caesars payout?
Do you have to pay taxes when you win at Caesars?
Read our expert sportsbook reviews
Brand disclaimer
The brands featured in this article are for illustrative and commentary purposes only. There are no commercial associations between the website and any brand featured in this article. Trademark rights and copyrights relating to the teams featured on this page belong to their respective owner(s), which are not associated or affiliated with OnlineBetting.com in any way and did not license rights or authorise or sponsor this article.