PointsBet Sportsbook review
Chris is a sports betting expert who has spent years learning how sportsbooks work and how to beat the markets. In addition to his own personal success with betting, Chris now also spends his time producing educational content for his followers across YouTube and Twitter. As a huge NBA, NFL and MLB fan, Chris enjoys the entertainment sports betting can bring, but also understands the hard work required to develop his knowledge and keep up with the markets in order to turn a consistent profit.
PointsBet Sportsbook: Our verdict
Overall verdict: 4.42
PointsBet, a rapidly growing Australian-based sportsbook, is rapidly establishing itself within the US as a major player in the sports betting industry. No matter if you're a novice or experienced bettor, you may find yourself gravitating towards this sportsbook because of how distinctive it is compared to its rivals.
PointsBet offers multiple exclusive features, including both 'PointsBetting' and 'Name Your Bet' that will have new users wanting to become regular customers. Furthermore, there's a very good chance PointBet's No Juiced lines, which decrease vig during the NFL season, will be the best odds in the industry. They also offer same game parlay features and the early cash out options as well as an extensive secondary market of player, team and other props.
| PROS | CONS |
| --- | --- |
| Unique features that rivals have yet to offer. | Exclusive betting format gives novice bettors chance to lose big. |
| Highly competitive in-house odds. | Limited withdrawal methods offered. |
| Easy to use app. | |
How to sign up to PointsBet
New customers will find signing up to PointsBet to be a straightforward process, requiring only a few minutes. You can visit both the webpage or use the app to sign up.
After clicking the Sign Up tab you'll be prompted to enter any promo code you'd like to use, followed by your personal information; first/last name, SSN, and address. You'll then accept the terms and conditions and click Join PointsBet. It's really that easy
For new customers only, PointsBet has a pretty competitive welcome offer. Two risk-free bets up to $2,000 is the current welcome offer. Up to $500 for fixed odds and up to $1,500 for points betting (which will be discussed in greater detail later). The free bet expires seven days from the time it's issued. Also note that your first bet must lose to be credited with the free bet. A push (meaning the bet ends in a tie) is not scored as a loss and therefore will not be considered for the risk-free bet.
PointsBet bonuses and promos
Overall rating: 5.0
In comparison with some of the major sportsbooks in the US, PointsBet has a decent amount of bonuses and promos offered, but there are other sportsbooks that have significantly more incentives to wager using their platform. That being said, PointsBet still has a comprehensive list of options that should be considered.
Everyone loves an extra incentive to place wagers. PointsBet has a rewards program that does just that for registered bettors. Their '2X Tuesday offer' gives all customers a chance to double their points when placing wagers on Tuesdays. The way it works is that you're credited two points for every $5 wagered on fixed odds and two points on every $1 wagered for parlays. You're able to earn up to $5,000 in points that can be redeemed as money to be placed on wagers.
PointsBet also offers the very popular Parlay Insurance. While it's a common promotion for popular sportsbooks, it's important for users who are interested in crafting higher odds bets to increase their bankroll quicker. PointsBet offer a refund of up to $25 if only one of your four legs misses during a parlay if opted in to parlay insurance.
Free Bets
PointsBet offers a free $50 bet when a friend or family member signs up using your referral link. This is a pretty easy way to be credited $50 as you simply send your referral code and have your referral place a bet of $20 or more. The promo will get both you and your family/friend a free $50 bet once certain conditions are met.
Deposit Bonuses
Deposit bonuses on PointsBet typically come few and far between because of the generous free bets referred to as Bonus Bets and other promos listed throughout different major sports seasons. When looking we couldn't find any routine deposit bonuses offered.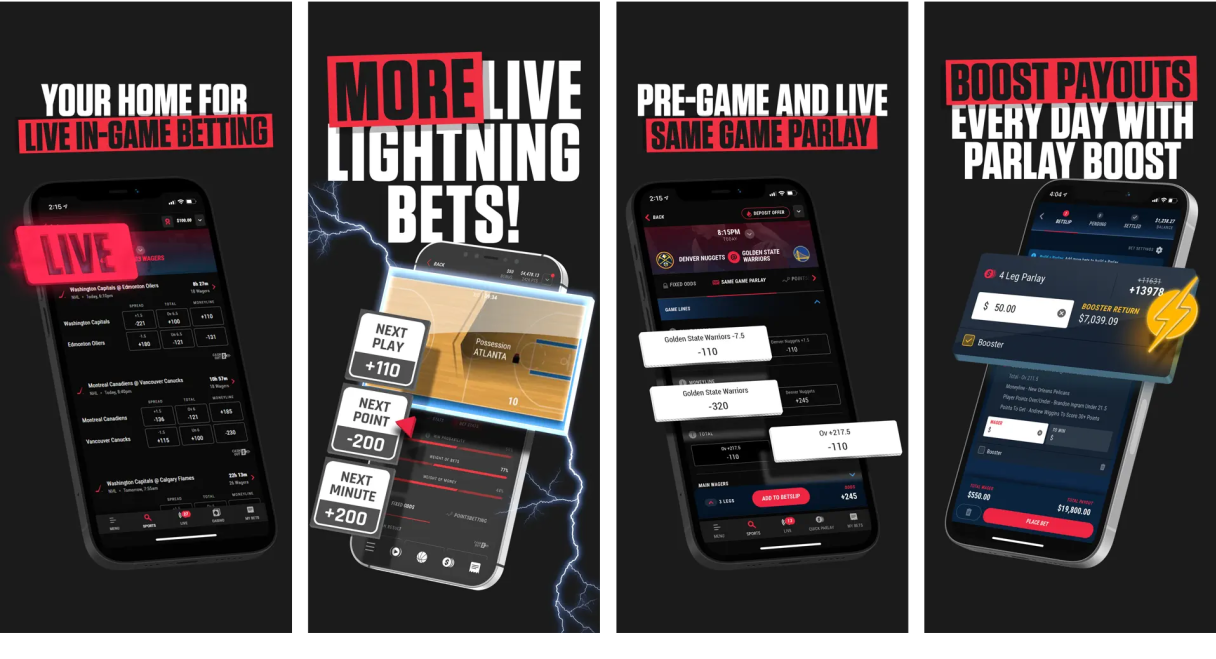 PointsBet key features
Highly advertised by all sportsbooks because of its quick rise to fame is the same game parlay feature. PointsBet doesn't fall short in having this option available for its customers. The feature is advertised throughout the website and even comes with a same game parlay booster that's awarded to its customer base at least once a day when creating a minimum three-leg parlay or same game parlay.
PointsBet also offers live streaming to select states for specific events, but there's two features that the sportsbook offers that most competitors don't; and these are definitely worth mentioning.
Although not recommend for novice bettors, I'd be remiss to not mention Pointsbetting, because it's a PointsBet exclusive feature. Pointsbetting is an exclusive way to earn (or lose) more, based on the confidence you have in betting an alternative to fixed odds betting. Pointsbetting offers users a chance to win more (or lose more) based on their risk tolerance. The more a customer is right about their bet, the more they can win. However, the more you're wrong the more you stand to lose.
For example, if you bet on an NBA spread and you take a team to win by three points (-3) and they win by 13 points, you'll win 13 times the amount wagered, but if they lose by 13 points you'll lose 13 x your initial bet. This requires users to have a fairly extensive bankroll because of the possible risk, and isn't advised for new bettors. That said, it can be a great way to beef up your bankroll if you have a really good feeling about a particular team.
Next is what they call the Karma Kommittee, which sees customers tweet @PointsBet using the hashtag #KarmaKommittee to have their bad beat bets potentially credited back to their account at PointsBet's discretion. For instance, if a player you've bet on is ejected during the first half or is injured during the game, customers can tweet using the hashtag to see if their bet fits the criteria for a refund.
Additionally, there's the Name a Bet feature where PointsBet customers can exclusively request any market they'd like to see for consideration. While using the app, on the left-hand side menu, click the Name a Bet feature and let PointsBet know which market you'd like to see added to their bet options.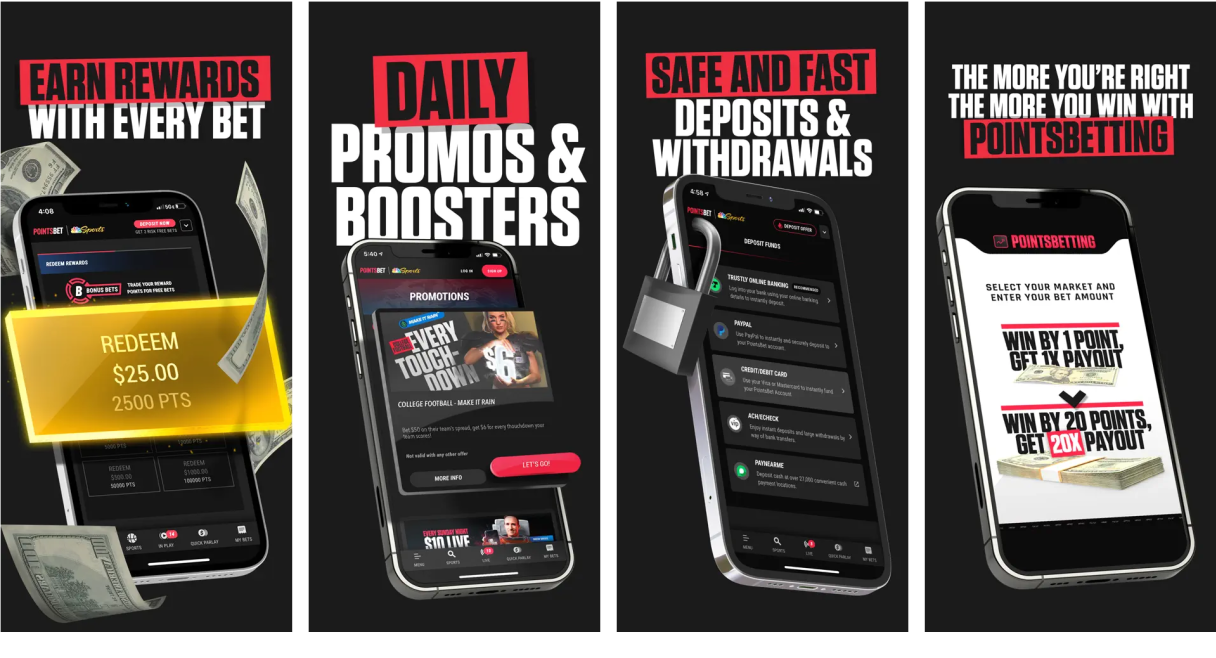 PointsBet user experience
Overall rating: 4.5
The first time I used the PointsBet app and website I was surprised how convenient they both are to use. The Australian-founded sportsbook makes it seamless to find specific markets, build same game parlays and stream live action. Users will find that PointsBet lays out everything, from promos to responsible gambling tabs, in a straightforward way that makes its customers want to place wagers.
Both straight bets and parlays can be placed within a few seconds. It also can't be overstated how easy it is to find their highly competitive welcome offer; placed in the center of both their app and their website.
How to place a bet at PointsBet
PointsBet makes placing a bet as easy as any of its rivals on the app and website. Simply find the event you're interested in, click the market and you're your wager is added to your bet slip. From there the only thing left to do is to decide how much you'd like to wager on that bet, clicking Place Now afterwards. It's also worth noting that PointsBet has a Confirm button after you've placed your bet, providing customers a chance to review their selection before submitting. This is a feature missing from its competitors that we applaud. When rushing to place a wager or having your finger slip to accidentally submit a wager you didn't want to, it's great to have a safety net.
PointsBet deposits and withdrawals
Overall Rating: 4.0
PointsBet payout speed
PointsBet allows winners to get to their funds at a similar speed to that of its competitors. Typically, payout speed can be anywhere from one and five days, depending on which withdrawal method that we select. We can expect eChecks withdrawals to take one to three business days, while PayPal requests can be added to your bank account within two days in my experience.
PointsBet deposit methods
Users will find PointsBet to have a few options missing to deposit funds compared to some of its rivals in the sports betting market. Even with that said, all of the most popular deposits are listed for users needing to beef up their bankroll.
| Option | Minimum deposit | Maximum deposit | Process time |
| --- | --- | --- | --- |
| Credit/Debit Card | $5.00 | $100,000 | Instant |
| PayPal | $5.00 | No limit | Instant |
| Bank Transfer (Via Trustly) | $5.00 | $100,000 | Instant |
| eCheck | $5.00 | $100,000 | Instant |
| PayNearMe | $10 | $500.00 | Instant |
PointsBet withdrawal methods
Users will find withdrawing their money from PointsBet lines up with that of most other sportsbooks. The five common methods to withdraw are the ones offered on PointsBet also. Online banking transfer (recommended by PointsBet), debit card, eCheck and PayPal are all the electronic options. If you're at a land-based casino, then cash is an option as well. Additionally, there are no PointsBet withdrawal fees.
| Option | Minimum withdrawal | Maximum withdrawal | Process time |
| --- | --- | --- | --- |
| Bank Transfer | $5.00 | None | 1-3 days |
| ECheck | $5.00 | No limit | 1-3 business days |
| PayPal | $5.00 | No limit | 1-2 business days |
| Cash (at physical location) | $50 | $10,000 | Up to 24 hours |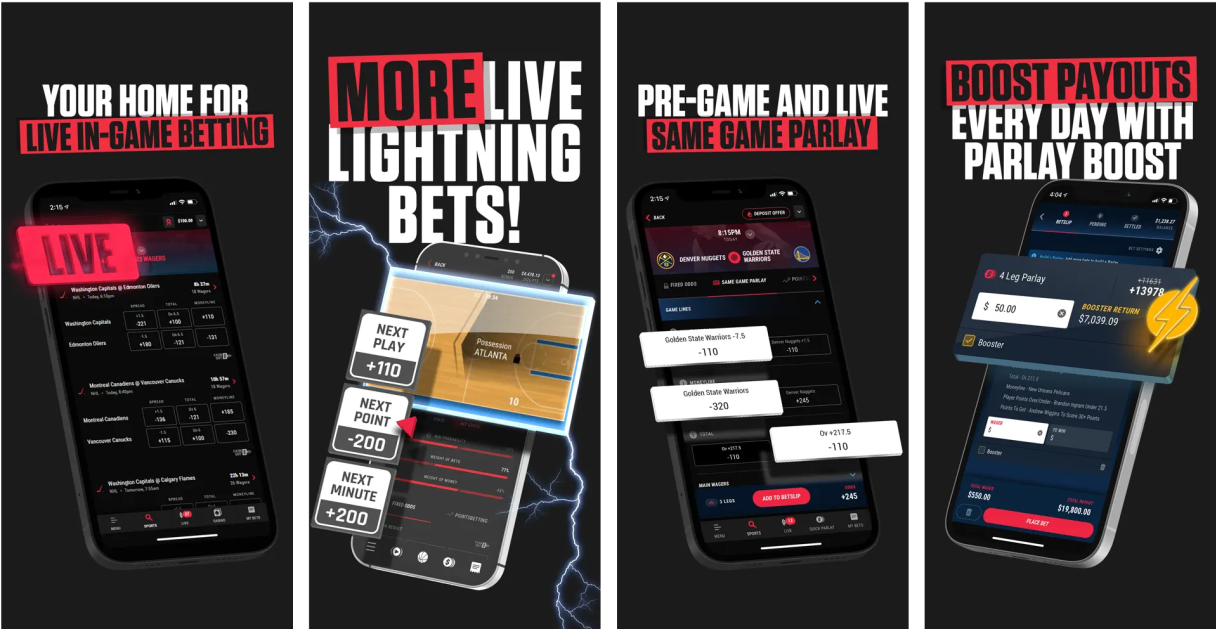 PointsBet app review
Overall review: 5.0
PointsBet does a solid job with their app. Customers can expect a well laid-out and highly functional app that is easy to navigate. Additionally, it's fairly easy to find live action, fund your account and locate your betslip (all located on the bottom tab bar). Both iOS and Android users have access to this straightforward and impressive app.
One of the first things that jumped out to me, making PointsBet unique, is the Share a Bet feature within the app. After confirming your bet, users are able to click the red Share Your Bet button, allowing bets to be shared via twitter, text messaging, etc.
PointsBet also gives users control of the money already wagered during live bets. You'll find the option to collect your earnings early or salvage what's left of your bet by being able to cash out early during live wagers.
PointsBet odds comparison
Overall rating: 4.0
One of the best features about using PointsBet is the reduced juice you'll find when line shopping to get the most bang for your buck. Looking back, I can remember using PointsBet during the beginning of the last NFL season for better odds than many of its rivals. PointsBet was advertising the No Juice markets within the NFL and there were massive discounts for an extended period of time for its customers. I ended up taking advantage of the +100 lines when most competitors had -110 for an entire month.
This is just one example, but there's plenty that can be found throughout various major sport seasons. PointsBet should be used when comparing odds to ensure you're getting the best lines on your bets. In other sport markets you'll sometimes find that there's no value on PointsBet odds and better priced lines can be found elsewhere.
PointsBet betting options
Overall rating: 4.0
Does PointsBet have good odds?
Like a lot of its rivals, PointsBet will have a lot of juiced spreads and moneyline bets in some markets. But in other markets, bettors will be able to find value. I've found the most value using PointsBet in the moneyline market for NFL and occasionally during the MLB season, too. Value can be found in other markets but like all sports betting you'll want to shop around for the best odds.
One of the things PointsBet does to protect itself is to sometimes limit bettors who've gotten on a hot streak or that've won a decent amount of money over a short time frame. These same bettors can also expect to occasionally be limited on the number of promos offered which makes it worth having another sportsbook in your roster in addition to just having PointsBet.
What markets does PointsBet offer?
PointsBet differs from some of the other major sportsbooks in terms of markets/lines available. New users will find that PointsBet does not have as many niche markets as some of its competitors, but does have all of the major markets that sports fans expect to see. You'll be able to easily locate basketball markets within the NBA, NCAA, WNBA and other overseas leagues sections. The same can be said for football, baseball and soccer markets.
Instead of offering some of the more niche sports, PointsBet has decided to maximize the options of markets they do offer in major sports. New bettors can expect to find an extensive range in different player props for basketball, football and golf matchups etc.
You won't find too many early lines posted on PointsBet. Instead, they typically wait until some of the other major sportsbooks list their lines first.
Does PointsBet offer live betting?
Conveniently located in the center on the bottom bar of its app, PointsBet does offer live betting to its users, with multiple markets to choose from. You won't find any tips in-game to help make your selections, however, but real-time stats are updated to make it convenient for users.
PointsBet player protection
Overall rating 4.0
PointsBet is considered a safe sportsbook. With regulations and licenses in every state where sports betting is legal it's safe to say that PointsBet are legit. The PointsBet website is also protected with SSL encryption to enhance secure banking and safety.
At the bottom of their webpage and at the bottom of the Menu tab you'll find the PointsBet responsible gaming link. Within the link there's a list of FAQs, with resources for specific topics attached. You'll find everything from How do I Know if I am Developing a Problem? to the Gambling Anonymous website and phone number. However, taking a quick look through their social media output, you won't find responsible gambling promoted too frequently, which is a definite area of improvement for them.
PointsBet customer service
Overall rating: 4.5
During my interaction with the customer service team at PointsBet, I found them to be helpful and quick to respond to my request. However, the representative I engaged with during the chat did seem like he wanted to end our conversation before I was completely done with my request, another potential area of improvement for them.
How to contact PointsBet in the US
| Live chat 24/7 | Yes, there's a 24/7 chat that can be access via their website and through the app. | Maximum withdrawal | Process time |
| --- | --- | --- | --- |
| Email | service@pointsbet.com | None | 1-3 days |
| Phone | None | No limit | 1-3 business days |
| Twitter | @PointsBetHelp | No limit | 1-2 business days |
Where is PointsBet legal?
Currently PointsBet is available in Colorado, Illinois, Indiana, Iowa, Michigan, New Jersey, New York, Pennsylvania, Virginia and West Virginia. In the short time frame that PointsBet has been around, they've already impressively landed two physical casino locations in Iowa and Illinois. It's also worth noting, as the sportsbook looks to continue its expansion, Kansas, Maryland, Nebraska and Ohio are all states looking to add the quickly growing sportsbook to their active list. All four states are looking to have legislation passed to have PointsBet regulated and licensed with Kansas, Ohio and Maryland most likely being approved for online sportsbooks and Nebraska having a retail location.
Is PointsBet regulated in the US?
You'll find PointsBet fully regulated in every state that a wager can be placed. PointsBet doesn't operate its platform to unauthorized states or parts of the country that they don't have licenses in. This is important because it adds an extra layer of protection for its users. Specifically, the users who may be wondering if they'll be paid out their winnings. You absolutely will be in comparison to some offshore sportsbooks where winnings aren't always received because regulations aren't in place.
Sports betting in the United States
PointsBet reputation
PointsBet has established itself as one of the fastest growing sportsbooks in the US. The uniquely designed sportsbook has quickly expanded during its limited time in the states due to its enticing odds. It's also gained a rapid spotlight for its user-friendly app and the bevy of odds available in secondary markets in major sports.
PointsBet has some big partnerships throughout the major sports in the US. There are partnerships with NBC Sports, the NBA, WNBA, NFL, NHL, MLB, PGA and La Liga. Individual teams such as the Detroit Tigers, Denver Nuggets, Indiana Pacers, Chicago Bears and the Colorado Avalanche are all teams the brand has quickly established relationships and partnerships with, also.
PointsBet review conclusion
PointsBet is highly regarded as one of the fastest growing online gambling operators in the US due to its uniqueness and user-intuitive app. Features that can't be found elsewhere set the sportsbook apart from its competitors as it continues its expansion throughout legalized states for sports betting.
Novice betters can expect to find some reduced juice odds during the NFL season in conjunction with more secondary markets than most of its rivals. When searching for player props and expanded team props for all sports, PointsBet is a solid choice. Lastly, there isn't a drop-off in payout speed offered and users will find the quick turnaround highly competitive compared to others in the industry.
PointsBet key information
| Year founded: | 2015, online in March 2017 |
| --- | --- |
| Licensed in US: | Yes |
| Available in US: | Yes |
| Licenses: | Colorado, Illinois, Indiana, Iowa, Michigan, New Jersey, New York, Pennsylvania, Virginia and West Virginia. |
| Operating regions: | Australia, Canada, Ireland, United States |
| Average payout speed: | Average payout speed varies depending on withdrawal method but typically funds are received within 2-5 days no matter which option is selected. |
| 24/7 support: | Yes |
| Languages: | English, Spanish |
| Number of sports offered: | 17 |
| Number of markets: | 250+ different bet types |
| Live betting: | Yes |
| Cash out offered: | Yes |
| App: | Yes |
| Additional products: | Casino, Horse Racing, |
Can PointsBet be trusted?
Can you win money at PointsBet?
How fast does PointsBet payout?
Do you have to pay taxes when you win at PointsBet?
Read our expert sportsbook reviews
Brand disclaimer
The brands featured in this article are for illustrative and commentary purposes only. There are no commercial associations between the website and any brand featured in this article. Trademark rights and copyrights relating to the teams featured on this page belong to their respective owner(s), which are not associated or affiliated with OnlineBetting.com in any way and did not license rights or authorise or sponsor this article.