Chris is a sports betting expert who has spent years learning how sportsbooks work and how to beat the markets. In addition to his own personal success with betting, Chris now also spends his time producing educational content for his followers across YouTube and Twitter. As a huge NBA, NFL and MLB fan, Chris enjoys the entertainment sports betting can bring, but also understands the hard work required to develop his knowledge and keep up with the markets in order to turn a consistent profit.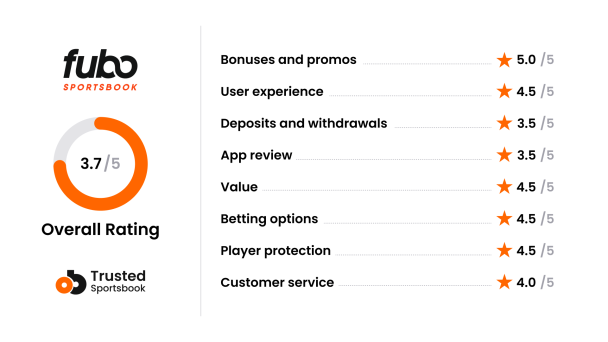 Fubo Sportsbook: Our verdict
Fubo Sportsbook is an up-and-coming sports wagering platform with plans to take customers' sports betting experience to the next level. With its integrated streaming service linked to its sports wagering development, Fubo Sportsbook is planning to shake up the sports betting industry. FuboTV, parent company of the Fubo Sportsbook, has developed a sleek and highly responsive app that makes it effortless to find and quickly place wagers that take your fancy.
If you're someone who's looking to place wagers on major sports using a simple and easy-to-use sportsbook then Fubo Sportsbook is for you. With competitive moneyline and spread prices, Fubo Sportsbook has all the essentials needed for your daily bets on the NBA, NFL, MLB, MLS and more.
However, Fubo sportsbook has a long way to go in order to establish itself as one of the best overall sportsbooks within the industry. Expanding the customer service options provided, increasing the amount of sports offered and adding availability in more states should all be key factors in Fubo sportsbook's continued long-term plan for success.
Fubo Sportsbook pros and cons
| PROS | CONS |
| --- | --- |
| Integrated streaming service for viewing and live betting. | Currently only available for iOS devices. |
| Offers all major sports. | Limited availability. |
| Sleek and fully functional app. | Slim selection of promotions and secondary sports offered. |
How to sign up to Fubo Sportsbook
Signing up for the Fubo Sportsbook is a relatively easy process and users will find it to be routine. New customers sign up by visiting fubosportsbook.com, selecting their state from the drop down menu in the left corner. Next, select Sign Up and enter the usual personal information required by all sportsbooks – your name, address, email address, and zip code, among other information.
From here the only thing that's stopping you from placing a wager is reviewing and agreeing to the terms and conditions, then verifying your account via email. Customers will find signing up for Fubo Sportsbook to be a straightforward process, only taking a few minutes. Note that Fubo Sportsbook is currently only available for download on iOS devices.
Fubo Sportsbook welcome offer
Since Fubo Sportsbook works in conjunction with its parent company fuboTV, it'll come as no surprise that there's a welcome offer that includes both companies. New customers can get one month of free fuboTV when signing up for Fubo Sportsbook, in addition to a $1,000 risk-free bet.
If your first bet loses, users will receive a credit of the value of the bet that was placed up to $1,000. Please note that the bet credit has to be used within 30 days of being issued.
Fubo Sportsbook bonuses and promos 
Overall rating: 5.0
As Fubo Sportsbook continues to expand, it's expected that they'll offer more bonuses and promos in the future as currently, Fubo Sportsbook doesn't provide a huge amount of those.
Free Bets
Fubo Sportsbook isn't currently offering any free bets besides the bet credits earned during signup. As Fubo sportsbook continues to develop from its infancy, the company has communicated that additional offers will come, in the form of free bets, odds boosts, parlay insurances and/or deposit bonuses.
Deposit Bonuses
And as it is with free bets, it's a similar story when it comes to deposit bonuses because Fubo Sportsbook isn't currently offering any. Again, the company has stated that they will come in the future, but as it stands, we'll just have to wait and see. It's obviously something that they will need to do if they want to compete with other sportsbooks.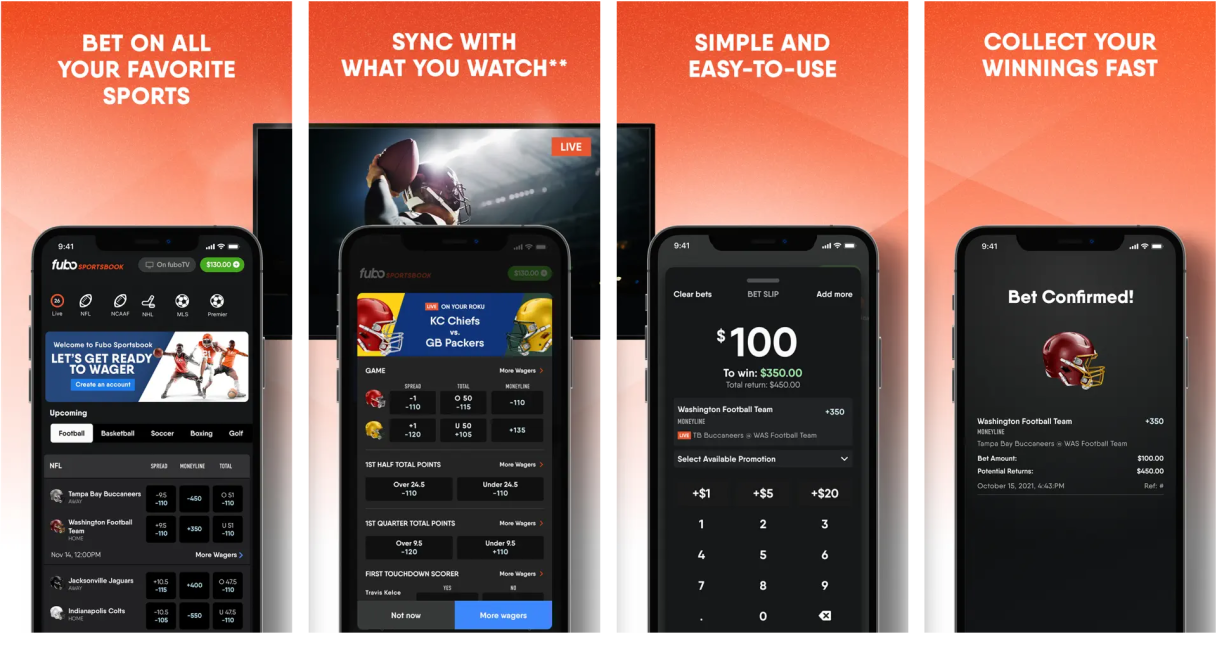 Fubo Sportsbook key features
Fubo Sportsbook offers a variety of key features to gain and keep customers' interest piqued. First up, the feature that separates Fubo Sportsbook from any other sports wagering platform – the integrated streaming service that allows users to watch games where they've placed wagers on live. Using the Watching Now tab through the app or their website, will allow users to stream sporting events that they have placed a bet on. Customers will have to maintain their subscription to fuboTV after their one month free trial expires in order to use the watch live feature moving forward.
With integrated streaming of sports, it's no surprise that Fubo Sportsbook offers live betting. Within the live betting option, Fubo Sportsbook offers a wide variety of markets to choose from. Customers can expect to see player, team, and game props among other markets to place wagers on live games.
As Fubo continues its expansion, including other features, such as a multi-sport parlay option, an online casino, or a loyalty rewards program, will help it become more attractive to new users seeking to enhance their sports betting experience.
Fubo Sportsbook user experience
Overall rating: 4.5
Fubo Sportsbook is easy to use and is a sports wagering platform that provides an experience like no other. With the addition of the integrated live streaming to pair wagers with live game action, it's clear to see the sportsbook has big plans in mind. Customers will find a highly responsive and user-friendly app. Similarly, placing bets using the web page is also a seamless process and can be done in seconds.
I personally enjoy that there are so many secondary markets across the NBA, NFL, MLS and MLB. In addition to there being so many markets, Fubo Sportsbook has an amazing layout, making it as easy as rivals to locate your betting market of choice.
How to place a bet at Fubo Sportsbook
In comparison to other top sportsbooks within the US, placing a bet on Fubo Sportsbook is just as easy if not easier. After opening the sportsbook simply locate the sport and team selection that you'd like to make. Clicking on the odds will highlight your choice, adding it to your bet slip, which can be found in the center of the bottom tab bar. Clicking on the bet slip allows users to enter the amount that they'd like to wager before finally pressing Place Bet. Placing bets with Fubo Sportsbook can be done in just a few seconds.
Fubo Sportsbook deposits and withdrawals
Overall rating: 3.5
Fubo Sportsbook payout speed
Fubo Sportsbook offers standard payout speeds in comparison to top sportsbooks within the US. Users can typically expect their earnings to be processed and transferred from their bankroll to their bank account within three to five business days. Funds from Sightline Play+, Fubo Sportsbook's fastest payout method, can arrive within just 48 hours. Payouts from Fubo Sportsbook have been highly regarded as a straightforward and effortless process, with the company taking enough pride in their payout speed to advertise it regularly on their social media platforms.
Fubo Sportsbook deposit methods
Fubo Sportsbook offers all major debit/credit cards. Users will find that while Fubo Sportsbook does offer multiple deposit methods, some of the more popular deposit methods are missing. Notably PayPal and PayNearMe are not yet offered, although those options could be added at a later date.
| Option | Minimum deposit | Maximum deposit | Process time |
| --- | --- | --- | --- |
| Credit Card (available in AZ only) | $10 | Not listed | Instant |
| VIP Preferred (ACH) | $10 | Not listed | Instant |
| Skrill | $10 | Not listed | Instant |
| Sightline Play+ | $10 | Not listed | Instant |
Fubo Sportsbook withdrawal methods
| Option | Minimum withdrawal | Maximum withdrawal | Process time |
| --- | --- | --- | --- |
| Debit Card | $10 | Not listed | 2-3 business days |
| Bank Transfer | $10 | Not listed | 2-3 business days |
| ACH | $10 | Not listed | 3-5 business days |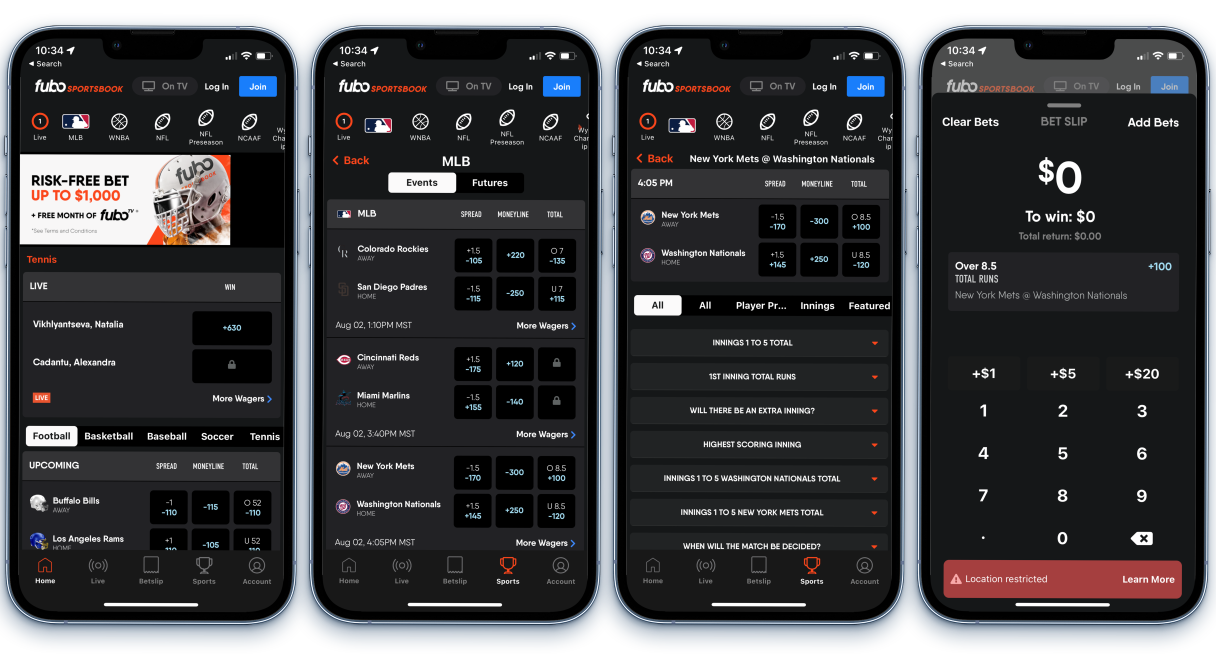 Fubo Sportsbook app review
Overall rating: 3.5
FuboTV, the parent company of Fubo Sportsbook, has an excellent reputation for its sleek and smooth functionality. Fubo Sportsbook stands out in the same way and customers can expect the same great visuals and ease of use. The Fubo Sportsbook app is extremely responsive, with a well-designed layout that makes it effortless for users to identify what they're looking for. It's only right that Fubo Sportsbook added a Live tab at the bottom of the app for easy access to current games where live wagers can be made. This is by far my favorite feature and what sets the app apart from the competition.
Customers, however, will find that Fubo Sportsbook is currently only available for download via iOS devices or on desktop.
Fubo Sportsbook odds comparison 
Overall rating: 4.5
Customers can expect to find average odds on the Fubo Sportsbook in comparison to industry leading rivals. Fubo Sportsbook offers the typical juice lines on totals and spreads. Prop bets, moneyline and future odds are standard in comparison to the industry top sportsbooks like FanDuel, Caesars, and DraftKings. Sure, users will sometimes find better lines at other sportsbooks, but at other times Fubo Sportsbook will have the same industry leading prices as the market leading sportsbooks. It's always highly recommended for users to line shop on different sportsbooks for the best price to avoid the vig after finding an edge.
Fubo Sportsbook betting options
Overall rating: 4.5
Does Fubo Sportsbook have good odds?
Customers will see competitive odds listed at Fubo Sportsbook. Although the company is still establishing itself, impressive odds that line up with the industry's top platforms can be found when betting spreads and totals in major sports markets. Users can expect competitive odds on NFL, NBA, MLB and MLS spreads and totals, to name just a few. As Fubo Sportsbook continues to grow it's highly likely that odds boosts will be offered for even better lines during promotional periods. As per industry-standard, at Fubo Sportsbook all winnings of $600 or more annually should be taxed as the sportsbook is required by the IRS to fill a 1099 form.
What markets does Fubo Sportsbook offer?
Fubo Sportsbook has a nice range of most major sports. New customers can expect to be able to wager on all of their favorite sports. NFL, MLB, NBA, MLS, NCAAB, NCAAF, tennis and golf are all offered, as well as a few others. However, customers may not find their favorite secondary sports listed for wagering as Fubo Sportsbook has taken a focus on major market sports as it continues its expansion.
Beyond moneyline, spread and totals, customers can expect to find countless additional markets. For example, during the MLB season, the list of player props is extensive and competes with some of the major sportsbooks.
Additionally, there's wagers that can be made on individual innings, specific totals, and game props. Parlays are also easily created and can be viewed easily using your bet slip. I was also surprised to see the amount of futures listed by Fubo. The future lines aren't going to be posted before most major rivals but a considerable amount of future lines are available across all major sports.
Does Fubo Sportsbook offer live betting?
Yes, because of its parent company, fuboTV, Fubo Sportsbook specializes in live betting that can be done while watching sporting events. Users can expect to find live betting markets on most major sports through iOS devices and the Fubo Sportsbook website using the Watching Now streaming tab.
The live betting feature has become a must-have for any major sportsbooks looking to exponentially grow its brand. Fubo Sportsbook doesn't disappoint and users will have the opportunity to place live bets on the NBA, NFL, MLB and more. In addition to placing wagers in these markets, Fubo Sportsbook provides a nice variety of markets for live bets. Customers are able to live wager on game props, player props, team props and more.
Fubo Sportsbook player protection
Overall rating: 4.5
Fubo Sportsbook is a safe platform for your sports betting needs. Customers can expect their personal information to be securely housed by the security measures taken and should always feel safe in data terms since personal information is never stored on their servers at any point.
Fubo Sportsbook prides themselves on making sports betting an exciting and fun recreational activity. Users will find plenty of resourceful responsible gaming tools for those having a problem with gambling responsibly. All of Fubo's responsible gaming tools are free and include standard resources found throughout most industry-leading sportsbooks. Users can expect to find self-imposed deposit limits, self-imposed time limits and self-exclusion from the platform altogether. Additionally, Fubo Sportsbook places their responsible gaming resources at the bottom of their app for easy access, as well as promoting resources across their social media platforms.
Fubo Sportsbook Customer Service
Overall rating: 4.0
As Fubo Sportsbook continues to expand it can be assumed that their customer service department will also. Currently, customers can only reach out via the Submit a Request form and email. Fubo could improve their service with the addition of a 24/7 live chat or phone number to handle queries quickly.
How to contact Fubo Sportsbook in the US
Where is Fubo Sportsbook legal?
Fubo Sportsbook, which didn't launch until fall 2021, is currently only available in Arizona and Iowa. Although Fubo Sportsbook is limited to just two states currently, they're planning to expand their brand. New Jersey, Indiana and Ohio are potentially in line to be the next locations for expansion. Tennessee, Louisiana, Missouri and Mississippi could follow in late 2022 and early 2023. As sports wagering legislation is passed in more states, be on the lookout for Fubo Sportsbook as it continues its growth.
Is Fubo Sportsbook regulated in the US?
It is, but as mentioned above, Fubo Sportsbook is only offered in Arizona and Iowa. Within those two states the sportsbook is regulated and fully operated and licensed. It's safe to say that Fubo Sportsbook will continue its expansion throughout the US betting localities. Being a fully regulated sportsbook assures Fubo Sportsbook's customer base that they won't be defrauded and that they'll be able to collect their earnings as we'd expect. One of the best advantages of betting legally within the US, is that customers are always protected by state regulations.
Sports betting in the United States
Fubo Sportsbook reputation
While Fubo Sportsbook is still establishing itself in the sports wagering landscape, it has landed a handful of impressive partnerships. Currently Fubo Sportsbook has partnerships with the NBA, MLB, New York Jets, Cleveland Cavaliers, Houston Dynamo and the Iowa Cubs. FuboTV, the parent company to Fubo Sportsbook is an established streaming platform that allows users to stream their favorite sports live from companies like ESPN, ABC, NBC and more. Quick expansions and improvements to the sports betting experience on Fubo Sportsbook will most likely result in increased partnership opportunities because of fuboTV's exceptional reputation.
Fubo Sportsbook review conclusion
The concept of having a streaming service in addition to a sports wagering platform is brilliant. As Fubo Sportsbook continues to establish itself across more US markets, it has developed a promising sports wagering platform for its customer base. The compelling combination of live streaming and live betting features will likely separate the sportsbook from the mainstream platforms offering the same service. Additionally, the sleek and highly intuitive interface on the Fubo Sportsbook app and the variety of markets for major sports is helping the company make a solid name for itself in the sports betting industry. If Fubo can continue to develop its customer service department, in conjunction with adding more promotions to attract new customers, then there's a definite place among the best online sports wagering platforms for the company.
Fubo sportsbook key information
| | |
| --- | --- |
| Year founded: | Fall 2021 |
| Licensed in US: | Yes |
| Available in US: | Yes |
| Licenses: | Iowa and Arizona |
| Operating regions: | US only |
| Average payout speed: | 3-5 business days typically |
| 24/7 support: | No |
| Languages: | English |
| Number of sports offered: | 11 |
| Number of markets: | For a sportsbook continuing to establish itself, Fubo Sportsbook has an extensive market of live betting markets although only 11 different sports are offered. |
| Live betting: | Yes |
| Cash out offered: | Yes |
| App: | Available for download for iOS devices only |
| Additional products: | FuboTV streaming service is the parent company of Fubo Sportsbook. |
Can Fubo Sportsbook be trusted?
Is Fubo Sportsbook legit?
Can you win money at Fubo Sportsbook?
Does Fubo Sportsbook payout?
How fast does Fubo Sportsbook payout?
Do you have to pay taxes when you win at Fubo Sportsbook?
Read our expert sportsbook reviews
Brand disclaimer
The brands featured in this article are for illustrative and commentary purposes only. There are no commercial associations between the website and any brand featured in this article. Trademark rights and copyrights relating to the teams featured on this page belong to their respective owner(s), which are not associated or affiliated with OnlineBetting.com in any way and did not license rights or authorise or sponsor this article.