WynnBET sportsbook review
Chris is a sports betting expert who has spent years learning how sportsbooks work and how to beat the markets. In addition to his own personal success with betting, Chris now also spends his time producing educational content for his followers across YouTube and Twitter. As a huge NBA, NFL and MLB fan, Chris enjoys the entertainment sports betting can bring, but also understands the hard work required to develop his knowledge and keep up with the markets in order to turn a consistent profit.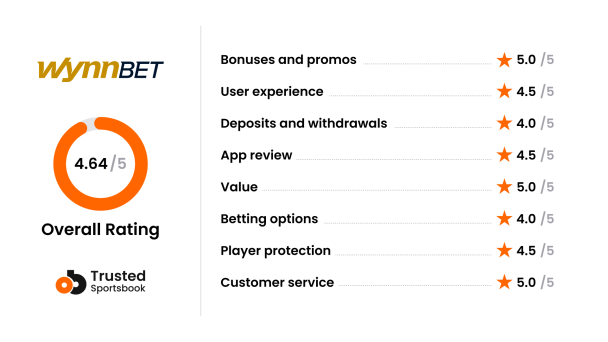 WynnBET: Our verdict
Overall rating: 4.64
Whether you're a sports fan looking for your first signup to a sportsbook or you're a seasoned vet trying to find great odds, WynnBET has something for you both. Users will find WynnBET to have an amazing array of bonuses and promos offered throughout the entire year no matter the sports season.
A lucrative signup bonus of $200 in bet credits (distributed in four $50 bets for four weeks) and a highly impressive selection of major sports markets are all offered. Additionally, WynnBET has some of the most popular bet types such as same-game parlays and multi-sport parlays, cashout options and most importantly some of the greatest odds you'll find across any rival sportsbook.
WynnBET pros and cons
| Pros | Cons |
| --- | --- |
| Enticing signup bonus for new users. | Limited number of leagues and markets in some major sports. |
| Live betting stats offered. | Lack of live streaming feature for in-game wagering. |
| Offers more promos than many leading competitors. | |
How to sign up to WynnBET
WynnBET makes it easy to sign up using both their app and website. Users can expect the process to be standard in comparison to other major sportsbooks. After choosing a username and password WynnBET requires your personal information such as your name, address, email, and last four digits of your social security number. Additionally you'll be prompted to enter any promo code you'd like and agree to terms of the platform before you're done. Signing up for WynnBET is a straight-forward process that can be done within just a few minutes.
WynnBET welcome offer
WynnBET offers a pretty generous welcome bonus in comparison to some of the industry's best sportsbooks. The promotional period changes from time to time but currently it's an attractive offer for users looking to take advantage of an incentive.
The current "Bet $50 Win $200" offer requires opting in during signup, making an initial deposit of at least $50 and placing a wager of at least $50 with odds of -120 or better. After completing these simple steps, customers can expect to collect $200 in free bets. Users can expect four (4) different $50 bets to be credited to their account once per week with the first one arriving in less than 72 hours.
WynnBET bonuses and promos
Overall rating: 5.0
WynnBETS offers a very generous amount of attractive daily and weekly promotions for their customers that shouldn't be overlooked. Most of which don't require any promo code for access. Users will find that WynnBET offers bonuses to keep customers interested in frequent sport wagering.
WynnBET features great offers on a variety of different categories. For example, during the "Win Hour", users get one hour of reduced juice from 5-6pm ET every Tuesday and Thursday. Now that's a promo worth setting a reminder for and should absolutely be taken advantage of.
Daily boosted odds parlays are advertised as well during certain promotional periods. These odds boost are standard for what most industry leading sports book incentives, but also provide WynnBET's customer base a lot of value.
WynnBET also incentivizes its customers through their Wynn rewards program. In addition to sports betting the luxury hospitality brand allows users to earn "Compdollars, free credits and tier credits" that can be redeemed to save on the five-star resort stays. As you probably guessed, Wynn and WynnBET's assign free credits to players for using their online sportsbook to make wagers. The free credit can be used to make wagers or at their hotels during your stay at their physical locations.
Free Bets
WynnBET provides extra encouragement for its users to get in the action on multi-sport parlays. Users can expect the incentive of a free bet for combining multiple sports on a bet slip. Win, lose or push on a $20+ ticket with 4+ legs on any sports within a Thursday-Sunday time frame and receive a $10 free bet. This is just one example, but free bets are advertised under WynnBET's promotions section on both the app and web version.
WynnBET also advertises "WynnBET Weekdays" which is a promotion that requires customers to opt in and place a $50 bet between Monday-Friday to earn a free $10 on the following Monday. It's a pretty sweet deal since win, lose or push you'll get the free bet credited to your account as long as the offer is -150 odds or better. All in all, WynnBET offers more free bets than most major sportsbook brands in the US.
Deposit Bonuses
While WynnBET does offer a bevy of promotions at any given time, currently there aren't any deposit bonuses other than the sign up bonus discussed earlier. WynnBET is known for its promotions that offer users free bets and odds boost but not so much to include deposit bonuses.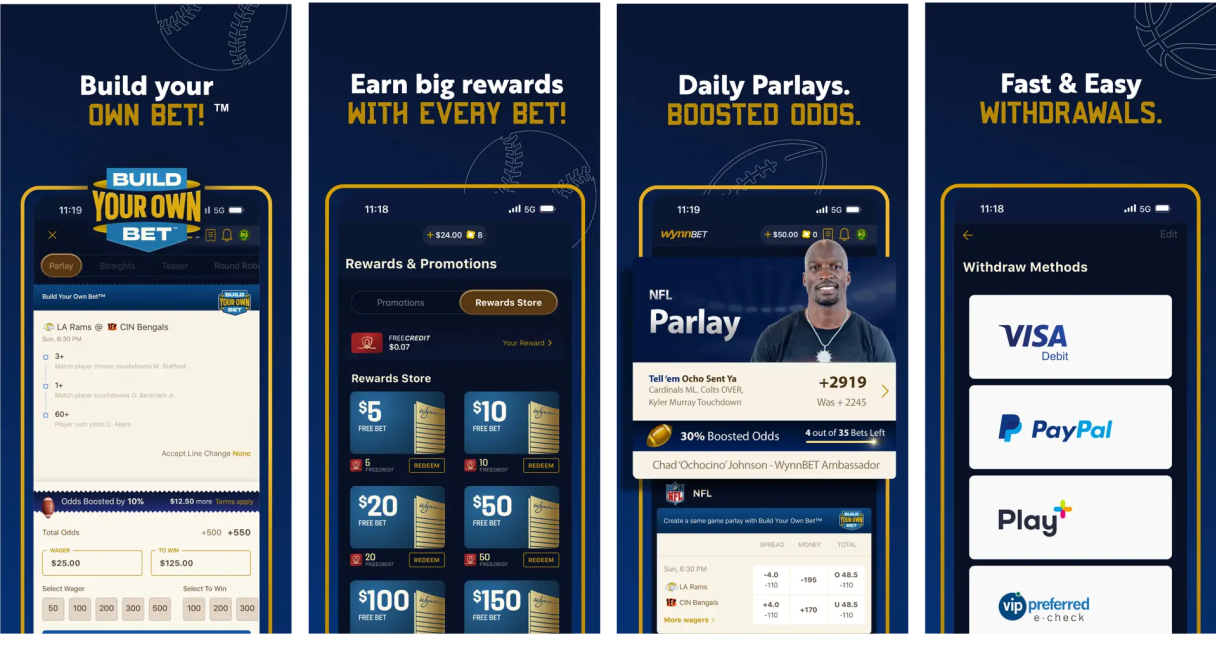 WynnBET key features
WynnBET offers some of the most exciting features of any sports betting platform. Users can expect to find their "Build Your Own Bet" to be similar to most rivals' versions of the same-game parlay. Live betting is also something users will find while using the WynnBET app and web page. There's often nothing more thrilling than placing a live wager and being able to root for the team you need to win and WynnBET offers its customer base that option.
WynnBET also allows for multi-sport parlays, a newly developed feature that's seen as a must-have for users looking to combine their two sport action plays.
Additionally, WynnBET offers giveaways and other promotions during major sports seasons. An example would be to bet $50 on NASCAR and be entered to win tickets to Federate Auto Parts 400 at Richmond Raceway. During this promo, no matter if bettors won, lost or their result was a push all users who placed a $50 wager on NASCAR for the promotional period would be entered into a drawing with multiple entries allowed.
WynnBET user experience
Overall rating: 4.5
WynnBET is a well-designed and effortless sportsbook that provides users the opportunity to have a phenomenal sports betting experience. Like most of the industry's best sportsbook, WynnBET does an amazing job of displaying the popular information on its website and app in plain view to ensure quick access. Users will easily be able to identify welcome offers and create any account.
Additionally, WynnBET's layout on both their app and website helps users to find their favorite sports to bet and favorite markets to wager on. Placing a straight bet or parlay can be done within seconds due to the high functionality and user-intuitiveness of WynnBET's online betting platform.
How to place a bet at WynnBET
Once you've found an edge and know which team or player you're wanting to wager on, placing a bet can be one of the most exciting feelings within sports betting. Users are looking for this process to be simple and effortless. WynnBET makes it just that.
Once you've logged into your account, simply find the sports market you'd like to bet. Next, you'll make the selection of your bet by clicking on the odds. This will add your choice to your betslip which is automatically generated in the bottom right corner. Clicking on the betslip and adding your wager amount by confirming your selection is all that's left before you can click "Place Bet". Users will find that using WynnBET allows wagers to be placed within seconds.
WynnBET deposits and withdrawals
Overall Rating: 4.0
WynnBET payout speed
WynnBET offers routine payout speed. Users can expect to have their funds from their bankroll processed and deposited into their bank account typically within 3-5 business days. Although sometimes quicker, payout speed is always dependent upon withdrawal method as some are quicker than others. It's also worth noting that your money will always arrive quicker if you choose to withdraw with the same method that was used to deposit.
WynnBET deposit methods
| Option | Minimum deposit | Maximum deposit | Process time |
| --- | --- | --- | --- |
| Credit/debit card | $10 | $5,000 | Instant |
| Bank transfer | $10 | $10,000 | Instant |
| PayPal | $10 | $1,500 | Instant |
| eCheck | $10 | $100,000 | Instant |
| Play+ | $10 | $2,000 | Instant |
| Wire Transfer | $10 | Not Listed | Typically within 24 hours during business days |
WynnBET withdrawal methods
WynnBET offers a variety of withdrawal methods although limited compared to some of the major leaders. Notably missing is the PayNearMe withdrawal method, but even without it as an option there's five alternative methods to get your cash from your bankroll to your bank account.
| Option | Minimum withdrawal | Maximum withdrawal | Process time |
| --- | --- | --- | --- |
| Bank Transfer | $20 | None | 1-3 business days |
| Debit card | $20 | None | 1-3 business days |
| PayPal | $20 | None | 2-3 business days |
| e-Check | $20 | None | 2-3 business days |
| Play + | $20 | None | 3-5 business days |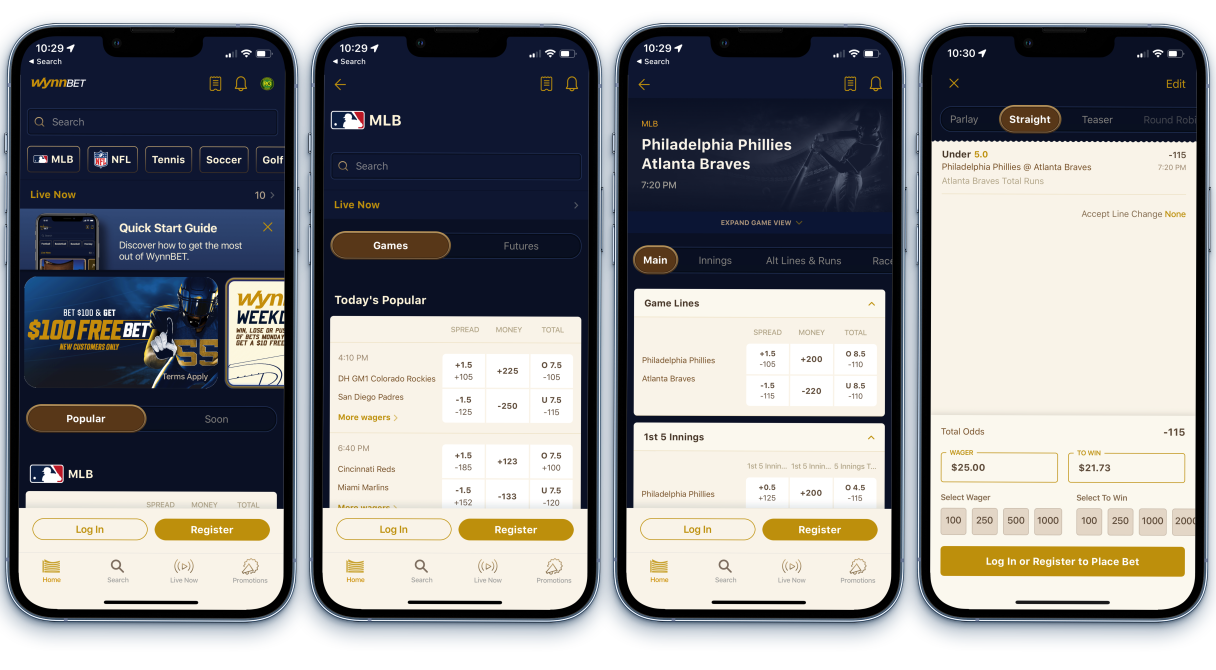 WynnBET app review
Overall rating: 4.5
New customers can expect an exceptional sports wagering experience from the WynnBET app. WynnBET offers a well-designed, easy-to-use and super responsive app to assist bettors with placing their wagers that prefer not to use their website.
Similar to most other top sportsbooks, WynnBET displays key information on their homepage to include current promotions, a list of popular sport's leagues and the fastly growing live betting tab. I personally like that WynnBET makes it super simple to place same-game parlay bets. Users can easily add legs that populate to the betslip in the bottom right corner. When finished, clicking on the betslip and adding your wager amount is the last step before your bet can be placed. Another key aspect of the app that shouldn't go overlooked, is the fact that the app displays four (4) different games at a time. The WynnBET app is free and available on all Android and iOS devices.
WynnBET odds comparison
Overall rating: 5.0
WynnBET matches up well with leading competitors in the always important odds comparison area. Users can expect to find less juice on lines within main markets such as point spreads and totals across most major sport markets. Less juice or "vig" means more bang for your buck and long term affects your bottom line as a sports bettor, so prioritizing this should be highly considered for users doing more than recreationally betting.
In comparison to top-tier sportsbooks within the US, WynnBETs gives them all a run for their money when it comes to pricing odds. Users can expect to find -110 odds (which are considered the less juiced lines) using WynnBET than any of it's competitors in major sports markets such as NBA, NFL and MLB action. This can be seen as a must-have for WynnBET since they don't offer as many betting markets or the wide variety of sports in comparison to its rivals.
WynnBET betting options
Overall rating: 4.0
Does WynnBET have good odds?
WynnBET has some of the best odds available in comparison to any sportsbook in the market. Competitive odds are one way the sportsbook continues to shine against its competitors, especially when they're offering less markets. Users can expect to find value in all of the major sports markets that are offered within WynnBET's platform. WynnBET is a sportsbook that should always be explored first for primary markets such as point spreads, totals and moneylines throughout the NBA, NFL and MLB seasons. Personally, I check WynnBETs odds first for NFL and MLB spreads as I've found them to be a lot less juiced at times when I'm picking a side.
Sportsbooks want users to have a fun betting experience and aren't always looking to pay out large amounts of cash to its customer base that are successful long term. Like most major sportsbooks, WynnBET will limit users to protect their bottom line. Users will find that winnings are taxed once a certain amount of money has been made using WynnBET. For specific details check within your state's tax policies.
What markets does WynnBET offer?
WynnBET offers users all major sports markets. Users can expect to find basketball, baseball, American football, golf, soccer, tennis, major college sports and even combat sports.
WynnBET does well against the competition with its many featured bet types. Beyond the money line, spread and total bets, users can expect to find teasers, futures, round robin and same-game parlay options for their favorite betting sport.
Unlike some major sportsbooks, WynnBET offers one of my personal favorite prop types – 'team totals' under the game prop sections for your favorite contest across all major sports. This is an underrated market that can be taken advantage of when bettors don't want to choose a side but instead a point total. Additionally WynnBET offers a wide variety of totals for quarters, halves and alternate in-game lines.
Does WynnBET offer live betting?
Yes, WynnBET is known for its highly-popular live betting option. From the app, it can be accessed from the tab bar at the bottom and easily located on the website as well. Using WynnBET will give customers the opportunity to bet on live games in a variety of different markets.
For example, a live soccer game will offer markets in goal and team props as well as halves and score markets. Users can expect upwards of 30+ markets to be available during a live soccer game. Another key feature that could get overlooked is the real-time live stat updates provided to its users to make more educated decisions about wagers. This feature should not go understated and highly recommended for all sportsbooks.
WynnBET player protection
Overall rating: 4.5
WynnBET is a safe company and a branch of its parent company Wynn. Besides being licensed in each locality its offered, WynnBET is regulated and operated under strict guidelines that are pro-customer. Users should feel that their personal information is safe in the hands of WynnBET.
Users will find that WynnBET offers a variety of responsible gambling tools at the disposal of their customers. Within WynnBET users can expect to find the option to limit their time while using the app, the amount of money wagered and the self-exclusion option. The self-exclusion offer allows customers to "ban" themselves from accessing the sportsbook for a self-imposed time frame.
WynnBET customer service
Overall rating: 5.0
Wynn, the parent company to WynnBET, is known for its exceptional customer service for your hospitality needs. It's safe to say that the same level of elite customer service has transitioned to WynnBET. Users can expect polite and resourceful professionals during inquiries. My personal experience was nothing short of excellent when I reached out for clarification about an odds boost promo. The 24/7 live chat support team does an amazing job of quickly problem solving customer's needs.
How to contact WynnBET in the US
| | |
| --- | --- |
| Live chat 24/7 | Yes |
| Email | Wynn Bet has an email address for each state it operates in for high level customer service - see below |
| Phone | Similarly to its high level of customer support via email, WynnBET offers a customer service phone number for just about each state - see below |
| Twitter | @WynnBet |
Where is WynnBET legal?
WynnBET is available for service in Arizona, Colorado, Indiana, Louisiana, Michigan, Nevada, New Jersey, New York, Tennessee and Virginia. In addition, Maryland, Kansas, Nebraska and Ohio are all reportedly in the mix to land WynnBet sportsbook as legislation enables sports betting moving forward.
Users interested in gaining access to WynnBET sportsbook can expect expansion as early as Winter 2022 or early 2023. WynnBET is aggressively continuing their expansion so expecting their sportsbook platform in new states soon is highly possible as legalization continues to grant access to sports betting.
Sports betting in the United States
Is Wynn Bet regulated in the US?
WynnBET is regulated and licensed throughout all of the states in the US Regulated sportsbooks should increase the trustworthiness of customers potentially looking to open an account at WynnBET. When sportsbooks are regulated it means they've taken the time to go through strenuous processes that legitimizes their brand. When compared to off-shore books, regulated sportsbooks like WynnBET ensure that your personal information is safe as well as your money you've uploaded to their platform.
WynnBET reputation
WynnBET is a product of Wynn Resorts, a global luxury hospitality company founded in 2002. Because of its remarkable reputation and respect for its brand, WynnBET has been able to develop quite a few partnerships. WynnBET has partnerships with The New York Jets and MetLife Stadium, the Detroit Lions and Ford Field, The Indianapolis Colts and Lucas Oil Stadium and Richmond Raceway and Martinsville Speedway. Additionally, WynnBET is an official partner of NASCAR and has a team of top level former athletes as brand ambassadors such as Hall of Famer Shaquille O'Neal, Ben Affleck, Julian Edelman and Chad Ochocino Johnson.
Although WynnBET has been around since 2020 it's already legalized in 10 states within the US and is aggressively expanding in different pockets of the country as more states pass legislation to have sports betting approved and regulated.
WynnBET conclusion
For sportsbook users who are looking for the best odds in the most common markets such as point spreads and moneylines, look no further - WynnBET is the sportsbook to join. Besides having better odds than many rivals in the sports betting world, users can also expect daily and weekly odds boost and free bet incentives for making qualifying wagers. Not to mention one of the most responsive and easy-to-use apps. WynnBET does an amazing job of offering an elite-level sports betting experience to its users.
WynnBET key information
| | |
| --- | --- |
| Year founded | 2020 |
| Licensed in US | Yes |
| Available in US | Yes |
| Licenses | Arizona, Colorado, Indiana, Louisiana, Michigan, Nevada, New Jersey, New York, Tennessee and Virginia |
| Operating regions | US |
| Average payout speed | 3-5 business days is typical withdrawal times but specific time is dependent upon withdrawal method |
| 24/7 support | Yes |
| Languages | English |
| Number of sports offered | 10 |
| Number of markets | All primary markets listed within major sport leagues; secondary markets are limited |
| Live betting | Yes |
| Cash out offered | Yes |
| App | Available for both Android and iOS devices |
| Additional products | Casino (available in Michigan and New Jersey only) |
Can you win money at WynnBET?
How fast does WynnBET payout?
Do you have to pay taxes when you win at WynnBET?
Read our expert sportsbook reviews
Brand disclaimer
The brands featured in this article are for illustrative and commentary purposes only. There are no commercial associations between the website and any brand featured in this article. Trademark rights and copyrights relating to the teams featured on this page belong to their respective owner(s), which are not associated or affiliated with OnlineBetting.com in any way and did not license rights or authorise or sponsor this article.