Chris is a sports betting expert who has spent years learning how sportsbooks work and how to beat the markets. In addition to his own personal success with betting, Chris now also spends his time producing educational content for his followers across YouTube and Twitter. As a huge NBA, NFL and MLB fan, Chris enjoys the entertainment sports betting can bring, but also understands the hard work required to develop his knowledge and keep up with the markets in order to turn a consistent profit.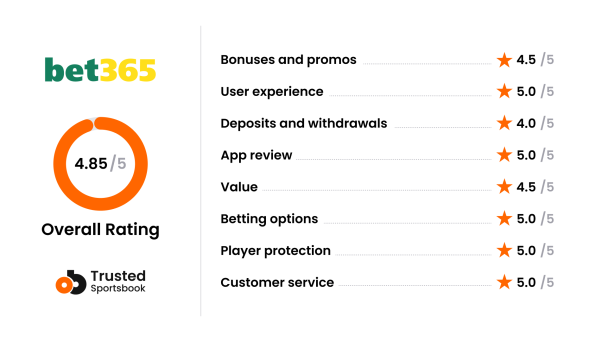 Bet365: Our verdict
Overall rating: 4.85
Bet365, perhaps the highest-regarded sportsbook in the rest of the world, provides one of the best sports betting experiences for any type of customer. Bet365 wins over bettors with an array of bet types and some of the best live betting odds of any rival. The UK-based sportsbook – that has expanded to the US, Mexico, Canada, Australia and more – combines all of the top tier features of competitors to help standout and keep its customers coming back.
New users can expect to find more live streaming events than any other sportsbook, same game parlay builders and one of the most user-friendly apps within the sports wagering industry. While dominating the sports betting market with these features, bet365 also offers one of the most lucrative welcome bonuses, has more markets offered for wagers and provides supreme customer support that's easily accessible at any time using their 24/7 customer support chat.
Bet365 pros and cons
| Pros | Cons |
| --- | --- |
| Has the largest live streaming service of any sportsbook. | Not ideal for professionals since big winners can sometimes be limited or blocked. |
| Extensive markets available across all sports. | Only available in the US in New Jersey. |
| Easy to use app that offers live betting. | |
How to sign up to bet365
Registering for bet365 is a straightforward process that can be done through their website or app. From the app, clicking the Join button in the top-left corner will prompt you to a page where you'll enter personal information like name, date of birth and social security number. Additionally, you'll create your username and password and enter any bonus code that you want applied. Next, accept the terms and conditions and you're all signed up. The process can be done in just a few minutes and is standard compared to other top sportsbooks in the industry.
Bet365 welcome offer
Bet365 has different welcome offers for all of the countries it operates in, but within the US customers can expect a competitive offer. Currently, after signing up and making your initial deposit of at least $10, users are eligible to get $200 in free bet credits after placing their first qualifying bet of at least $1. New customers should select Use Free Bet Credits in the betslip to ensure that they're not using their bankroll when bet credits have been applied.
For novice sports bettors this offer can be considered golden due to not having to upload a large amount of money for a match bet offer that's typical of most major sportsbooks.
Bet365 bonuses and promos
Overall rating: 4.5
Similar to the other top sportsbooks in the industry, bet365 has numerous odds boosts for its popular markets. All of the active promotions can be found by navigating to the Promos section that's located in the top-left corner on both the app and website.
One of the best promos I've seen offered by bet365 comes during the MLB season. There's a Baseball Early Payout Offer promotion that allows users to get their straight bets paid out if the team you've selected gets a five-run lead. With MLB games taking upwards of three and half hours this is a nice way to get your money early if your team goes up by five runs.
The multi-sport parlay bonus that bet365 offers also can't go overlooked. A lot of rival sportsbooks don't have this feature yet, but it's quickly growing to be one of the most popular betting options for online customers. With this bonus users can receive up to 70% extra for eligible successful parlays. The more legs added in the parlay, the higher the bonus percentage of your winnings. Note that this offer is only available to new and eligible customers and does have bet restrictions that should always be reviewed.
Free Bets
Free bets are offered through bet365 throughout major sport seasons. Currently the best free bet offer is for new customers. When betting $1, get $200 in free bet credits after qualifying conditions have been met. Using bet credits that you've earned, while your bankroll gets to sit, is as enticing as it gets when deciding whether to create a new account with a different sportsbook and shouldn't be overlooked.
Deposit Bonuses
Bet365 offers competitive deposit bonuses to its customers. Bettors can expect to find different offers during different promotional periods. Typical offers and the one currently advertised let customers deposit $10 and receive $200 in free bet credits when placing a $1 qualifying bet. Once users have met the qualifying conditions, then free bet credits can be used without wagering real cash that's in your bank roll.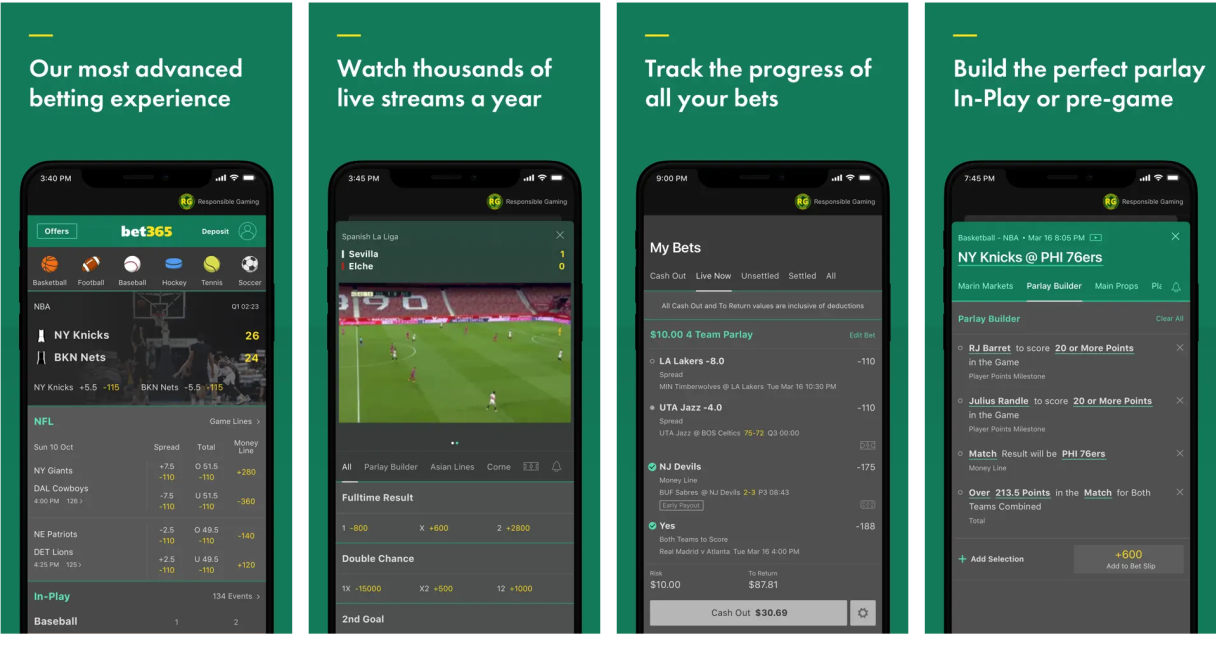 Bet365 key features
Bet365 offers a massive amount of features for its customers, which is why it's one of the most popular and successful sportsbooks around the globe. Users can expect to find early cash out offers for in-game action, live betting with real-time stats to assist in making better educated decisions, and the highly popular multi-sport parlay.
Bet365 also offers the traditional same game parlay feature, but the multi-sport feature takes sports betting to another level. It's becoming a must-have feature when you're looking to combine your favorite MLB and NFL games during the early fall months, or even combining NBA and NHL legs to add some excitement to your bet slip.
Bet365 offers more than just standard sports betting. Users will find access to the bet365 Casino, bingo, horse racing and esports, all across the website or app version.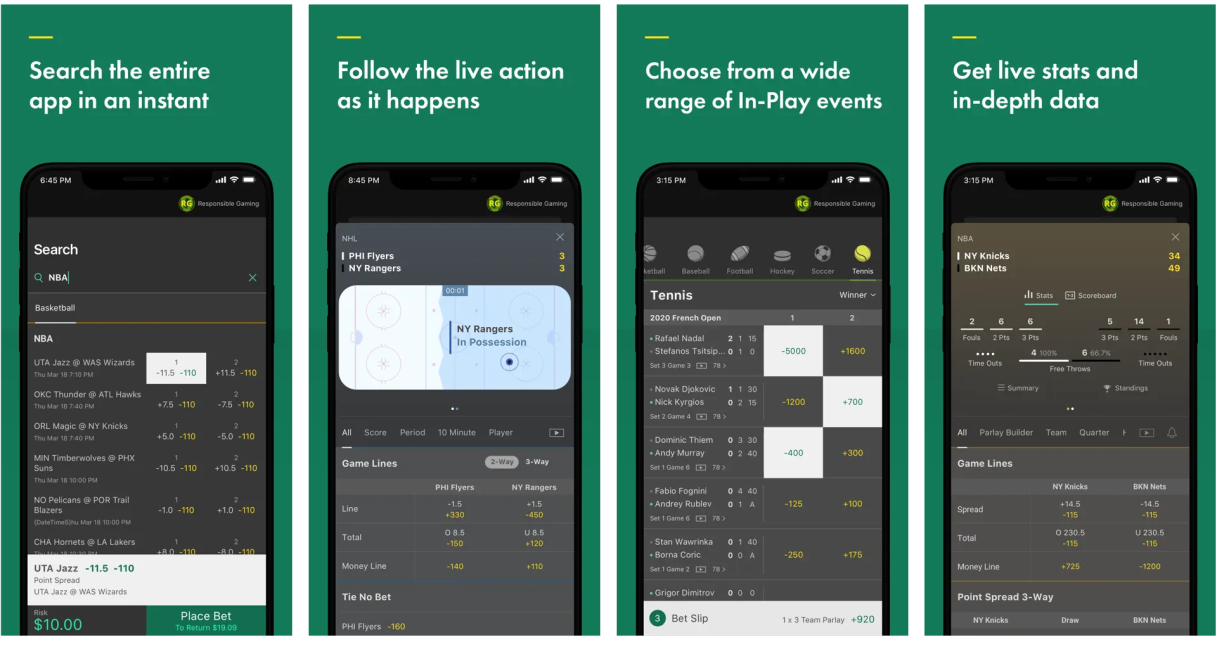 Bet365 user experience
Overall rating: 5.0
Bet365's overall user experience can be described as pleasant, exciting and convenient. The straightforward layout, with the customizable features, is elite in comparison to a lot of top industry competitors. A sleek interface makes it easy to find specific sports, and the wide array of markets on offer will only encourage users to want to utilize bet365 even more. My personal favorite is how easy it is to find the live betting events using the Live In Game tab and how seamless it is to craft multi-sport parlays. Straight bettors will love how quick it is to locate and place bets on their favorite teams/players.
How to place a bet at bet365
Bet365 makes it seamless to place wagers using their sportsbook either online or through the app. First, make sure you're logged in to your bet365 account. Next, select the match you'd like to bet on. Find the bet type that you're looking to wager on, select, and the odds will be added to your bet slip. Once your preferred selection has been added you'll determine how much you'd like to stake then it's as simple as selecting Place Bet.
Bet365 deposits and withdrawals
Overall Rating: 4.0
Bet365 payout speed
One of the most enticing features of any customer looking to add an additional sportsbook to their roster is the payout speed. Users want to know how fast their winnings will be in their bank account after withdrawing from the sportsbook. Bet365 doesn't disappoint. With over seven different withdrawal methods and typical processing time within one to five days, customers have reported being highly satisfied with the turnaround. It's also worth noting that the bet365 Mastercard, PayPal and Skrill all have processing times of 24 hours or less for the quickest turnarounds.
Bet365 deposit methods
| Option | Minimum deposit | Maximum deposit | Process time |
| --- | --- | --- | --- |
| Credit/debit card | $10 | $30,000 | Instant |
| Bank transfer | $10 | $10,000 | Instant |
| PayPal | $10 | $10,000 | Instant |
| Bet365 Mastercard | $10 | $5,000 | Instant |
| PayNearMe | $10 | $500 | Instant |
| Skrill | $10 | $38,000 | Instant |
| PaySafeCard Prepaid | $10 | $1,000 | Instant |
| Cash | $10 | $30,000 | Instant |
Bet365 withdrawal methods
Bet365 offers a variety of ways to withdraw funds after you've won your bet. Below is a list of options to access your cash. Processing times are standard compared to other major sportsbooks within the industry. Note that it's always going to be a smoother process to withdraw using the same method that was used to upload funds.
| Option | Minimum withdrawal | Maximum withdrawal | Process time |
| --- | --- | --- | --- |
| Online banking | $10 | $10,000 | 1-5 business days |
| Credit/debit card | $10 | $30,000 | 1-5 business days |
| PayPal | $10 | $10,000 | Within 24 hours |
| Skrill | $10 | $38,000 | Within 24 hours |
| Cash | $1 | $30,000 | Instant |
| Bet365 Mastercard | $5 | $5,000 | Instant |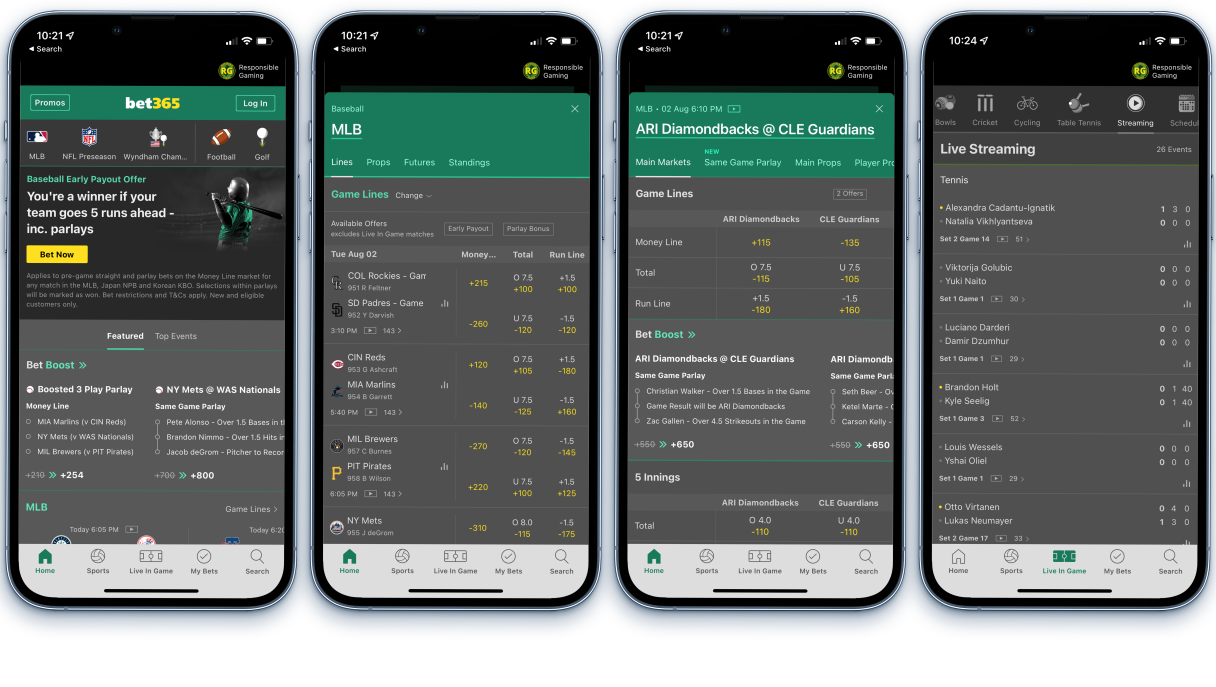 Bet365 app review
Overall rating: 5.0
Bet365 offers a clean and highly functional app to its users. My favorite part is how easy it is to find your favorite sports to bet on. At the bottom of the app you'll see Sports behind the Home tab. You'll find top events in bold, making it easier on the eyes to locate the market of your choice.
One of the features that separates bet365's app from its rivals is the customization feature. When looking through markets, users have the ability to pin their favorite options to the top of the full list by holding their finger over the sport. This makes it even more convenient to find specific sports and markets that customers prefer to bet on.
Bet365 also minimizes the hassle of locating live action by placing the icon directly in the center on the bottom of the tab bar. Users will find it easy to locate their betslip, locate bet365's promoted same game parlays and more.
The app is available for iOS and Android users and customers can expect the same functionality as the web version.
Bet365 odds comparison
Overall rating: 4.5
Most of bet365's odds are similar in comparison to other leading sportsbooks. At times you'll find bet365 to have better odds in certain markets throughout major sports like premium soccer leagues, NFL, NBA action and more. Doing a comparison of their line assessment versus other top sportsbooks, you'll find highly competitive odds with a little juice or vig for certain spreads and moneylines. However, during other times, bet365 may have the best line available depending on the team/player that you're looking to back. This is why odds shopping is so important, especially if you're wanting to make money long-term in sports betting. Avoiding paying the premium for lines at times can really help your bottom line.
Bet365 betting options
Overall rating: 5.0
Does bet365 have good odds?
Not only does bet365 have a ton of different sports markets to bet on, the sportsbook also has highly competitive odds for the array of different markets offered. As always, there will be small deviations on betting lines for individual games, but users will find bet365 to provide value on some of its NFL, NBA and MLB lines, depending on what side you're looking to wager.
Bet365 does sometimes impose betting limits for users who are making a lot of money from their sportsbook. It's been reported that customers have been limited in the amount they've been able to wager due to consistently winning over a short time frame.
Like all income, winnings in sports betting isn't excluded from taxes. All winnings should be reported to the IRS, and paying federal taxes takes place when you've made over $600. Bet365, like all other sportsbooks, will report your winnings to the IRS.
What markets does bet365 offer?
Customers won't be disappointed with options for betting markets available on bet365 and can expect the sportsbook to provide a hugely impressive number of sports to bet. All major markets for popular sports like, basketball, football, baseball, soccer, horse racing, and golf are listed with odds. Furthermore, secondary sports like cricket, volleyball, table tennis, and darts just to name a few are also available.
Customers can expect to find all traditional markets such as totals, point spreads, moneylines, futures, same game parlays and even player and team props. Bet365 lists its future markets as early as most of its competitors. One key option that's worth noting, bet365 offers the multi-sport parlay feature that most of its rivals don't. This option allows users to combine different bet types across different events into one bet.
Does bet365 offer live betting?
Like many of its rivals, bet365 does offer live betting on a variety of sports. Users can expect to have options to bet on all popular markets such as basketball games, tennis matches and even horse racing using bet365. Additionally, unlike some of its competitors, bet365 does have real-time odds that update using both the app and web page, assisting customers with making more educated decisions that they may want to make in-game wagers.
Accessing the live betting options is as simple using bet365 as any other sportsbook on the market. Simply logging in and clicking on the Live In Game tab on the homescreen will bring up all of the current live markets that can be wagered on.
Bet365 player protection
Overall rating: 5.0
Users will find that bet365 is as safe a sportsbook as there is on the market. The privately owned company has a prolonged reputation to uphold that has been centered around making sure their sportsbook is secure. Bet365 is fully licensed and regulated, with each region it is located in, including locally New Jersey and Ontario in Canada, on top of all the other countries throughout the world.
New users will find bet365 is truly centered around its customers. How and where the Responsible Gaming tab is located is a great example. Conveniently located in the top-right corner of both the app and the webpage, users will find the responsible gambling resources offered through bet365. It allows customers to set deposit, spend and session limits. The sportsbook also provides the option to set Time Out and Self-Exclusion for themselves, as well as different reading material on how gambling works, problems within gambling and more. Lastly, using the Support and Advice tab will reveal helpful organizations that can be reached if gambling ever becomes problematic.
Bet365 customer service
Overall rating: 5.0
When there's a concern or dispute that needs to be addressed the last thing that you want to do as a customer is to have to wait. Bet365, the company that's known for its elite level of customer service, doesn't disappoint in this department. During a live chat with a representative, my questions were answered quickly and politely with an extremely knowledgeable associate.
How to contact bet365 in the US
Where is bet365 legal?
Within the US, bet365 is only licensed and legal in New Jersey. Colorado is set to be next within the states to have access to the sportsbook. A timeframe for a potential online launch has not yet been announced.
Sports betting in the United States
Is bet365 regulated in the US?
Bet365 is regulated within the New Jersey Division of Gaming Enforcement. The department ensures and oversees the legality of sports betting. Stringent requirements are needed to allow bet365 to operate its licenses. Customers should feel an extra level of protection when using a regulated sportsbook because of the extra security feature to protect your personal information and money.
Bet365 reputation
Bet365 is one of the biggest online bookmakers in the world. With millions of customers worldwide, representing almost 200 countries, bet365 has developed a distinctive reputation among rivals in the sports gambling community.
New users will find that bet365 is most respected for its variety of markets offered throughout all major sports and even secondary sports. Bet365 is also known for having an extensive market of live in-game options to wager. Additionally, bet365's customer service team has been known as the best in the business. It has also inked partnerships with the PGA Tour, UFC, and BOXXER.
Bet365 conclusion
After exploring the app and web version of bet365 it's a no-brainer why the sportsbook is considered the market leader in online sports betting worldwide. Bet365 offers an extensive selection of sports betting markets for both pre-game and live betting markets. Users will also find a large selection of broadcasted contests available for stream to include NBA, Premier League, MLB and many others.
Bet365 offers a generous signup bonus for users looking to gain extra funds in their bankroll and also has very competitive odds in most major sports (soccer, NBA, NFL, MLB and more) depending on the side you're looking to back.
Bet365 key information
| | |
| --- | --- |
| Year founded | 2000 |
| Licensed in US | Only in New Jersey |
| Available in US | Only in New Jersey |
| Licenses | British Gambling Commission, Canada |
| Operating regions | Europe, Canada, Asia, Africa, and New Jersey |
| Average payout speed | One to five days |
| 24/7 support | Yes |
| Languages | Available in 17 languages |
| Number of sports offered | 22 |
| Number of markets | Moneyline, spreads, totals, player team and game props, futures, live betting, same game and multi-game parlays |
| Live betting | Yes |
| Cash out offered | Yes |
| App | Available for both Android and iOS devices |
| Additional products | Casino, horse racing, bingo and esports |
Can you win money at bet365?
How fast does bet365 payout?
Do you have to pay taxes when you win at bet365?
Read our expert sportsbook reviews
Brand disclaimer
The brands featured in this article are for illustrative and commentary purposes only. There are no commercial associations between the website and any brand featured in this article. Trademark rights and copyrights relating to the teams featured on this page belong to their respective owner(s), which are not associated or affiliated with OnlineBetting.com in any way and did not license rights or authorise or sponsor this article.