FOX Bet sportsbook review
Chris is a sports betting expert who has spent years learning how sportsbooks work and how to beat the markets. In addition to his own personal success with betting, Chris now also spends his time producing educational content for his followers across YouTube and Twitter. As a huge NBA, NFL and MLB fan, Chris enjoys the entertainment sports betting can bring, but also understands the hard work required to develop his knowledge and keep up with the markets in order to turn a consistent profit.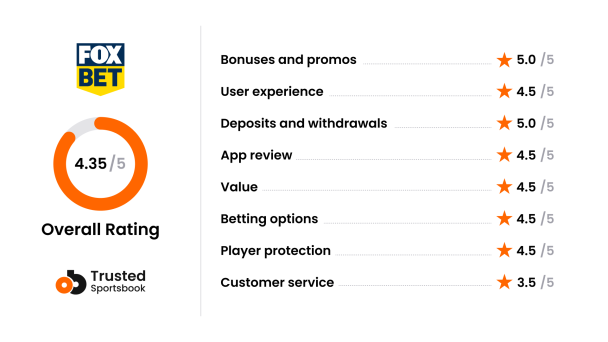 FOX Bet: Our verdict
Overall Rating: 4.35
Founded in 2019, FOX Bet Sportsbook specializes in offering a ton of bonuses and promos for its customers. Users will also find all the major sports covered and the ability to live bet on a variety of different markets.
FOX Bet has competitive odds in terms of moneylines and spreads throughout the year in all popular leagues. Even in comparison with other top-tier sportsbooks in the US, FOX Bet has established itself as one of the most generous, with a fast and responsive platform that makes identifying your favorite markets effortless.
FOX Bet pros and cons
| PROS | CONS |
| --- | --- |
| Frequent promos and boosts. | App and website can occasionally appear cluttered in comparison to rivals. |
| Elite odds offered. | Under-developed customer service department. |
| Lucrative sign up bonus. | |
How to sign up to FOX Bet
FOX Bet Sportsbook has a standard sign up process in comparison to other top-tier platforms. To sign up users must be of legal gambling age and in a state where FOX Bet is licensed and legal.
From the FOX Bet homepage, users click the Join banner at top-right corner and are prompted to input their personal information – username, email address and password. Additional personal information is required next (address and last four digits of your SSN). Once this information is verified your account has been created and you're ready to place your first wager. Completing the sign up for FOX Bet can be done within a few minutes and the sign up process via their mobile app is almost identical.
FOX Bet welcome offer
FOX Bet Sportsbook offers one of the most appealing welcome bonuses of any sportsbook. Opting into the First Bet On Us Risk-Free is an exclusive way for new customers to get their first bet matched up to $500 if it loses. To qualify, users just need to register and verify their account. They then have to place the qualifying bet within seven days of signing up to FOX Bet Sportsbook. Note that the qualifying bet must have odds of -200, minimum. If your qualifying bet does lose, you'll have seven days to use the free bet after issuance.
FOX Bet bonuses and promos
Overall rating: 5.0
FOX Bet provides users ample opportunities to take advantage of different promos, bonuses and cash bonuses. One of the most exciting offers is the cash bonuses offered on parlays. If you're able to cash a four-leg parlay with minimum -200 odds, users will receive the extra percentage of their winnings (with the percentage increasing upon how many legs are included in the parlay).
Free Bets
One of the ways to be granted a free bet using FOX Bet Sportsbook is the Refer a Friend feature. When someone signs up using your referral link and makes a deposit of $10 or more on any wager, both parties will receive a $25 free bet within 14 days.
FOX Bet Sportsbook also offers 'Free Bet Friday' Sweepstakes. During this promotion users will have a chance to win a $100 free bet every Friday by following @FOXBET, answering the question on their tweet, and retweeting.
Deposit Bonuses
Another great offer from FOX Bet is their 'Wednesday Deposit Offer' where customers who deposit $75 get $15 in bonuses issued in the form of a $5 free sports bet, a $5 casino bonus, and a $5 spin and go ticket. If users live in a state that qualifies for casino use, this bonus should always be considered.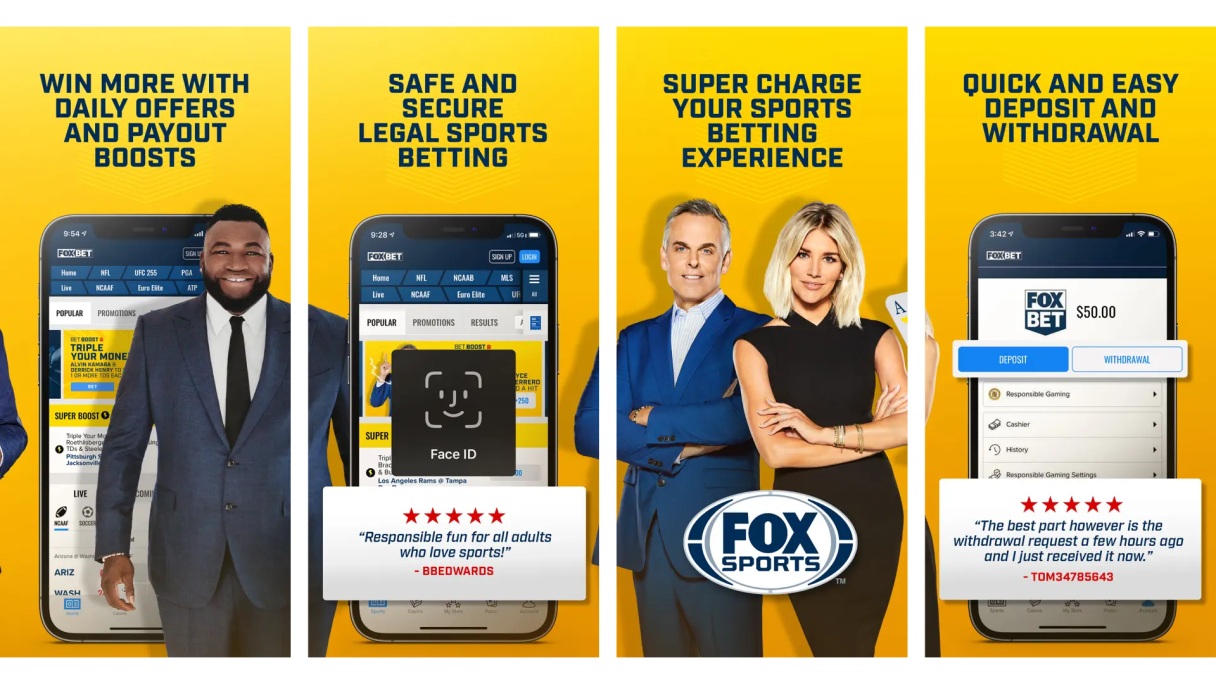 FOX Bet key features
One of the leading reasons FOX Bet Sportsbook has been able to establish itself in the first few years of its expansion is the variety of on-going promotions offered. If you like extra incentives for placing parlays and having reduced juice based on odds boosts, then FOX Bet delivers. 'Bet Boost' is a fan favorite promotion. This increases the odds of certain selections, increasing your payout for the same stake, although the cash out feature isn't available in conjunction with this offer.
In addition to the Bet Boost and the other key features mentioned, FOX Bet offers all typical features of major US betting sportsbooks. New users can expect to have live betting, parlay, and even casino and poker features (in qualifying states).
FOX Bet user experience
Overall rating: 4.5
Placing a bet on FOX Bet Sportsbook is as simple as it is on any other major sports wagering platform. The process can be done in a few simple, convenient steps. Occasionally, the app and website may feel like there's maybe too much packed on the page, but it's always easy to locate your favorite sport and markets within specific games. Users also won't have to search for any of the many lucrative bonuses and promos offered by FOX Bet Sportsbook because of their placement in the various layouts.
How to place a bet at FOX Bet
Placing a bet on FOX Bet Sportsbook is simple. After locating the sport and market you'd like to wager on, simply select the odds that represent the selection you'd like to make. Clicking on that selection will see the color change from white to blue font. This will also add your choice to your bet slip. The only thing left to do from here is to add the amount you'd like to wager before clicking Place Bet.
FOX Bet deposits and withdrawals
Overall Rating: 5.0
FOX Bet payout speed
FOX Bet Sportsbook pays out its customers at a typical speed in comparison to most popular sportsbooks within the industry. Users will find payout time to vary depending upon the chosen withdrawal method, although typical payout speed is between three to five days. It is important to note that FOX Bet provides more payout options than most rival online wagering platforms.
FOX Bet deposit methods
FOX Bet offers an exceptional amount of deposit methods. These flexible deposit methods make it convenient for users to play using the FOX Bet Sportsbook platform.
| Option | Minimum deposit | Maximum deposit | Process time |
| --- | --- | --- | --- |
| Credit Card | $10 | $1000 | Instant |
| PayPal | $10 | $1000 | Instant |
| Bank Transfer | $10 | $500 | Instant |
| Skrill | $10 | $1000 | Instant |
| PayNearMe | $10 | $500 | Instant |
| Instant eChecks | $xx | $500 | Instant |
| Resorts Cage | $10 | $30,000 | Instant |
| Pokerstar Play+ Card | $10 | $640 | Instant |
FOX Bet withdrawal methods
| Option | Minimum withdrawal | Maximum withdrawal | Process time |
| --- | --- | --- | --- |
| Credit Card | $10 | Not listed | 2-4 business days |
| Bank Transfer (ACH) | $10 | Not listed | 3-10 business days |
| PayPal | $10 | Not listed | Within 24 hours |
| Skill | $10 | Not listed | Within 24 hours |
| Cash | $10 | Not listed | Instant |
| Pre-Paid Play + | $10 | Not listed | Instant |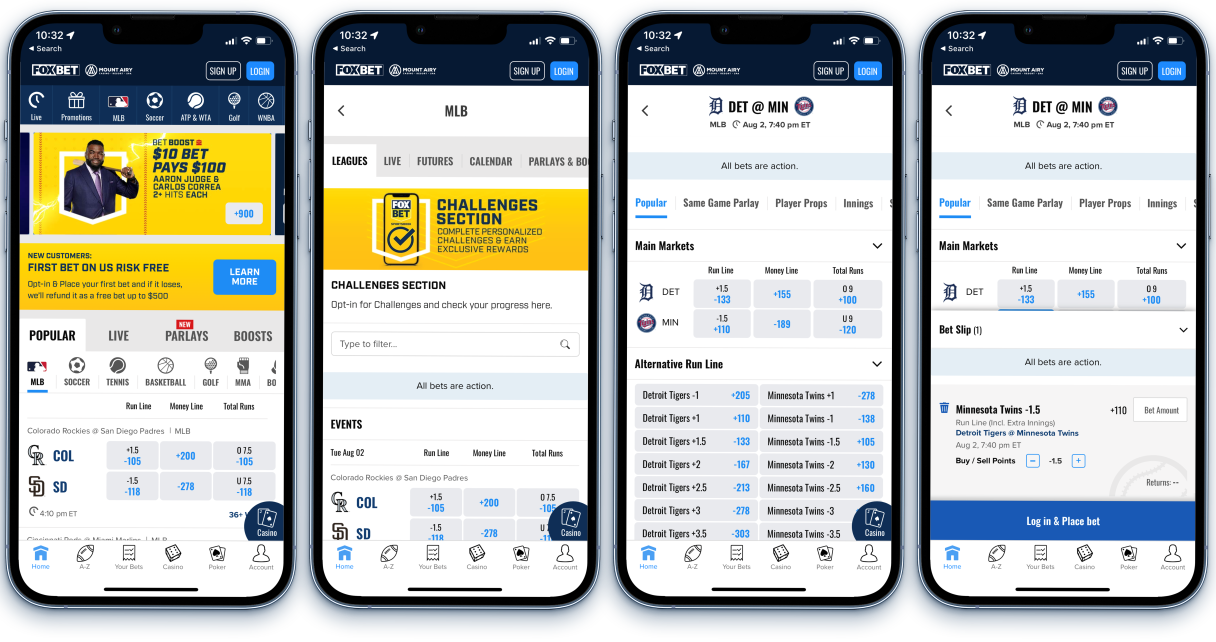 FOX Bet app review
Overall rating: 4.5
The FOX Bet Sportsbook app is well developed and provides a wealth of information to its users. That being said, with six icons on the bottom tab and so many other things packed on the home page, the app can sometimes feel a bit cluttered. The fact that the Casino feature has two different icons shows that FOX Bet promotes this feature maybe a bit too much for an app that's supposed to be centered around sports betting.
Users won't struggle to find the daily bonuses and super boosts that are frequently offered. Located in the center of the page and highlighted in the company's bright yellow branding, all current promotions are in open view.
Another highlight of the app is the fact that while looking through games or creating your favorite parlay, FOX Bet's interface allows four different games to be displayed at once. This is significant because most major sportsbooks only have a layout that includes three games per frame. This can make crafting multi-game parlays easier on your eyes with less scrolling required to find more teams.
Replacing one of the Casino tabs with a Live tab for users to easily locate live betting markets is a recommendation I'd make that'll entice users to want to use the app even more.
FOX Bet odds comparison
Overall rating: 4.5
While sign up bonuses are typically big factors that help potential customers, more experienced users will always have odds comparison as their top priority. Comparison for odds should be done so by checking the juice on lines and the hold (the amount a sportsbook collects on every wager).
When comparing FOX Bet Sportsbook's odds to other major US sportsbooks, users can expect to find some of the best odds of any top-tier wagering platform.
Customers can also expect to find some of the lowest holds on future markets and moneylines across various major sports. Prop bets aren't as intriguing, as you may sometimes pay a little more juice for your favorite point guard to hit his assist line. All things considered, FOX Bet offers some of the most reasonably priced odds in the industry.
FOX Bet betting options
Overall rating: 4.5
Does FOX Bet have good odds?
One of the most important and underrated factors in deciding if you'd like to join a sportsbook should be their odds. Even for recreational bettors, finding the best odds should be a top priority. Luckily for users who have joined FOX Bet Sportsbook already, the odds presented are some of the best in the industry. Odds are comparable to industry leading platforms such as DraftKings, FanDuel and BetMGM.
FOX Bet's most appealing odds can be found during the NFL and NBA seasons, on spread and moneyline plays. Users can expect FOX Bet to have reduced juice lines on favorites at times. As always though, there isn't a sportsbook that will have the best line every single time for each game which is why line shopping is a must for long-term profit.
FOX Bet is required by the IRS to provide tax documents for winnings over a specific amount. It's recommended that users keep a file of their winnings and FOX Bet offers Transaction History within the Account tab.
What markets does FOX Bet offer?
New users will be pleased to find that FOX Bet sportsbook offers all major sports. Customers will be able to place bets on their favorite basketball, football, baseball, and soccer teams across most popular leagues such as the NBA, NCAA, NFL, MLS to name just a few. Additionally, FOX Bet has a decent market of niche sports such as darts, cricket, and rugby union.
FOX Bet Sportsbook also has a large variety of betting markets for customers looking for some of the missing markets that rival betting platforms may lack. Users can expect to find live betting, straight bets, parlays, teasers, round robins, odds boosts and more. There's also a large variety of specific markets within sport events. For example, during the MLB season, I remember being able to view more than 140 different wagering markets for just one baseball game.
Does FOX Bet offer live betting?
FOX Bet Sportsbook offers live betting on their platform, with extensive markets for live betting action. The list of US regulated sportsbooks who don't offer live betting is slim, so this feature for FOX Bet Sportsbook wouldn't stand out as much if it wasn't for the wide array of live betting options that it offers.
For example, during a live soccer game there's typically upwards of 60 different live betting markets offered and more than a dozen markets available during live tennis matches. Live in-game tips are also provided, and the FOX Bet software does an excellent job of having real-time scores and odds updated quickly.
FOX Bet player protection
Overall rating: 4.5
FOX Bet Sportsbook takes the security of its customers' information very seriously and has implemented different security measures to ensure all personal information and player funds are all kept confidential. FOX Bet has a variety of firewall and encryption technologies that help with keeping user's information private.
FOX Bet Sportsbook takes pride in assisting and protecting customers who are at risk of potentially struggling with negative gambling habits. Additionally, FOX Bet offers an interactive presentation on responsible gaming and problem gambling through a PowerPoint for those interested. Users can expect to find a variety of responsible gaming resources listed on their app and website. Tools and resources available include self-exclusion, self-imposed deposits and spending limits, and local Gambling Anonymous contact details.
FOX Bet customer service
Overall rating: 3.5
For FOX Bet to have a parent company as big as FOX, one would imagine that the sportsbook would have a strong customer support team. Unfortunately, that's not the case. FOX Bet Sportsbook doesn't have a phone number or email support offered on their website. An email address was very hard to find via an extensive internet search, though one was eventually found.
Instead, there's a request form on their website and app where customers can share their questions and issues from which FOX Bet will respond to.
How to contact FOX Bet in the US
Where is FOX Bet legal?
Since its initial launch in 2019 FOX Bet has continued its expansion. FOX Bet Sportsbook is currently offered in Colorado, New Jersey, Pennsylvania and Michigan. New York, Louisiana and Maryland are said to be the next major markets on the list.
As early as fall 2022, FOX Bet may be within these markets as legislation is passed and regulations granted. With legalized sports gambling on the rise across the US it's safe to say that FOX Bet will be seen in additional markets as the company continues to grow, offering a sports betting experience to customers waiting to get in on the action.
Is FOX Bet regulated in the US?
FOX Bet sportsbook is completely regulated within the US. Regulated sportsbooks are held accountable for their winnings, their customers' personal information and their customers' money.
Regulated sportsbooks are also tied to local level and federal government which is why taxes must be paid on specific earning amounts. The importance of using a regulated sportsbook like FOX Bet cannot be overstated, as they come with the high-level security that personal data isn't shared unwillingly and that funds in your bank roll will make it to your bank account when requested.
Sports betting in the United States
FOX Bet reputation
FOX Bet Sportsbook is known for its unique wagering offers and star-studded cast of sports personalities. They're also known for their plethora of live betting markets available. FOX Bet uses a lot of its highly profiled FOX Sport anchors to advertise their sports wagering platform. Personalities like Colin Cowherd, Charles Woodson, Howie Long, Terry Bradshaw and David Ortiz are just a few of the highly talented professionals who advertise and promote the FOX Bet Sportsbook as brand ambassadors. Additionally, FOX Bet has inked official partnerships with the NBA, NFL, the Philadelphia 76ers, Philadelphia Eagles and the XFL.
FOX Bet review conclusion
Backed by its major parent company, FOX Sports, FOX Bet offers an extensive amount of bet types and promotions which mean that should be strongly considered by customers looking for a sportsbook option. In collaboration with the Stars Group, a well-respected Canadian gambling company, FOX Bet burst onto the sports wagering scene, establishing itself quickly. Users have one of the best live betting platforms offered, with tons of odds on a variety of wagering markets with easy-to-use features on both their app and website.
However, if FOX Bet Sportsbook wants to continue its ascension to one day be in the same ballpark as other US leading sportsbook providers such as DraftKings and FanDuel, they may want to add some key, currently missing features, such as live streaming. Additionally, continuing to develop their customer service team will be imperative. Operating such a big brand with less than three customer support outlets will only lead to frustration for its users moving forward as FOX Bet continues to expand.
FOX Bet key information
| | |
| --- | --- |
| Year founded: | 2019 |
| Licensed in US: | Yes |
| Available in US: | Yes |
| Licenses: | Colorado, Michigan, New Jersey, Pennsylvania |
| Operating regions: | U.S. |
| Average payout speed: | 3-5 business days typically but with certain withdrawal methods, quicker payouts are offered. |
| 24/7 support: | Offered via twitter @FOXBetCare |
| Languages: | English |
| Number of sports offered: | 16 |
| Number of markets: | 10 primary betting markets are offered with hundreds of secondary markets across major sports leagues |
| Live betting: | Yes |
| Cash out offered: | Yes |
| App: | Available for both Android and iOS devices |
| Additional products: | Casino, Poker |
Can you win money at FOX Bet?
How fast does FOX Bet payout?
Do you have to pay taxes when you win at FOX Bet?
Read our expert sportsbook reviews
Brand disclaimer
The brands featured in this article are for illustrative and commentary purposes only. There are no commercial associations between the website and any brand featured in this article. Trademark rights and copyrights relating to the teams featured on this page belong to their respective owner(s), which are not associated or affiliated with OnlineBetting.com in any way and did not license rights or authorise or sponsor this article.