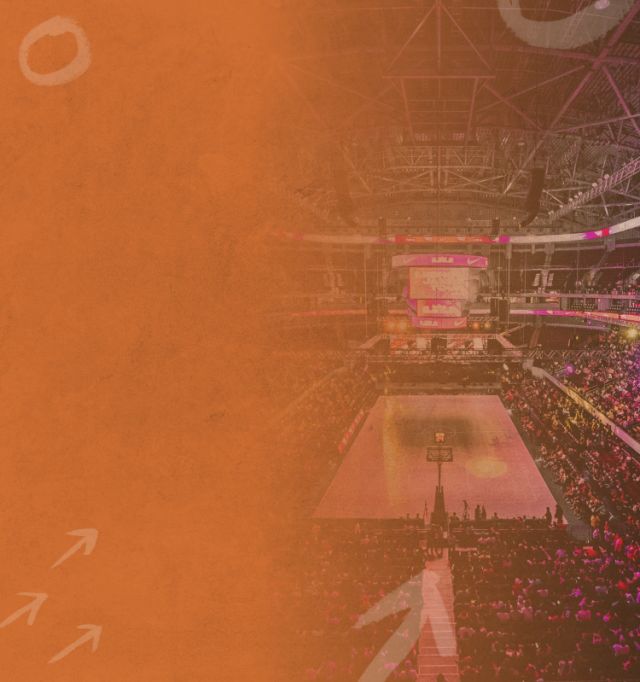 March Madness bracket strategy
The March Madness bracket is one of sport's greatest traditions. But what exactly is it, and how should you go about filling it out? You've come to the right place for expert advice on filling out your NCAA March Madness bracket.
NCAA March Madness bracket: What it is and how it came to be
Outside of the Super Bowl, March Madness is the most highly anticipated sporting event on the calendar. It offers three full weeks of drama, chaos, and endings you must see to believe. It captures the attention of both novice and pro bettors, and it brings people together with one common talking point: Their March Madness bracket. This year, the tournament officially gets underway on March 15 with four play-in games and reaches its conclusion on April 4 with the National Championship game.
What is the March Madness bracket?
To understand how the current March Madness bracket came to be, we must first understand where the idea of using this tournament format came from. The first "bracket" was used in a competitive sport setting during a chess tournament in 1851. It was a single elimination tournament, and the goal of the bracket was to have the two best players square off in the finals but that never occurred. So then why does the NCAA insist on utilizing a bracket-style format? Well, for starters, they take measures to ensure that each team is properly (debatable among most) ranked.
The first March Madness Bracket was set in place in 1939 with an eight-team tournament that saw Oregon crowned as national champions. In relation to how long the tournament has been going on, filling out a March Madness bracket didn't gain popularity until around the late 1970s after UCLA was done winning their 10th National Championship in 12 years. Now, you can't go a day into February without hearing someone talk about which 64 teams are going to make up this year's March Madness field.
How does it work?
All college basketball programs that participate in the tournament are given an official ranking by the tournament's selection committee. Once that's complete there are two kinds of seeding processes in the modern tournament.
The first is making sure the selection committee places teams in the appropriate region. The bracket is split into four regions that correspond with the location in the United States in which the opening rounds are played: East, West, Midwest, South. Each region has 16 teams which are ranked No.1 (the highest) through No.16 (the lowest).
The second is the overall seed which ranks each of the 68 teams from No.1 (the highest) to No.68 (the lowest). This helps determine which seeds are placed in which region. For fairness and for the chance to have the "best" teams meet in the National Championship game, the committee tries not to place the best No.1 seed in the same region as the best No.2 seed and so on.
The concept is aimed to reward the better teams with easier routes to the National Championship game. After the opening round, teams are not reseeded which means that all potential matchups for the subsequent rounds are established clearly before the first game of the tournament gets underway.
How to fill out your March Madness Bracket
There are two strategies you can use when filling out your bracket and making your March Madness predictions. One can be a very simple straightforward approach. The other can be more complex and time consuming. At the very core of filling out any March Madness Bracket is the goal of simply picking a winner from every single game to either rack up points (in March Madness Pools) or win money. Picking those winners can be as simple as choosing the higher-ranked team in each of the first 60 games until you are left with a Final Four that consists of the four No.1 seeds. If you choose to think outside the box you can pick teams by their mascot, uniform colors, or because you went to school there, until you are left with one team that you believe will win the National Championship.
The more complex and time-consuming method of filling out your March Madness bracket encompasses stats, trends, strength of schedule, and power rankings for all 64 teams involved in the tournament.
The method you choose is entirely up to you but there are a few simple guidelines you must follow to ensure your bracket does not go up in flames before the second round gets underway.
For starters, you need to decide which four teams are going to be left standing in the Final Four. Then you need to decide which one of those teams will be your National Champion. That will be your starting point as you can pencil them in all the way through the March Madness schedule and into the Championship Game. Second, don't get too carried away with picking upsets. Upsets are great when they happen and predicting them can be the difference between winning and losing but they are called upsets for a reason. The teams are ranked according to skill and 95% of the time, the higher-ranked, more-skilled team does come out on top. And lastly, have fun with it. This tournament comes around once a year and it's a way for casual basketball fans to get emersed in the chaotic world that is college basketball.
But let it be known, the odds of putting together a perfect March Madness bracket are 1 in 9.2 quintillion. Good luck!
Want to read more? Try these articles:
March Madness bracket advice for beginners
Understanding March Madness for beginners
Rice
Southern Utah
Radford
San Jose St.
NCAAB
3/20/2023, 10:30 PM
Milwaukee
Charlotte
Eastern Kentucky
Indiana St.
NCAAB
3/21/2023, 11:00 PM
Oklahoma State
North Texas
Oregon
Wisconsin
NCAAB
3/22/2023, 11:00 PM
Vanderbilt
UAB
Utah Valley
Cincinnati
NCAAB
3/23/2023, 10:30 PM
Kansas State
Michigan St.
NCAAB
3/23/2023, 11:15 PM
Connecticut
Arkansas
Tennessee
Florida Atlantic
UCLA
Gonzaga
NCAAB
3/24/2023, 10:30 PM
Alabama
San Diego St.
NCAAB
3/24/2023, 11:15 PM
Houston
Miami-Florida
Creighton
Princeton
Texas
Xavier
Last updated: Mar 20, 8:13 PM UTC
NCAAB Standings
America East
American Athletic Conference
ASUN
Atlantic 10
Atlantic Coast
Big 12
Big East
Big Sky
Big South
Big Ten
Big West
Colonial Athletic Association
Conference USA
Horizon League
Independents
Ivy League
Metro Atlantic Athletic
Mid-American
Mid-Eastern Athletic
Missouri Valley
Mountain West
Northeast
Ohio Valley
Pacific-12
Patriot League
Southeastern
Southern
Southland
Southwestern Athletic
Summit
Sun Belt
West Coast
Western Athletic
Division
America East
All Divisions
Team
Conf
W
L
Pct
Home
Away
Div
Ats
OU

1

Albany

3-13
8
23
.258
5-7
3-16
0-0
10-17-1
20-8-0

2

Binghamton

8-8
12
17
.414
8-7
4-10
0-0
13-14-0
14-12-1

3

Bryant

8-8
17
12
.586
10-4
7-8
0-0
11-15-1
12-15-0

4

Maine

7-9
13
16
.448
8-4
5-12
0-0
15-11-1
14-12-1

5

Massachusetts Lowell

11-5
24
7
.774
15-0
9-7
0-0
17-10-1
16-12-0

6

New Hampshire

9-7
14
14
.500
10-4
4-10
0-0
12-14-0
12-13-1

7

NJIT

4-12
7
22
.241
5-8
2-14
0-0
15-12-1
18-10-0

8

UMBC

8-8
18
13
.581
13-3
5-10
0-0
15-15-0
13-17-0

9

Vermont

14-2
20
10
.667
11-1
9-9
0-0
16-12-1
17-12-0
Last updated: Mar 20, 7:48 PM UTC
Best college basketball offers 2021