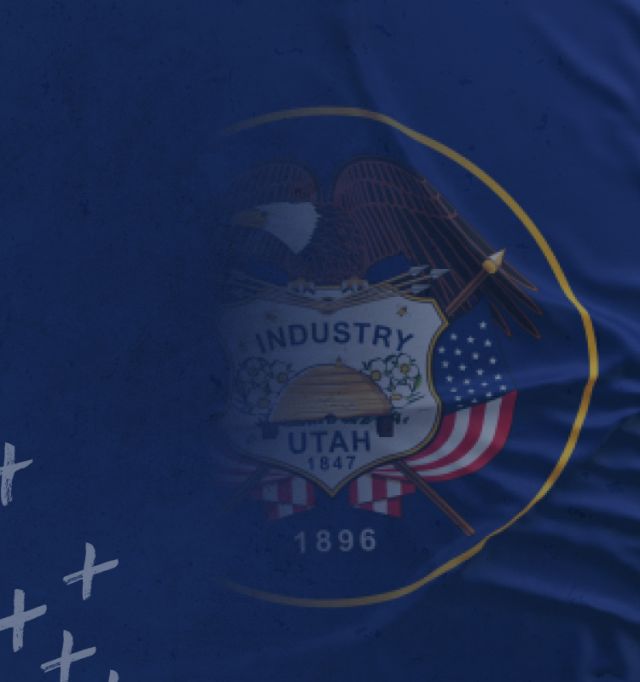 Utah online sports betting laws
If you wanted to bet on which state is least likely ever to legalize sports betting, you'd wager on Utah. So firm is the opposition to gambling here that the Utah constitution specifically provides that the state "Legislature shall not authorize any game of chance, lottery or gift enterprise under any pretense or for any purpose," and the Utah Criminal Code specifically outlaws gambling of all kinds, including any internet or online gambling, and provides that, even if sports betting was legalized federally, Utah would opt out.
Written by OnlineBetting.com staff.

Jennifer Gaynor
Administrative law and government relations attorney
Jennifer has a degree in Journalism from Northeastern University in Boston, Massachusetts, and graduated from George Washington University Law School, Washington, D.C, in 2005. She's been living in Las Vegas helping clients in the casino and gaming industry, as well as other regulated businesses, across Nevada for over 15 years.
She has authored and co-authored numerous articles and books on US gaming law, including most recently,  The Law of Regulated Gambling: A Practical Guide for Business Lawyers , American Bar Association (2020), and  That (Expletive) Broad: Women Who Broke Barriers in the Casino and Gaming Industry (2020) .
Is sports betting legal in Utah?
No. Utah sports betting is not legal and, given the state's strong religious roots, it probably never will be.
Is online sports betting legal in Utah?
No. There is no such thing as Utah online sports betting, and in all probability there never will be.
Is sports betting legal in Utah?
Minimal prospects of legal sports betting
Nowhere in the United States is the level of hostility to sports betting higher than it is in Utah. Utah is, of course, the center of the Mormon faith in the US. Mormons are strictly opposed to anything that could be seen as a vice – which includes any form of gambling.
As a result, the state's constitution specifically rules out any form of gambling happening here.
Utah is one of only two states (the other is Hawaii) where no form of gambling whatsoever takes place. It is one of only five states without a state lottery. Of course, Utahns who still want a bet can head next door to Nevada – and many may also use unlicensed websites to bet, gambling that they will not be prosecuted.
So intense is the opposition to Utah online betting that the criminal code was rewritten to reflect it. It now states that, should online betting be legalized on a federal level, Utah would opt out of providing it.
It should come as no surprise that, in the years since the Professional and Amateur Sports Protection Act was repealed in 2018, no bill aimed at legalization has been launched at any stage in Utah.
Daily Fantasy Sports in Utah
Surprisingly, given the unrelenting hostility towards all forms of gambling in Utah, Daily Fantasy Sports (DFS) is available in the state.
The reason is that the legality of DFS in Utah has never been tested in the courts. If it was, and it was declared a game of chance rather than skill, it would be instantly outlawed. For now, therefore, DFS exists in the grayest of gray areas, which is handy for people in the state who are sports fans.
There is plenty of college sport to enjoy, and Real Salt Lake represent the state in Major League Soccer. But the biggest team in the state is the Utah Jazz, twice NBA finalists in the 1990s and regular division title winners since. Their exploits give local fans plenty of food for thought when making their DFS selections.
Most Popular Sports in Utah
There may be absolutely no chance of Utah sports betting ever being a reality – but that doesn't stop people in the state loving sport. With a famous NBA franchise and a healthy amount of college sports played, Utahns enjoy plenty of action.
Basketball
Utah Jazz command a strongly loyal following as they compete in the NBA. The Jazz reached the NBA finals in successive years in the 1990s, only to come up against Michael Jordan's Chicago Bulls. There's plenty of good college action for fans in the state to enjoy too.
Responsible gaming in Utah
There may be no such thing as Utah sports betting, or indeed any form of gambling officially in the state.
However, other options exist such as illicit websites or a trip to Nevada – so it is appropriate that there are some agencies who push the responsible gambling message in Utah.
The National Council on Problem Gambling offers several country-wide resources for people within Utah, such as helplines and links to groups such as Gamblers Anonymous.

Pathways is a residential treatment center for various types of addiction – including gambling. It offers extensive online advice and access to treatment and counseling.
Timeline of sports betting in Utah
2018
PASPA is ruled unconstitutional by the US Supreme Court
2021
In the years since, not a single piece of legislation aimed at legalizing sports betting has been launched in Utah.
Sports betting in the United States
Can you bet online in Utah?
Can I bet on sports in Utah?
Can I use Bovada in Utah?
Is betting legal in Utah?